Shaded Area Added to Ashcott Playing Fields in Somerset
Posted on 23/12/2019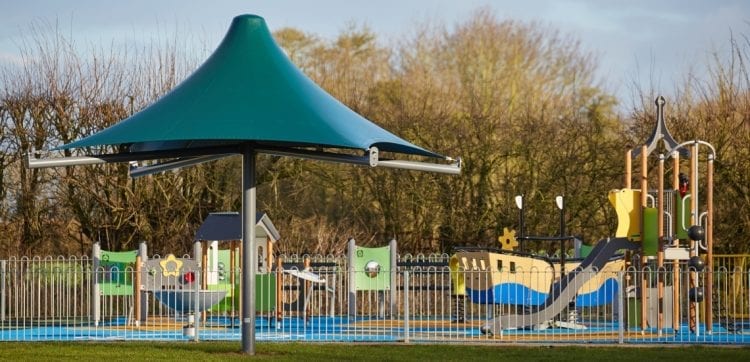 Ashcott Playing Fields was lacking a shaded and sheltered area to make the site an all-year-round resource. A&S Landscape was brought on board to find the perfect solution.
Project – Ashcott Playing Fields in North Somerset add Umbrella canopy
Product – Maxima Umbrella
Requirement – Ashcott Playing Fields near Bridgwater in North Somerset are a registered charity who manage a community resource, which offers sporting, recreation and play facilities. The park is lovely, with plenty of equipment for children of all ages. The new Pavilion opened in August 2016 and was funded largely by Viridor credits with support from the parish council. It provides home and away changing facilities and showers for sports teams, as well as a fully equipped kitchen and function room. The Pavilion is available for hire by community groups and can also be booked for private parties and functions.
What the playing fields did need was some shade and shelter to make sure that it was a real year-round community resource.
Solution – With so many design options available, ranging from steel and polycarbonate canopies to fabric roof canopies, there was a lot to consider. Eventually, an Umbrella canopy from the Maxima range was chosen. This design uses minimal posts and was installed alongside the park area.
Result – The area looks modern and the Umbrella canopy adds a sense of fun as well as the required shade and shelter. The team at Ashcott Playing Fields have been receiving lots of compliments, and they are delighted with the finished product. Whatever your requirement A&S Landscape can provide a bespoke solution.
Find Out More – From Shade Sails, Umbrellas and Tepees, to straight or curved roof steel canopies, A&S Landscape have a range which is sure to offer you something special. We can help you from the beginning planning stages, right through to installation. Feel free to look through our gallery, which has more than 1,500 images to inspire you.