Whitchurch High School in Cardiff Add Fabric Canopies
The staff and students at the largest comprehensive senior school in Wales, Whitchurch High School, were looking for a fresh and affordable way to maximise their outdoor space. The perfect solution was a tepee style canopy which created a large, sheltered area for learning, lunch and break times.
Project Specification
Product:

Maxima Tepee™

Size:

12000mm X 6000mm

Steelwork:

Gentian Blue - RAL NO. 5010

Roof:

Turquoise Green - RAL NO. 6016
What was the project?
To install a Maxima Tepee™ canopy, comprising of two modules, in Whitchurch High School's playground, just outside the sports hall.
What was the problem?
Whitchurch High School in Cardiff is the largest comprehensive senior school in Wales. The rising number of students means that overcrowding can be an issue. In addition, the Welsh weather isn't always conducive to spending time outdoors. A&S Landscape was asked to propose an affordable and stylish solution that would create more space for pupils and shelter them from the elements.
What was our solution?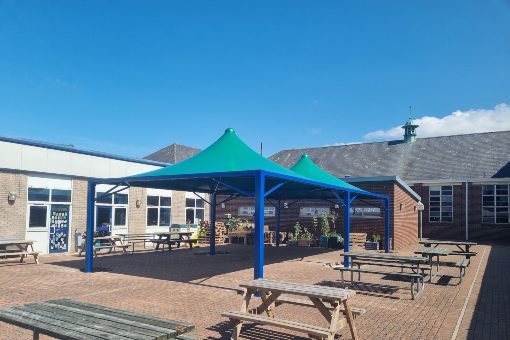 The tepee-style, canopy with Gentian Blue steelwork covered with Turquoise Green fabric, was erected in two modules outside the school's sports hall in the playground. This created a fun, practical and cool outdoor space for students to use during lunch, lessons and break times. Additional seating can be added to the 'hang-out zone' ambience where the students will also be protected from the rain and the sun's harmful UV rays.
What product did we use?
Two Maxima Tepee™ playground canopies were used to provide a shaded, weather-proof area for children to utilise the outdoor space. The Maxima Tepee™ used was designed in a Gentian Blue steel frame topped with a turquoise coloured, peeked fabric roof.
What was the result?
All the students and staff at Whitchurch High School were very impressed with the end result of the canopies. It now means that they can learn and socialise outside in a super stylish space without worrying about the inclement Welsh weather. The addition of picnic benches has turned the whole area into a cool, recreational hang-out that's well used during break times and also as an outdoor classroom.
A little bit about the client…
Cardiff's Whitchurch High School is the largest comprehensive senior school in Wales. It's well known as being a high achieving state school for physical education. Notable former students include footballer Gareth Bale, Welsh rugby union captain, Sam Warburton, and Tour de France winner, Geraint Thomas.
It was a privilege to get to know the hard-working members of staff and the friendly and well-behaved pupils whilst the project was being undertaken. We were asked to provide an affordable canopy that was not only practical and durable but also stylish and fun for the children to use. The school's funding budget per student is one of the lowest in Cardiff and so we wanted to make sure we gave Headteacher, Mark Powell, and the rest of the team, complete and utter value for money.
What is a tepee canopy?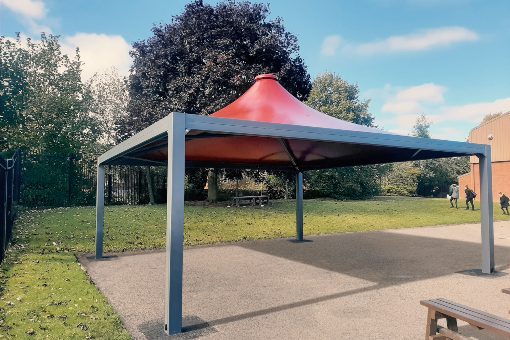 This is a standalone galvanised steel structure with an integral guttering system. It comes in a wide range of sizes and colours and coverage can be increased by placing multiple modules side-by-side. These contemporary and stylish looking units are solid and durable whereas the fabric roofs are waterproof, fire retardant and UV resistant. Optional additions include side and post panels. Tepee canopies are part of the fabric canopy range which includes sails, umbrellas and parasols.
Why are canopies perfect for senior schools?
Encouraging teenagers to spend more time outdoors is an essential part of their educative and development years. Often the weather can have a negative impact on being able to get outside which is why a canopy is an ideal solution for schools wanting to maximise outdoor space, all-year-round.
By providing a protective place outdoors you're also designing an additional classroom, dining hall and recreational zone that can relieve the pressure on previously overcrowded indoor areas. It's amazing how much more character and fun a canopy can bring to a school playground.
That's why canopies are such an important feature within senior schools. They're more than just a sheltered space, they're a hang-out zone, a place to socialise, a place to relax and have a chat. They look cool and contemporary as well as adding that extra dose of energy that's needed to get pupils and staff through the school day.
Characterful, hard-wearing and affordable – not a bad addition to any senior school.
The advantages of adding a canopy to your senior school include everything from improving student well-being and creating extra storage space to giving young people a sense of pride in their school. Also, these days, it's important to increase outdoor space to ensure teachers have an opportunity to take the pressure off overcrowded areas and reinforce social distancing procedures.
But don't take our word for it, check out this long list of testimonials that have been written by satisfied representatives from senior schools, primary schools, colleges and universities.
How A&S Landscape can help you
As a family-owned business, we understand the importance of providing good quality products at affordable prices. We've been in the canopy manufacturing industry for more than 40 years, so we know a thing or two about building structures, and customer relationships, that last.
We pride ourselves on treating our customers with respect and have gained a reputation for being an efficient, honest and hard-working team. No matter what type of outdoor space you're looking to cover, we've got the right blend of ideas, know-how and products to ensure a successful solution.
From senior schools and sporting facilities to public attractions and hospitality industries, our canopy options are suitable for any outdoor space within public and private sector areas.
If you'd like to find out more about our quality canopies at affordable prices, please contact a friendly member of the A&S Landscape team on 01743 444100 or [email protected].
Read about more of our projects based in Cardiff
Gabafla and Glan Ceubal School Add Fabric Roof Canopy
In collaboration with the specialist building contractor our team built a StarSail™ for Gabafla and Glan Ceubal School, Gabalfa, Cardiff, South Glamorgan. The contract included the supply and fitting of one Maxima StarSail™ tensile waterproof fabric structure supported on a single upright measuring 5000mm x 5000mm.
Fabric Tepee Style Shelter Designed for Rhiwbeina Primary School
Our engineers created two tepees in Rhiwbeina Primary School, Lon Ucha, Rhiwbina, Cardiff. The job involved two Maxima Tepee™ tensile waterproof fabric roof structure measuring 4000mm x 4000mm.
Ton-Yr-Ywen Primary School Add Straight Roof Shelter
Our engineers erected a straight polycarbonate roof canopy at Ton-Yr-Ywen Primary School, Maes-Y-Coed Road, Heath, Cardiff. The contract included the supply and installation of one Motiva™ monopitch straight roof canopy measuring 13000mm x 5000mm and included for our Alu-Tuff™ aluminium box profile guttering and downpipes which were coated in a matching Dura-coat™ colour finish.