Stoke High School in Suffolk Install Straight Roof Shelters
In the case of Stoke High School, we took a creative approach to maximising the amount of shelter created.
Project Specification
Sizes:

10000mm x 5000mm | 4000mm x 4000mm

Steelwork:

Gentian Blue - RAL NO. 5010

Roof:
What was the project brief?
The Stoke High School near Ipswich in Suffolk has an impressive site incorporating sports courts and pitches. The site is lined at its boundary by trees and is clearly a place where pupils spend time outside in the fresh air, either participating in sport or during the course of the school day.
Outdoor time in the British climate does come with its challenges! With the average rainfall in autumn for the Ipswich area being 2 inches, shelter from the elements is the only way to enhance the use of outside spaces during these times. A&S Landscape was therefore given the project brief to design a solution to accommodate as many pupils as comfortably possible in the designated area appointed for the project.
What was our straight roof shelter canopy solution?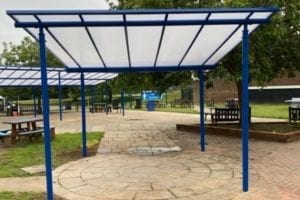 At A&S Landscape, we have a range of very flexible and versatile products that enable us to rise to almost any challenge. In the case of Stoke High School, we took a creative approach to maximising the amount of shelter created. In this case, our design focused around the Motiva Linear™ product range. Perfect for a wide variety of uses including anything from a steel walkway design to a door porch canopy, we were able to incorporate a double canopy design to create twin playground canopy covers.
Utilising canopies of different dimensions, one of 10 metres by 5 metres, the other of 4 metres by 4 metres, each angled to form a 'v' shape, a large area of coverage was achieved. The design featured a steel shelter frame in Gentian Blue (RAL 5010) which was selected from our colour range. The monopitch roof was finished in Opal polycarbonate.
What was the result of the new double shelter canopy?
Being of a double design, the goal of achieving shelter for a number of pupils was easily reached. The location of each canopy also maximised the way the canopy site was used. With paving beneath each of the canopy frames, there is also the option to site benches and tables on the site too. This has created a versatile space for the school's pupils to socialise, dine and enjoy, whatever the weather.
Stoke High School demonstrates the versatility of steel shelter frame canopies. The nature of the Motiva Linear™ canopy product lends itself to even large-scale projects, with widths of 10 metres easily achieved. With additional design features factored in, it is even possible to achieve widths in excess of 10 metres.
Testimonial/Client Feedback
A&S Landscape are pleased to share the feedback received from Stoke High School:
"We are very happy with the canopy. The site was left clean and tidy"
About the client
Stoke High School is located on the opposite side of the River Orwell to Ipswich town centre, which is just over a mile away as the crow flies. Ipswich is the County Town of Suffolk and offers many things for youngsters who are growing up in the area today. With a wide range of parks and green, open spaces, it is also an area steeped in history. It's close links to the Suffolk coast mean that there are a wide range of things to see and do for young people living here too.
We enjoyed working with the Stoke High School in this lovely part of the world. It was a pleasure to help them with this project and enable them to bring to fruition their requirements for a modern, durable and practical playground shelter.
How can learning outside help children with their academic performance and how can schools facilitate this?
For school children, new environments can motivate and thrill, producing an increased competence to understand new information. At a young age, typical classrooms can provide little stimulation for school children and educational growth can become stagnant. By exploring the use of outdoor teaching, children can find unique and refreshing ways of learning. Fresh air, and the capacity to teach in a much larger space, can open up new doors to the manner that lessons are taught and the work which can be conducted.
Want to learn more? Click here to carry on reading our article about the impact of outdoor learning.
Why invest in a playground shelter canopy?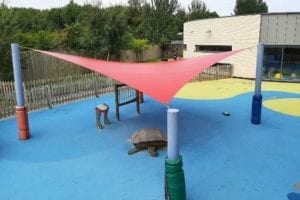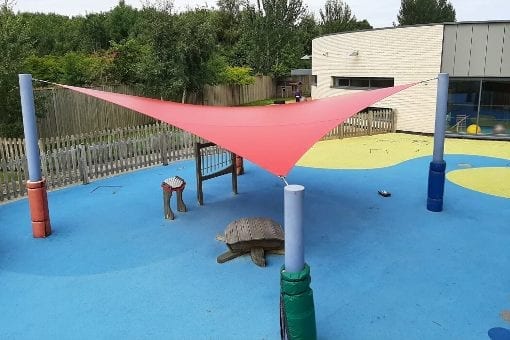 You may be looking to maximise your outside space and offer additional opportunities to be outdoors to your pupils. However, there are a range of additional benefits to investing in a playground shelter canopy and here are just a few:
It is a cost-effective way to add value to your school
It is a quick, easy and efficient way to add shelter
Once created, the space will often be multifunctional
One size does not fit all, there are options for even the smallest and biggest spaces
What is a straight roof canopy?
Our Motiva Linear™ canopy is a classic example of a straight roof design. Benefiting from an asymmetric (also called monopitch) design, it runs from one high point to one low point. It is great for a free standing canopy such as the ones installed at Stoke High School, but is also ideal for sitting directly next to an existing building. It is a fabulous option for schools and colleges looking to extend their classroom areas in cases where they have access directly to the outside.
Why choose A&S Landscape for your playground canopy shelter?
Quality and service are at the centre of what we offer to all of our clients. This goes from your initial enquiry, to support with scoping out your design, advising you on the best options, installation and aftercare. Find out what our clients have to say about us here. We have clients who have returned to us when they wanted to develop their school or college site further following their initial installation.
Whatever your requirements are, our friendly and knowledgeable team can find the perfect playground custom canopy shelter solution for you. Get in touch with us today on 01743 444100 or at [email protected].
Read through some more of our canopy projects installed in Suffolk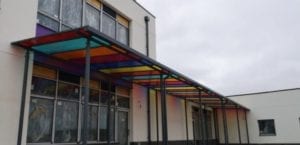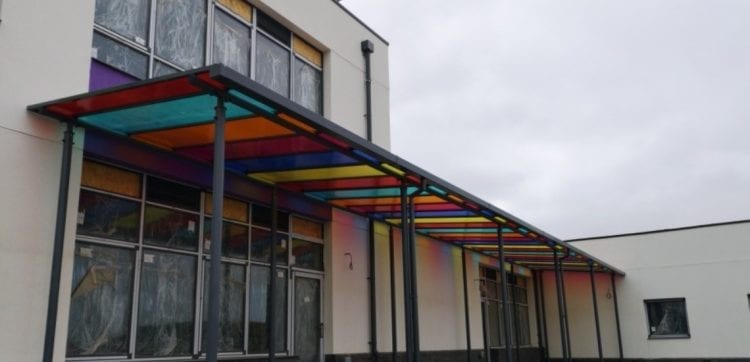 The Limes Primary Academy Create Covered Walkway Around Buildings
In combination with our building contractor client our team designed a straight polycarbonate roof canopy for The Limes Primary Academy Lime Avenue, Oulton Lowestoft, Suffolk. The contract included the supply and installation of one Motiva™ monopitch straight coloured polycarbonate roof canopy measuring 17850mm X 3000mm and included for our Alu-Tuff™ aluminium box profile guttering and downpipes in matching Dura-coat™ colour finish.
Whirlybirds Pre School Add Straight Roof Cover
Working alongside a leading builder we created a straight polycarbonate roof canopy for Whirlybirds Pre School Bury, St Edmonds, Suffolk. The contract included the supply and installation of one Motiva™ monopitch straight roof canopy measuring 8100mm X 4000mm.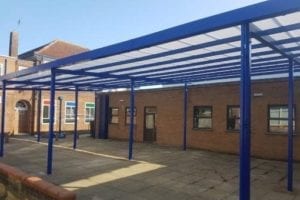 Play Area Covered at Newmarket Academy
Working for the specialist building contractor our team produced a straight polycarbonate roof canopy in Newmarket Academy Newmarket, Suffolk. The job involved the supply and installation of one Motiva™ roof canopy measuring 16000mm X 9000mm and included for our Alu-Tuff™ aluminium box profile guttering and downpipes in matching Dura-coat™ colour finish.
The Bridge School Add Fabric Umbrellas
Our team built two umbrellas at The Bridge School Ipswich, Suffolk. The full contract involved two Maxima™ waterproof Umbrella structures each supported on a single upright measuring 5000mm X 5000mm and two post protect pads.