Stapleford Primary School in Cambridge Cover Play Area
Stapleford Primary School knew the importance of outside play, wanted to allow their pupils to spend break times outdoors more often. The school decided to add a shelter to an area of their playground to protect the pupils from the weather.
Project Specification
Product:

Maxima Sail™

Size:

6000mm X 6000mm

Steelwork:

Fabric:
A large shade sail structure was added to Stapleford Primary School, measuring a total of 6000mm X 6000mm. The Maxima Sail features white steelwork which works well with the sandy beige coloured fabric sails. Made from a waterproof PVC material, the canopy can be left up even when it is raining.
The colourful play area has been completed by the stylish shade sail, and it has already been a huge hit with the pupils and staff. Come rain or shine, playtimes can be spent outside allowing the children to let off steam and refresh ahead of their next lessons. The fantastic play equipment can be used more frequently, throughout the entire school year.
Teachers can also choose to hold lessons or storytimes outside under the canopy. This alternative learning environment will help to engage the class as they get to learn outside of the four walls of a classroom. Parents can also wait under the shelter at the end of the school day when they are collecting their children.
A&S Landscape has installed fabric shade sails at schools across the country, transforming playtimes for thousands of children. Take a look at our extensive gallery for more inspiration or see what past clients have said about us here. You can also talk directly to our friendly team on 01743 444100.
Have a look at the other shelters we have installed in Cambridgeshire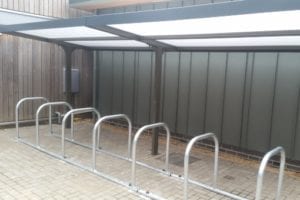 Secure Cycle Store Designed for Jesus College at The University of Cambridge
We created a cycle store at Jesus College University Of Cambridge Jesus Lane, Cambridge, Cambridgeshire. The job involved one Cyclo 'City' cycle store unit measuring 5500mm x 2000mm.
Witchford Lodge Add Curved Roof Canopy to Create Outdoor Shelter
Working with our building contractor client our team produced a curved roof canopy in North Witchford Lodge Wimblington, March, Cambridgeshire. The contract included one Motiva™ Duo duopitch curved roof canopy measuring 4800mm X 3200mm and included for our Alu-Tuff™ aluminium box profile guttering and downpipes which were coated in a matching Dura-coat™ colour finish.

City College Peterborough Add Colourful Shade Sail to Campus
Our team designed a StarSail at City College Peterborough Western Avenue, Peterborough, Cambridgeshire. The contract included the supply and fitting of one Maxima™ StarSail tensile waterproof fabric structure supported on a single upright measuring 6000mm X 6000mm.
Sacred Heart Catholic Primary School Add Two Sail Shades to Playground
Our team built two StarSails in Sacred Heart Catholic Primary School Brays Lane, Coventry, West Midlands. The full contract involved two Maxima™ StarSail tensile shadecloth fabric structure supported on a single upright measuring 4000mm X 4000mm and two post pads.