Southmuir Primary School in Scotland Add Entrance Canopy
Not only did Southmuir Primary School achieve the door porch canopy that they set out to achieve, but they created a real statement piece.
Project Specification
Product:

Motiva Linear™

Steelwork:

Slate Grey - RAL NO. 7015

Roof:
What Was the Project Brief?
Southmuir Primary School is located in the beautiful Kirriemuir at the 'Gateway to the Scottish Glens'. The school wanted to improve the entranceway to their reception by adding a door shelter beneath which visitors would be protected from the elements. Not only that, but they wanted their structure to be a focal point which directed guests to the reception area.
What Was Our Front Door Canopy Solution?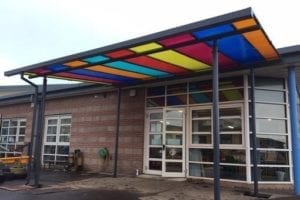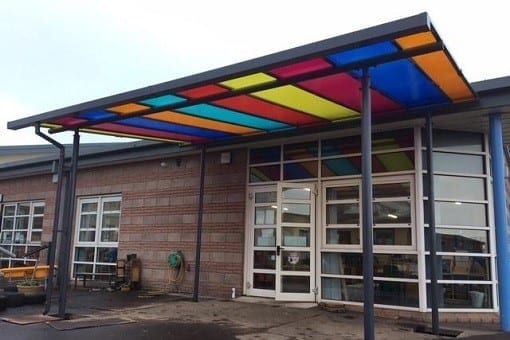 Creating a focal point is a great place to start with any design request. This allowed our experts to work with the school to create a really fun structure with lots of impact. In this case, our solution was the Motiva Linear™ front door canopy. The great thing about this entrance canopy is its versatility. With a monopitch roofline which sits asymmetrically with the school building, the structure in itself makes a design statement.
Southmuir Primary School chose a steel structure in slate grey for the main basis of the construction. This was a perfect foundation for the fun colours that they chose for the roof itself. From the wide range of colours that we offer, the school chose poppy, foxglove, daffodil, mandarin, lagoon and mint. The kaleidoscopic effect created when the sun shines through is really eye-catching and definitely creates the welcoming and friendly feel that you'd want from an entranceway.
What Was the Result of Their New Entrance Canopy?
Not only did Southmuir Primary School achieve the door porch canopy that they set out to achieve, but they created a real statement piece. It's a fun, brightly coloured addition to the school's grounds and a great practical shelter for those waiting to go into the school on a rainy day. Whether the pupils are lining up in the playground to go back into class after breaktime, or visitors coming to the school for the first time, the new front door canopy offers a sunny welcome to all.
We particularly love the magical rainbow-effects of the roof on this canopy. They're certainly befitting of a fairy story, which is very apt because Kirriemuir is the birthplace of J M Barrie, author of Peter Pan. The overall effect of this project couldn't be more pleasing!
How schools can create more teaching space with outdoor classrooms and what items are needed to equip these?
Schools increasingly need to find extra space to teach students either as a class or in smaller focus groups. Instead of looking inside, there is often unused space outside a school.
Outdoor classrooms can not just provide space but also a stimulating learning environment for students and teachers alike. This change of scene can incite improved concentration and restore enthusiasm in a subject matter. Even the largest of outdoors spaces will need to be provided with some necessities if they are to be used for outdoor classrooms.
Starting to create an outdoor learning space? Click here to read the full blog with the rest of our tips.
Testimonial/Client Feedback
Not only were the school really pleased with the end result, but they were impressed by the A&S Landscape approach to the overall project:
"A&S Landscape was very efficient with the drawings and details of the canopy. The work was carried out to a very good standard and completed on time."
You can find even more great feedback from our school clients by clicking here, and if you have any initial questions, why not visit our FAQs to find answers to some of our most common questions.
About the Client
Southmuir Primary School shares campus school status with Webster's High School, both located in Kirriemuir. This area of the Angus region of Scotland is also known as the Gateway to the Glens, a place that just calls out for time spent in the outdoors.
With estimated rainfall levels of 743 mm per year in Kirriemuir, it's safe to say that an over door canopy is a great, practical addition to Southmuir Primary School's site!
Why Invest in an Entrance Canopy?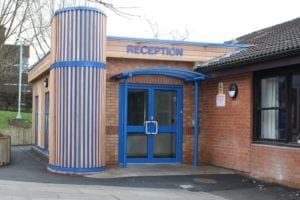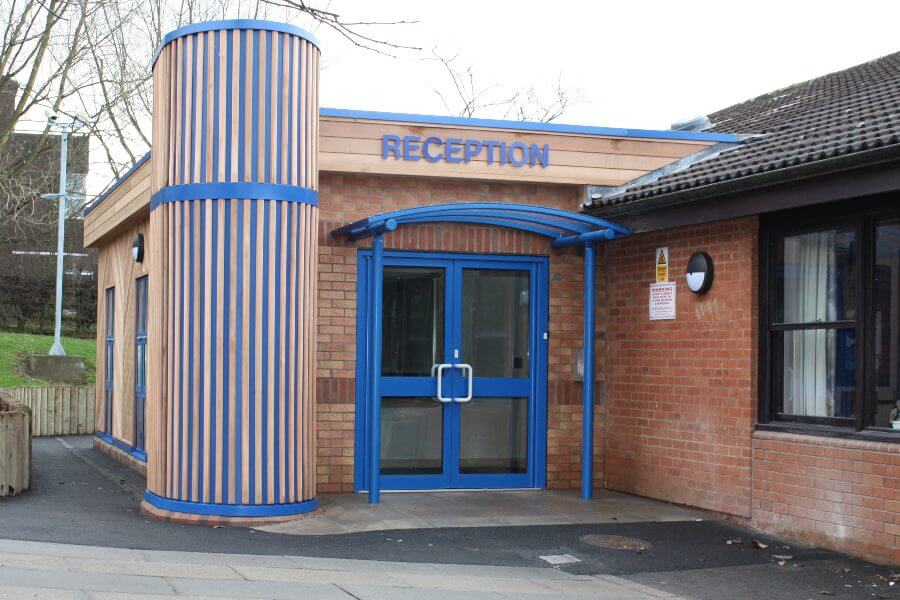 The project we completed at Southmuir Primary School really shows what a practical addition a canopy of this type can be to a school campus. Here are our top five reasons to invest in an entrance canopy at your school:
It's a flexible way of adding additional space to your school's campus.
They create a great, eye-catching structure and help to form a positive impression of your school.
They double up as great shelters for outdoor learning.
A front door canopy can be designed, built and installed quickly.
They offer a cost-effective option for improving your school's environment.
If you're keen to invest, but don't currently have funds within your development budget, there may be grants available to help you. Check out our grants page here for news on grant funding schemes available now, along with hints and tips on putting together successful applications.
Why Choose A&S Landscape for Your Entrance Canopy?
A&S Landscape design and install door canopies UK-wide. We have extensive experience of working with schools, colleges, universities and public attractions to deliver a range of over door canopies, door porch canopies and door shelters. Click here to find out more about us and how we can help you. Need inspiration? Then check out some of our past school projects here. And don't forget, we offer a full design service, so we can help you to develop the perfect canopy for your school grounds.
If you'd like to discuss how we can help you by providing a door canopy supplied and fitted, get in touch with our friendly team on 01743 444100 or at [email protected].
Read about more of our projects completed in Scotland
Tarbert Academy Add Fabric Sail Shade Shelter to Play Area
Working with a specialist firm of architects our engineers created a sail structure for Tarbert Academy Tarbert, Argyll and Bute. The contract included one 6000mm x 5000mm Maxima™ tensile shade cloth fabric sail comprising of one rectangle sail on four uprights including for all stainless steel fixtures and fittings.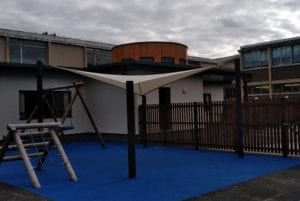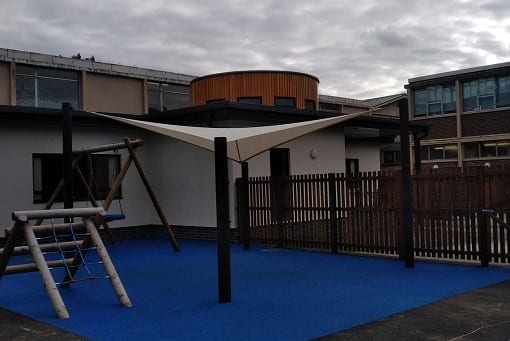 Galashiels Academy Add Sail Shade to Campus
Working for our building contractor client our engineers designed a shade sail structure for Galashiels Academy Elm Row, Galashiels, Selkirkshire. The full contract involved one 4000mm x 4000mm Maxima™ tensile shade cloth fabric sail structure comprising of one square sail on four uprights including for all stainless steel fixtures and fittings.