Shooters Hill Sixth Form College in London Add Tepee Canopies
Our solution for this project was an eye-catching tensile canopy system utilising the Maxima Tepee™ canopy structure.
Project Specification
Product:

Maxima Tepee™

Size:

15000mm x 5000mm

Steelwork:

Jet Black - RAL NO. 9005

Fabric:

Turquoise Green - RAL NO. 6016
What was the project brief?
Shooters Hill Sixth Form College is located in the Royal Borough of Greenwich in south east London. Providing further education opportunities to students from a diverse variety of backgrounds and nationalities, the college delivers across a wide subject spectrum.
To enhance their outdoor areas, they wanted to introduce a covered area of shelter on a section of their campus. Their aim was to better utilise the area and provide a practical shelter solution that students could enjoy. With picnic benches located in the area already, the introduction of a canopy cover was believed to be a great way to use the space in a very practical way.
What was our tepee canopy solution?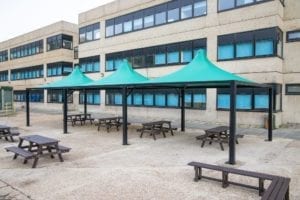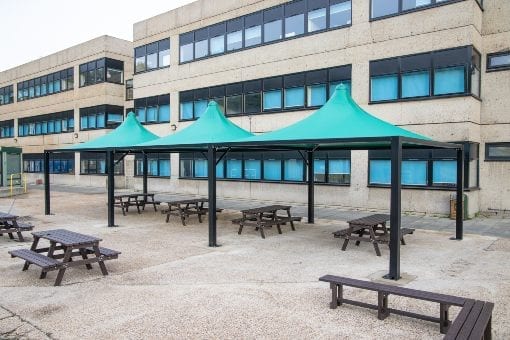 The footprint of the Shooters Hill Sixth Form College location meant that there was a range of free-standing canopy options for them to choose from. A&S Landscape offers bespoke designs for colleges and universities that specifically meet the needs of busy campus life. Our solution for this project was an eye-catching tensile canopy system utilising the Maxima Tepee™ canopy structure. This product makes a fabulous standalone canopy structure, and in the case of Shooters Hill Sixth Form College, grouped together in a modular way, a really striking feature.
The finished project was a 15000 mm x 5000 mm structure, comprising of three tepee tensile canopy coverings in waterproof fabric. With a steel shelter frame finished in Jet Black (RAL 9005) and canopy covers in Turquoise Green (RAL 6016) the end result was impressive but also practical.
What was the result of their new waterproof tepee style canopy?
The result of the new waterproof tepee style canopy is a substantial area of rain cover and sun shelter. With enough room underneath for picnic benches and tables, the previous concrete area has been transformed into a useable space for students to enjoy. Whether they're meeting up between lessons or eating lunch at the picnic benches, the canopy installation is a great addition to the campus. It's a really commanding modern contrast to the 1970s buildings behind it.
About the client
Shooters Hill Sixth Form College was formed in 2002. There is said to have been an educational establishment on the site since 1897, first as a Polytechnic for boys, then as a Grammar School. Former pupils of what was the Grammar School have their own Facebook page to celebrate the school's alumni said to include Jules Holland and Frankie Howerd, amongst others.
Sitting in a slightly elevated position, Shooters Hill Sixth Form College is located close to what was the Royal Military Academy. This Grade II Listed Building is now a prestigious housing development but is a reminder of the royal history of this part of south east London. The college's position also lends itself to the name of its student-run restaurant 'City View' that offers guests a fine dining experience as well as panoramic views across London.
Why invest in a waterproof tepee style canopy?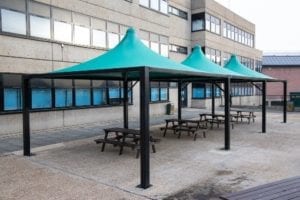 The canopy architecture of our Maxima Tepee™ lends itself extremely well to single, standalone structures, or multiple modules grouped together. It is therefore an excellent choice when it comes to creating a tensile canopy system to provide shade and shelter, regardless of the size of the footprint available. But we also offer a whole range of other options for fabric canopies to choose from too.
Manufactured in galvanised and PPC steel, they are installed with an integrated gutter system. The roofing material offers waterproof coverage and UV shelter. Added to this, fire retardant fabric combined with the sturdy steel shelter frame means that once installed they will stand the test of time.
If you're looking for customisation, then the Maxima Tepee™ offers more than just a choice of steel and fabric colour. It's possible to choose contrasting post pads, and even to add side panels if you so desire. All in all, the Maxima Tepee™ is a great design option for achieving maximum shelter coverage.
Why are waterproof canopies perfect for college campuses?
Students love to socialise and will often find places to congregate in the outdoor spaces of a college campus. The sometimes-inclement UK weather can limit their options, and on rainy days this can result in groups congesting corridors and putting additional pressure on refectory and canteen facilities.
The addition of a waterproof canopy to your campus can alleviate some of the burden created on the rest of the college estate. They are also a great use of underutilised external space too, and by choosing a custom canopy option that offers both waterproof coverage and UV protection, you're creating a space guaranteed to be used all year round.
Why choose A&S Landscape for your college's waterproof canopy installation?
We have a team with industry-leading experience in the design and installation of canopies for colleges. Our many completed college projects show the range of design and different sites that we have worked on in helping clients to design the perfect canopy for their needs. From cycle shelters to tepees like the ones installed at Shooters Hill Sixth Form College, we have options for every campus requirement.
If you'd like to discuss how we can help you find the right outdoor cover, get in touch with our friendly team on 01743 444100 or at [email protected].
Learn more about the projects we have completed in London
Multiple Umbrella Canopies Installed at The Willow Primary School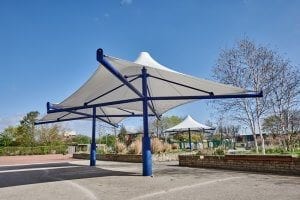 Our engineers constructed five umbrellas in The Willow Primary School Broadwaters Inclusive Learning, Adams Road, London. The full contract involved five Maxima™ waterproof Umbrella structures each supported on a single upright measuring 5000mm X 5000mm.
The Mawney School Add Fabric Tepee Shelter to Campus
Our team created a tensile fabric roof Tepee for The Mawney School Mawney Road, Romford, Greater London. The job involved the supply and installation of one Maxima Tepee™ tensile waterproof fabric roof structure measuring 7000mm X 7000mm and four post pads.
Timber Planter Sail Designed for Little Engineers Nursery
Our engineers produced a planter sail structure at Little Engineers Nursery Tottenham Hale, London, Greater London. The full contract involved the supply and installation of one Planter sail structure comprising of 1 Monotec fabric sail measuring 6m x 3m, 4 uprights and 4 planters including for all fixtures and fittings.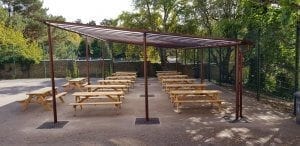 Christ's College Add Outdoor Dining Area
A&S created a straight polycarbonate roof canopy in Christ's College Finchley Finchley, London. The full contract involved the supply and installation of one Motiva™ monopitch straight roof canopy measuring 14000mm X 6300mm and included for our Alu-Tuff™ aluminium box profile guttering and downpipes in matching Dura-coat™ colour finish.
Wilbury Primary School Add Fabric Shade Sail to Playground
Our team created a sail structure in Wilbury Primary School Wilbury Way, Edmonton, London. The full contract involved one 3500mm X 3000mm Maxima™ tensile shade cloth fabric sail structure comprising of one rectangle sail on four uprights including for all stainless steel fixtures and fittings and two post protector pads.