Redwood Park Academy in Hampshire Install Fabric Shade Sail Canopy
This project was a fabulous opportunity to utilise our Maxima Sail™ product line to create a really fun, and completely bespoke, solution.
What was the project brief?
Redwood Park Academy, located in the Portsmouth suburb of Cosham, is a special school for 141 children between the ages of 11 and 16 who have special educational needs. For their brand-new school building, they approached A&S Landscape with a very specific project brief.
The school, who was working with an architect, wanted to create a real feature in an area of the school grounds by using a system of shade sails. Their creative ideas enabled our team to design a project plan using a tensile fabric structure specifically tailored to their design.
What was our tensile canopy system solution?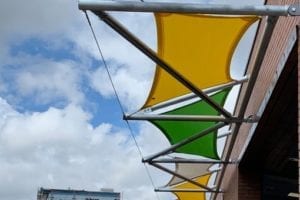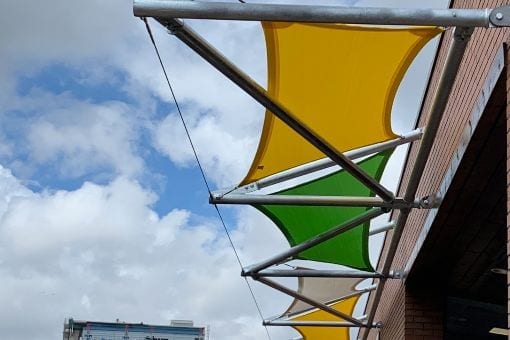 This project was a fabulous opportunity to utilise our Maxima Sail™ product line to create a really fun, and completely bespoke, solution. The Maxima Sail™ range can be used in so many ways to achieve an eye-catching and practical shelter solution. Redwood Park Academy wanted us to supply and deliver a design that needed some careful thought because it would need to be correctly fixed to the elevation of the school building, utilising a complex tensile canopy system.
The final design comprised twelve individually tensioned fabric membranes attached to an overhead, cantilever-style framework. Utilising Monotec 370 shade cloth, the Maxima Sail™ canopies were installed in a way that created an exclusive design. The installation was further enhanced with the choice of fabric shade cloth colours, which included six sails in Lime Fizz, six in Mellow Haze Yellow and three in Chino Cream. The use of contrasting hues in bright hues really added a pop of colour to this fun sail cover design.
How regular exercise and outdoor play helps to keep children healthy and how we can facilitate this at home and in school
Health is damagingly impacted by not getting ample exercise, resulting in increasing rates of obesity in children and adolescents. Children are not playing outside as much as they have done before, limiting their contact with sunlight and thus the generation of Vitamin D which helps to battle infection and keeps skin healthy. Sunlight also helps to control the creation of melatonin which regulates sleep. TV screens emit harmful blue light, which can cause headaches and eye strain. Blue light in the evenings can even limit the development of melatonin, which in turn can make going to sleep very challenging for some children.
So what is the answer to this slippery slope that we find ourselves on… More time outside!
Find out how schools can help their pupils spend more time outside here.
What was the result of their new tensile canopy system?
The result of this fabulous bespoke tensile canopy design is, first and foremost, a spectacular statement floating above the sheltered area beneath. It creates a real fun flourish to the area and fits in beautifully with the new school architecture.
Creating a shaded area against the school building means that there is an area for pupils to use on hot sunny days. But not only this, but the new sun shield sails also prevent the effects of glare in the classrooms inside. The utilisation of computer equipment, whiteboards and other media can be adversely affected by sun glare shining through into classrooms, and the new sails are a great way to significantly reduce this.
About the client
Redwood Park Academy won vital funding in 2017 to open a brand-new school building. This exciting project now benefits the school pupils with access to sports and outdoor learning opportunities, music, sport as well as art and design facilities. They even have their own Horticulture team to deliver learning sessions about planting and growing. Redwood Park Academy is part of the Solent Academies Trust, a group of four special schools in the Portsmouth area.
In the Portsmouth district, the needs of an individual child with additional needs will inform the shape of their access to education. Children then attending Redwood Park Academy have great access to opportunities with the facilities that the school offers. This means that every child has the chance to be inspired, to enjoy their learning environment, and to have a positive mindset about what they can achieve.
Why invest in a tensile canopy system?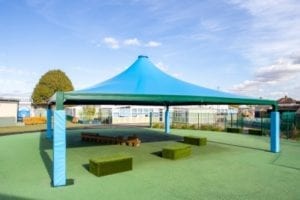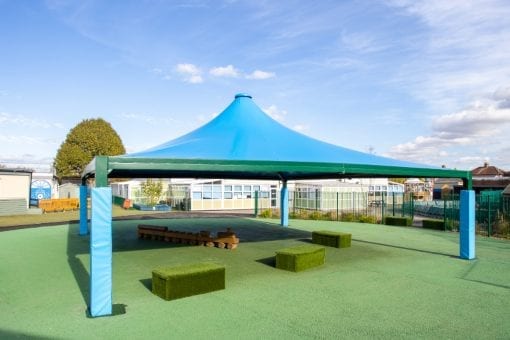 The range of options available in our Maxima Sail™ product range means that this shelter solution lends itself extremely well to a variety of uses. Here are just a few for you to consider:
Grouped together, you can create a wonderful sun and rain shelter for an outdoor dining area.
You can maximise the opportunities for outdoor play with a covered play area.
Benefit the inside of your school building as well as the outside, by reducing sun glare inside classrooms.
The opportunity to create a unique, bespoke design using different shade shapes and colours offers infinite possibilities for use as door porch canopies, public shelters and enrichment areas. Choosing from a range of sail canvas colours and steelwork, the opportunities are endless.
Why choose A&S Landscape for your tensile canopy system?
While we offer a range of 'off the peg' solutions for you to choose from, we are also experts in supporting clients to create their own designs. We understand that every school will have a different reason for wanting to install a canopy cover. Some schools have a large area to cover, others a much smaller space. But with our expertise and extensive product ranges you are sure to find exactly what you are looking for. We offer high-quality products and British manufacturing, and our approach to each project takes a clearly defined process. This means that you know what to expect and when, and also who to ask at any stage if you have questions.
We have worked with many schools and other organisations to design and install a wide variety of different fabric sail covers. You can browse a large selection of them on our website to find out more. Learn about how we can help you, contact us today for a free, no-obligation quotation.
See more of our projects based in Hampshire
Fabric Umbrella We Designed for The Portsmouth Grammar School
Working alongside our trade partner our team created a playground umbrella in The Portsmouth Grammar School – Senior High Street, Portsmouth, Hampshire. The contract included the supply and installation of one Maxima™ waterproof Umbrella structure supported on a single upright measuring 4000mm X 4000mm.
Timber Gazebo Installed at Pennington Infant School
Our engineers created a gazebo at Pennington Infant School Pennington, Hampshire. The full contract involved 3.5m Square Gazebo with Timber Roof.
Ditcham Park School Add Straight Roof Shelter with Polycarbonate Sheets
Our team erected a straight polycarbonate roof canopy for Ditcham Park School Ditcham, Petersfield, Hampshire. The full contract involved the supply and installation of one Motiva™ monopitch straight roof canopy measuring 9500mm X 3500mm and included for our Alu-Tuff™ aluminium box profile guttering and downpipes in matching Dura-coat™ colour finish and glazed panels to side elevation and one end (13m).
Harefield Primary School Add Enclosed Shelter with Roller Shutters
A&S produced a straight polycarbonate roof canopy with roller shutters for Harefield Primary School , Southampton, Hampshire. The job involved the supply and installation of one Motiva™ monopitch straight roof canopy measuring 17600mm X 4000mm and included for our Alu-Tuff™ aluminium box profile guttering and downpipes in matching Dura-coat™ colour finish.  The supply and installation of two electrically operated punched and glazed roller shutter doors to front elevation and glazed panels to the other sides.