Outdoor Canopies at Chesham Grammar School in Buckinghamshire
We recently installed a dining canopy at Chesham Grammar School. The school was so delighted with the results that they requested we install three further canopies within the Maths, Textiles and Gym and Modern Foreign Languages areas.
Project Specification
Product:

Motiva Duo™

Size:

25500mm x 7000mm

Steelwork:

Slate Grey - RAL NO. 7015

Roof:
What was the project?
To install three separate canopies within different areas of Chesham Grammar School, Chesham, Buckinghamshire.
What was the problem?
Chesham Grammar School in Buckinghamshire had several outdoor spaces in between and adjacent to faculty department buildings that they wanted to make the most of. As A&S Landscape had previously installed a dining canopy at Chesham Grammar School, the team were keen to work them once again. This time A&S Landscape was contacted again to provide three more canopies outside the Maths, Textiles and Gym, and MFL department buildings.
What was our solution?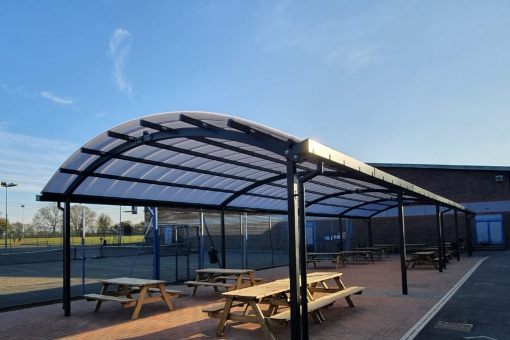 Three different canopy styles were added to the school. All three featured Anthracite Grey steelwork, the Motiva Duo™ and Motiva Linear™ were topped with an opal polycarbonate and the Maxima StarSail™ utilised a waterproof fabric roof. Different styles were preferred to suit the size and space of each individual area. This provided the students and staff with a sheltered outdoor space within their own faculty department. Somewhere to keep dry on rainy days and keep cool on hot days.
What product did we use?
We installed a  Motiva Linear™ polycarbonate straight roof canopy for the Modern Foreign Languages area; a Maxima StarSail™ for the Textiles and Gym area; and a Motiva Duo™ for the Maths area.
What was the result?
Each department at Chesham Grammar School now has their own sheltered outdoor space alongside their respective learning block. This is ideal for encouraging students to get together before and after lessons. It also provides a protected place to spend time outdoors reading, enjoying lunch or chatting with friends. Picnic benches were added under several of the canopies to create an additional outdoor dining area or somewhere to continue studies after class.
A little bit about the client…
Chesham Grammar School is a highly respected co-educational school in Chesham, Buckinghamshire. With over 1,300 students, including more than 400 sixth formers, Chesham Grammar School is forever expanding to accommodate their staff and students in the best quality conditions for learning in the 21st century.
Having recently added a covered dining area to Chesham Grammar School we were delighted to hear that they required three more canopies for other outdoor areas around the school. We like our relationships with clients to be ongoing, wherever possible, and so we were especially pleased to work with the staff and Headteacher, Annmarie McNaney, again. As before, the whole team were a pleasure to work with and we're proud to be able to provide students and staff with access to even more sheltered outdoor space.
What is a polycarbonate canopy?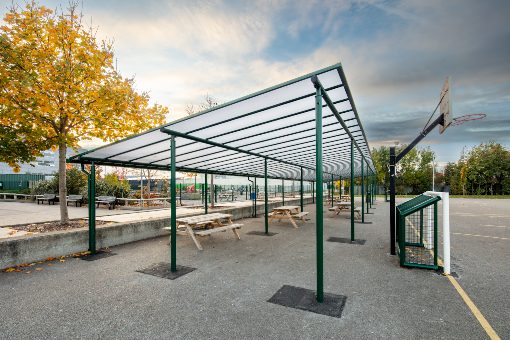 This type of canopy is very versatile and comes in all shapes and sizes. Essentially, the structure is made from galvanised steel and the roof from unbreakable polycarbonate. Straight roof canopies are most commonly used against the side of a building as a protected walkway or outdoor seating area. They're asymmetric with one side positioned slightly higher than the other to allow rain to run off into the guttering. Curved roof polycarbonate canopies are more commonly considered as stand-alone structures. Both sides are the same height. They're great for creating covered walkways and providing protection from the elements in playgrounds and on sports pitches.
What is a fabric canopy?
Fabric canopies are constructed from steel posts and topped with a fabric material. They're really versatile and are often used for providing shade around schools, playgrounds and outdoor seating areas. The range of fabric canopies features everything from sails and umbrellas to parasols and tepees.
Why are canopies perfect for senior schools?
It's important for students to have access to as much outdoor space as possible. Covering outdoor areas is just one way that senior schools can encourage students to get outside no matter the weather. From socialising and reading to recreational activities and eating alfresco, canopies are ideal solutions for students, and staff, wishing to make the most of their time spent at school.
Not only do protected outdoor areas provide additional places to learn, rest and play but they also boost students' mental health and wellbeing too. Extra space outdoors means more space to breath, think and talk with friends and teachers. Also, in uncertain times, additional outdoor space is vital for easing pressure on overcrowded indoor halls and classrooms.
This is why canopies are perfect for senior schools. They give students a place to shelter as well as an area to be themselves and take time out with their peers. Canopies look really stylish and modern too. That burst of colour in an otherwise empty area really gives students, and staff, a boost as well as providing a sense of pride in not only the school but also personal performance.
If you're looking for more reasons to add a canopy to your senior school, take a look at these testimonials from senior, primary, college and university representatives.
How A&S Landscape can help you
We're a third-generation family business and have been designing, building and installing canopies for more than four decades. At A&S Landscape we value good old-fashioned quality just as much as building long-term relationships with our clients. We're a hard-working team that you can trust.
No matter whether you're looking to create more outside space for your secondary school or you have a different type of project in mind, the A&S team are on hand to help you every step of the way. From senior schools and green spaces to sports centres and healthcare facilities, our choice of canopies is suitable for a huge variety of different public and private sectors.
For more information about our range of canopies and our competitive pricing policy, please contact a member of our friendly team on 01743 444100 or email [email protected].
Carry on reading about more of our canopy installations based in Buckinghamshire
Millbrook Combined School Add Straight Roof Canopy to Playground
In combination with a leading builder our team constructed a straight polycarbonate roof canopy in Millbrook Combined School, Mill End Road, High Wycombe, Buckinghamshire. The job involved the supply and installation of one Motiva™ monopitch straight roof canopy measuring 8280mm X 3890/2000mm and included for our Alu-Tuff™ aluminium box profile guttering and downpipes which were coated in a matching Dura-coat™ colour finish.
Outdoor Shelter Designed for Beechview Academy
In collaboration with a leading builder we erected a straight polycarbonate roof canopy for Beechview Academy High Wycombe, Buckinghamshire. The job involved the supply and installation of one Motiva™ monopitch straight roof canopy measuring 13000mm X 4000mm and included for our Alu-Tuff™ aluminium box profile guttering and downpipes and for coloured polycarbonate.