Jack Hunt School in Peterborough Add Shade Sail and Straight Roof Canopies
The students at Jack Hunt School didn't have many options at lunchtime when the weather was poor. The school decided to add several canopies to the campus to improve the existing facilities further.
Two straight roof Motiva Linear canopies were built next to the school buildings. These shelters feature modern grey steelwork and clear polycarbonate roofing. Students can wait for their lessons under the new canopies without being exposed to the elements. They can also choose to socialise there during break and lunchtimes while enjoying the fresh air.
In addition, a stylish fabric shade sail was also installed on the campus. The Maxima Sail includes four posts finished in a grey colour and a sky blue fabric cover. There is plenty of room underneath the shelter for students to enjoy their lunch alfresco, leaving them refreshed and ready for the afternoon.
Teachers now also have the option to hold lessons outside under the canopies. This alternative learning environment will help to engage the class and staff won't have to make plans around the weather. It's true to say that the new canopies will positively impact everyone at Jack Hunt School.
How can learning outside help children with their academic performance and how can schools facilitate this?
Classrooms have long been the setting of choice for the majority of schools, but the benefits of outdoor learning are speedily being discovered. You could potentially think that it's not accomplishable, especially with the changeable British weather, but with a canopy, teaching outdoors can become a reality. With various configurations available for numerous applications, any school can install a shelter to convert any outdoor space into a new form of classroom.
Want to see more? Click here to continue reading our article about the impact of outdoor learning.
A&S Landscape has an extensive range of canopies which can be tailored to your exact requirements. Why not take a look at our gallery or recent projects for inspiration? No matter what stage of the process, our friendly team can help you every step of the way. Call us today on 01743 444100.
See some more of the canopies and shade sails we have installed in Cambridgeshire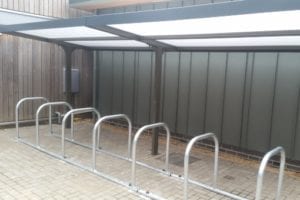 Secure Cycle Shelter Designed For Jesus College, University Of Cambridge
A&S built a cycle store for Jesus College University Of Cambridge Jesus Lane, Cambridge, Cambridgeshire. The job involved one Cyclo 'City' cycle store unit measuring 5500mm x 2000mm
North Witchford Lodge Add Curved Roof Shelter to Site
Working with our building contractor client A&S built a curved roof canopy at North Witchford Lodge Wimblington, March, Cambridgeshire. The job involved one Motiva™ Duo duopitch curved roof canopy measuring 4800mm X 3200mm and included for our Alu-Tuff™ aluminium box profile guttering and downpipes which were coated in a matching Dura-coat™ colour finish.

Bright Yellow Sail Shade Installed at City College Peterborough Campus
A&S made a StarSail for City College Peterborough Western Avenue, Peterborough, Cambridgeshire. The full contract involved the supply and fitting of one Maxima™ StarSail tensile waterproof fabric structure supported on a single upright measuring 6000mm X 6000mm.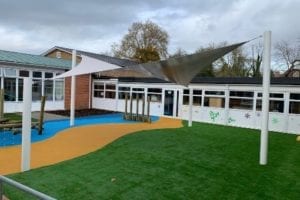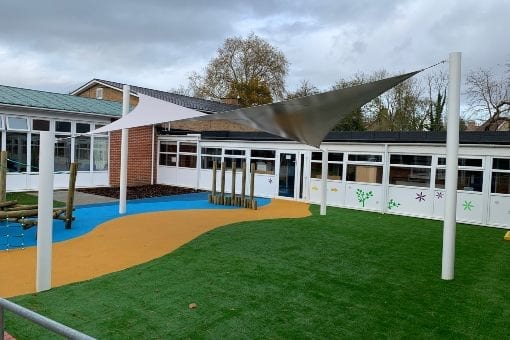 Playground Shade Sail Designed for Stapleford Primary School
Working for the specialist building contractor our team created a sail structure at Stapleford Primary School Cambridge, Cambridgeshire. The contract included one 6000mm X 6000mm Maxima™ tensile waterproof fabric sail structure comprising one sail on  4 uprights including for all stainless steel fixtures and fittings.