Haughton Academy in County Durham Install Umbrella Canopies
The aim of this project was not only to create areas of outdoor shelter for the school's students, but also to generate a design that fitted with the existing modern architecture.
Project Specification
Product:

Maxima Umbrella™

Sizes:

4000mm x 4000mm | 5000mm x 5000mm

Steelwork:

Squirrel Grey - RAL NO. 7000

Fabric:

White - RAL 9010
What was the project brief?
Haughton Academy, Darlington, is a secondary school forming part of the wider Education Village Academy Trust. The Education Village Academy Trust is a unique hub which provides access to a range of modern facilities for the children across its member schools.
At the Haughton Academy site, the school's management was keen to explore ways to provide outdoor shelter to the secondary school students in an area outside the main school building. Their intention was to create spaces for use during break times and as a place to enable students to dine outside at lunchtime. They wanted something that would blend with the existing modern, steel architecture of the school and create a cohesive addition to the school grounds.
What was our umbrella canopy solution?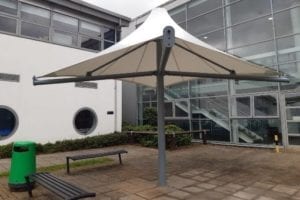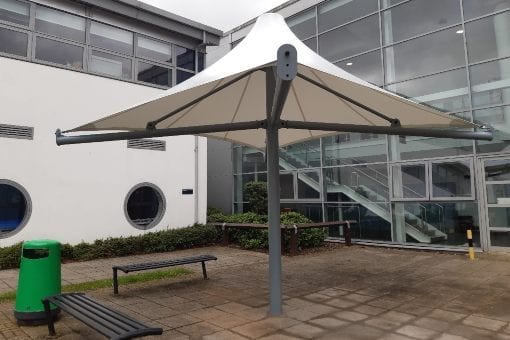 The aim of this project was not only to create areas of outdoor shelter for the school's students, but also to generate a design that fitted with the existing modern architecture. Each school that A&S Landscape has worked with has had their own requirements when it comes to design, and working with clients on an individual basis is an important part of our approach to each project.
Taking account of both the usage, location and design elements, the option chosen by Haughton Academy was the Maxima Umbrella™ with a waterproof fabric. The use of waterproof fabric makes the design of the Maxima Umbrella™ a great option for creating a canopy cover to protect users from the rain. In the case of Haughton Academy, the decision was taken to install two Maxima Umbrella™ canopies. This product looks fantastic grouped together in multiples and in this project one canopy measured in at 4 metres by 4 metres, and the second 5 metres by 5 metres.
The single canopy poles which support each of the umbrellas above, and provide a robust structure to the overall canopy installations, was finished in Grey (RAL 7000). This picked out the modern steelwork of the building entrance hall behind perfectly. To the other side of the semi-enclosed area in which the canopy covers were located, the building was finished in white render. The use of White in the waterproof fabric for the umbrella covers further picked this out and brought an additional sense of cohesion to the finished installation.
Why schools should encourage lessons to be taken outdoors and what actions they can take to ensure this can help all-year-round
Classrooms have long been the setting of choice for a huge amount of schools, but the merits of outdoor learning are speedily being observed. You might possibly think that it's not accomplishable, especially with the variable British weather, but with a shelter, teaching outdoors can become a reality. With many dimensions available for different uses, any school can install a canopy to develop any outdoor area into a new sort of classroom.
For children, new environments can invigorate and excite, triggering an increased culpableness to digest new information. At a young age, typical classrooms can provide meagre stimulation for school children and educational growth can become limited. By exploring the use of outdoor teaching, children can find inventive and captivating ways of learning. Fresh air, and the capability to teach in a far larger space, can open up new doors to the method that lessons are taught and the work which can be completed.
Want to know more? Click here to continue reading our article about the benefits of outdoor learning.
What was the result of the new umbrella canopy?
The final canopy installation was an eye-catching design, with a fresh and modern feel to match in with the surrounding building. Providing waterproof coverage, the space underneath is now a protected area for the pupils to use. A great place to meet up at break time, or to sit and enjoy a snack at lunchtime, the canopy umbrellas are now a go-to spot for pupils to enjoy.
About the client
Haughton Academy sits at the heart of The Education Village Academy Trust. The overall campus of the village offers both primary and secondary education, as well as provision for children with special educational needs. Focused on the concept of a village, it enables a range of first-class facilities to be available for access by all of the children that the Trust serves.
Active in the local community, Haughton Academy has been recognised recently for their support in compiling nearly 80 hampers for a local food bank. As a school, they are also keen to recognise the achievements of their pupils, and a quick scroll through their Facebook feed shows a range of congratulations including for effort put in during the COVD-19 lockdown, to impressive attendance levels.
Why are canopies perfect for secondary schools?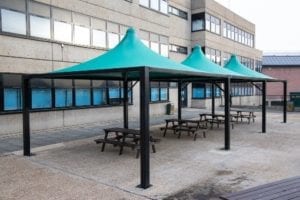 The daily timetable of secondary school pupils sees them changing between classes and subjects constantly throughout the day. A canopy can provide a great weather-beating space for them to meet up and socialise in during breaktimes or between lessons. Teenagers are a sociable bunch and giving them the space to chat with friends and take time out is a great way to take the pressure off some of the other busy areas of the school.
Not only that, but shelters can also provide additional space on your school campus for pupils to dine. Erecting a canopy and then installing benches underneath it, is a sure-fire way to create an outdoor space that pupils will want to use, all year round. A&S Landscape offers a range of canopy solutions from fully enclosed structures, to the umbrella style canopies installed at Haughton Academy. Whether they are used as restaurant umbrellas to support a busy school canteen, or as sun shelters in the summer months, they are guaranteed to be in use from the very first day of installation.
How can A&S Landscape help you?
If you have questions about what type of shelter solution would suit your school campus, contact our friendly team today for a no-obligation chat. They will talk you through the requirements of installing a canopy, and the types of design solution that would best meet your needs.
We have helped many senior schools to create a custom canopy designed specifically for their needs. But we have also worked across many other sectors, so why not contact us today to find out how we can help you? You can reach us via telephone, email or here on our website.
Find out about some of our other projects based in County Durham
Fabric Shade Sail Designed for Dawson Landscapes
In combination with our trade partner our team created a shade sail for Dawson Landscapes Ltd Hartlepool, County Durham. The job involved one 6000mm x 4000mm Maxima™ tensile shade cloth fabric sail including for all stainless steel fixtures and fittings.
Rossmere Play Park Add Five Tepee Canopies
In collaboration with our building contractor client A&S built five tepees for Rossmere Play Park Hartlepool, County Durham. The full contract involved the supply and installation of five Maxima™ Tepee tensile waterproof fabric roof structures.