Estuary Boulevard in Liverpool Add Stylish Straight Roof Entrance Canopy
This fabulous canopy cover is a stylish and modern addition to any building entrance. With an angled roofline, the Motiva Entrada™ also benefits from integrated guttering and really makes a statement for visitors to any building.
Project Specification
Product:

Motiva Entrada™

Size:

3000mm x 25000mm

Steelwork:

Anthracite Grey - RAL NO. 7016

Roof:
What was the project brief?
The Estuary Business Park in Speke, South Liverpool, is a brand-new industrial development in the heart of one of the north west's best connected commercial hubs. As a sleek new development, the buildings on the site are first class, modern constructions. With expanses of steel and glass and finished to an exceptional standard, each brand-new unit was to become the home for businesses from a wide range of sectors.
A&S Landscape was commissioned to help with finalising the external aspects of the unit at Estuary 51, Cell 6A. To bring to life the finished building, the developers wanted to install a contemporary canopy design at the entrance to the unit.
What was our entrance canopy solution?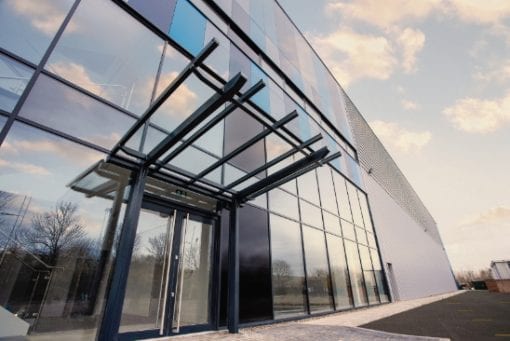 Fitting in with the requirement for a contemporary canopy at this brand new development was easy. Utilising the choices available from our extensive range, our canopy solution came in the form of the Motiva Entrada™. This fabulous canopy cover is a stylish and modern addition to any building entrance. With an angled roofline, the Motiva Entrada™ also benefits from integrated guttering and really makes a statement for visitors to any building.
The Motiva Entrada™ is a free standing canopy meaning that it is sleek and unobtrusive. When matching steelwork is used in its installation, it will blend perfectly with the surrounding architecture. Even when added after the main building has been constructed, it will look as though it was always intended to be there. With no interference with existing brickwork due to its engineered design, it is also trouble-free to install.
The door canopy installed at Estuary 51, Cell 6A, was finished in Anthracite Grey (RAL 7016) steelwork with clear overhead canopy roofing, helping it to blend in seamlessly with the overall building itself. With measurements of 3000mm x 25000mm, it offered perfect coverage for the double entrance doors.
Why businesses and schools choose to install entrance canopies and the merits of doing so?
Want an entrance canopy that displays your business's branding out to the exterior of your building? This can be an excellent way of making an impression on prospective customers and passers-by while producing a professional and impressive visual style that shows you are a business that pays attention to details. Your branding is your public image and it is key to how you promote and market yourself. Being able to continue this with amazing door canopies and porch canopies is an great opportunity for any firm.
Discover the other reasons why businesses decide to install entrance canopies here.
What was the result of their new entrance canopy?
The end result of the Estuary 51, Cell 6A, custom canopy was an uninterrupted flow of the overall building design through to the door canopy. With a smart and modern look, the building now benefits from an entrance canopy that makes it easy to identify where the reception area of the building is, as well as offering shelter to those entering on wet days.
The building now has an attractive, cohesive look, making it even more appealing to the businesses that may want to make Estuary 51, Cell A, the new home for their organisation.
About the client
Estuary 51 sits within the Estuary Boulevard development in Speke. The development is home to a wide range of different businesses from a variety of sectors. The site itself is extremely well linked, with the Port of Liverpool to the north and easy access to road and rail connections. This makes it an extremely attractive proposition for businesses and organisations who want smooth access to a wide variety of communication links. As well as road, sea and rail, Liverpool Airport is also just a mile and a half away.
But it's not just the fabulous infrastructure that makes Estuary Boulevard an attractive option. The site itself has also been attractively developed with landscaping and attention to detail that makes the environment pleasant and welcoming. This is an important point as the site itself lies just 1.4 miles away from the stunning National Trust's Speke Hall, Garden and Estate. This stunning Tudor House and its estate are a real jewel in the crown of the South Liverpool area. This site also links in with the Speke and Garston Coastal Reserve, reinforcing the considerable significance that this area has for history, modern living and also the natural environment.
Why invest in an entrance canopy?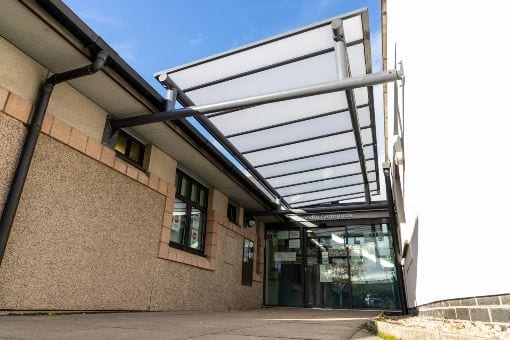 The needs of every business or estate will be different. But the benefits of installing a porch canopy are universal. Here are just a few for you to consider, they:
Are an attractive way in which to welcome visitors to your reception area
Offer shelter to those entering the building on rainy days
Can help to prevent glare within your reception area
Will provide protection from rain damage to carpets and internal reception areas
Protect internal areas from premature fading and wear
Why choose A&S Landscape for your entrance canopy?
We offer a vast selection of custom canopy options for you to choose from. Each project is designed with the client's needs in mind, and many of our products offer multiple variants to enable you to go further with your customisations. From a selection of steel colours, the option of glass or coloured or clear polycarbonate canopies, there is no end to the design choices available to you. Our range includes some top-class solutions for entrance canopies on commercial sites.
Having worked with businesses across an expansive number of sectors, we have a considerable portfolio for you to explore. Whether you approach us before your new building is complete, or after it is finished, we will be able to help you to choose the very best door porch canopy to fit your organisation's needs.
To find out in more detail how we can help you, contact our friendly team today for a no-obligation discussion.
Take a look at more of our projects based in Liverpool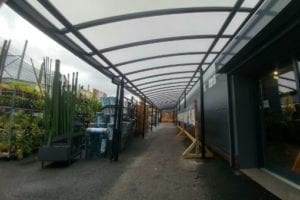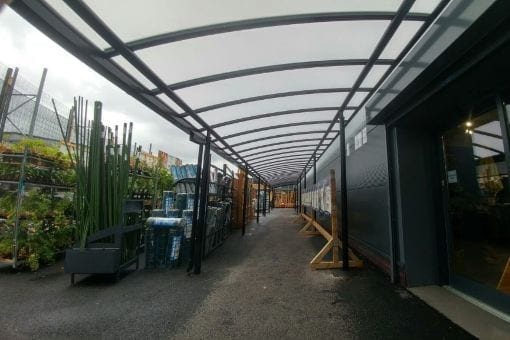 Covered Walkway Canopy Designed for Taskers Hunts Cross Home Store
In combination with a prestigious client A&S built a curved roof canopy at Taskers – Hunts Cross Hunts Cross, Liverpool. The job involved one Motiva Mono™ monopitch curved roof canopy measuring 27000mm x 3000mm and included for our Alu-Tuff™ aluminium box profile guttering and downpipes which were coated in a matching Dura-coat™ colour finish.
St Andrew The Apostle Primary School Add Fabric Shade Sail
A&S designed a sail structure in St Andrew The Apostle Primary School Halewood, Liverpool. The contract included two 4000mm x 4000mm Maxima™ tensile triangle shade cloth fabric sail structures.
Shade Sail Structure Manufactured for Monksdown Primary School
Our team constructed a sail structure at Monksdown Primary School Monksdown Road, Liverpool. The full contract involved one 8000mm x 8000mm Maxima™ tensile shade cloth fabric sail including for all stainless steel fixtures and fittings.