Playground Canopy at Morpeth First School in Northumberland
Posted on 28/02/2020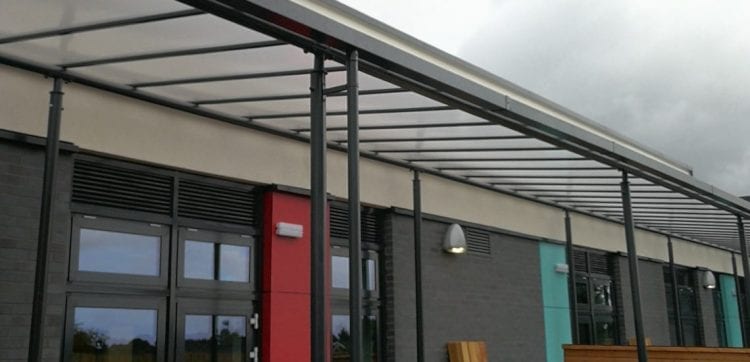 Morpeth First School were moving into a brand-new building. The staff decided that the facilities should include a covered play area for the pupils to use all-year-round.
Project – Morpeth First School add straight roof canopy in Northumberland
Product – Motiva Linear
Requirement – Morpeth First School in Morpeth, Northumberland were lucky enough to have a new site built for them. As part of the building works, the school wanted to add an area of shelter on the playground. A&S Landscape worked seamlessly with the construction company to ensure the school would have plenty of covered space outside.
Solution – A straight roof canopy was added at the new school, running alongside one of the buildings. The Motiva Linear features modern Black Grey coloured steelwork, which helps the shelter blend in with the surroundings. The clear polycarbonate roofing protects the pupils from harmful UV rays while allowing a safe level of sunlight through too.
Result – The pupils of Morpeth First School now have a shiny new building complete with a playground canopy. The children can enjoy the fresh air throughout the year and spend their breaks outside. Classes can also use the shelter to queue outside their lessons, without being exposed to the elements.
Find Out More – A&S Landscape has been working with schools for over 40 years, supplying bike stores, entrance canopies and much more. Our friendly team can guide you through every step of your project, helping you to choose the right product. Get in touch with us today by emailing [email protected] or calling 01743 444100.