Outdoor Play Area in Gloucester
Posted on 16/03/2017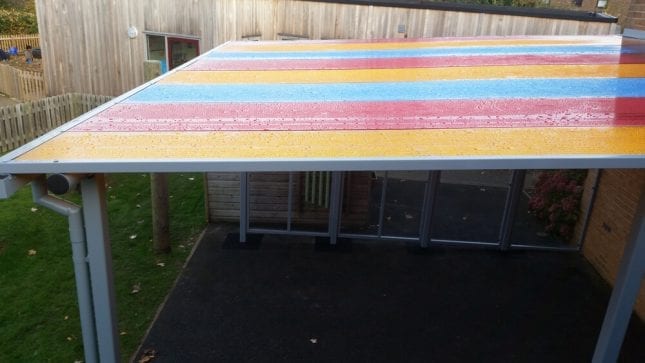 The canopy which Gloucester Nursery chose was the Motiva Linear straight roof canopy, with smart grey steelwork and ALU-Tuff™ guttering and downpipes in a matching Dura-coat™ finish.
Project – Coloured roof canopy adds bright play area shelter to Gloucester Nursery School
Product – Motiva Linear
Requirement – Gloucester Nursery School wanted to add another area to their facilities for nursery age children.
Somewhere neither indoors nor outdoors – something they call 'the undercover'.
An inspiring area where the children can play and learn whatever the weather, a sheltered area for games and exploration which links the classroom with the garden.
The space already existed, it was the cover which was missing.