Falmouth School Add Curved Roof Dining Shelter to their Grounds in Falmouth, Cornwall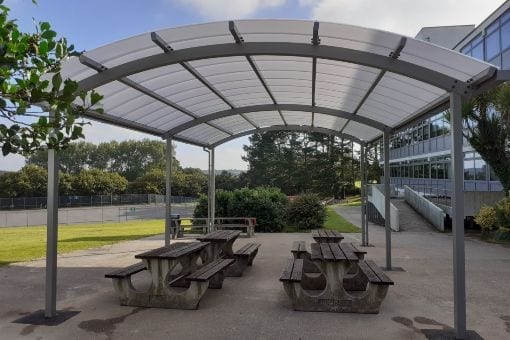 Falmouth School in Falmouth, Cornwall faced the issue of typical Cornish weather and students not getting to spend enough time outside because of it. Situated in a town of natural beauty with fabulous coastal views, staff of the school were eager to increase opportunities to experience them. They decided to investigate adding a dining canopy to their outdoor areas in order to allow everyone to enjoy the fresh air, even in less desirable weather.
The Motiva Duo™ was chosen as the perfect solution, because of its modern, curved design and the fact that it would provide shelter for students all year round. The model was built to specifications of 10m X 6m, with grey steelwork to compliment the school buildings and Opal polycarbonate for the curved roof that they so liked. The latter would let in lots of light to benefit the students' wellbeing while also offering UV protection in the summertime, as well as shielding them from the ever-present rain!
This design looks wonderful in the lush school grounds, and students are excited to enjoy breaks outdoors, no matter the season. Benches were installed beneath the dining canopy, which had the brilliant effect of increasing the number of children watching their friends compete in matches on the opposite sports field. To discover more about canopy and shelter specialists A&S Landscape's wide range of dining shelters, simply contact our helpful team at a time that suits you. You can email us at [email protected] or use our online contact form.