Cornwall Canopies
As canopy and shelter specialists, A&S Landscape has worked across the UK delivering our elegant cover solutions. From outdoor shelters for schools to stylish shade sails for restaurants, our wide range of products suits every sector and requirement. With over 40 years of experience, it's clear to see how our team of experts have been able to successfully complete hundreds of canopy construction projects.
We often work with schools and businesses in coastal locations as the harsh weather conditions can often cause outside events to be cancelled or postponed. We have range of canopy options designed to withstand strong winds, rain and snow, such as our Motiva polycarbonate canopies. Without a canopy solution, many schools in Cornwall do get the opportunity to offer outdoor learning on a regular basis, limiting the pupils' development. We also install many commercial canopies in the south of England, allowing businesses to utilise more of their external spaces.
Our shelter range is cleverly designed to suit a variety of applications, including:
External dining areas
Outdoor learning spaces
Covered walkways
Secure bicycle shelters
Sheltered multi use games areas
Playground canopy shelters
Below we've gathered just a small selection of our canopy installations completed in Cornwall, including an outdoor cover at Falmouth School to protect the children from harsh weather conditions. If you have any shelter design ideas in mind which may work for your site, get in touch with us for a price or some expert advice by using our contact form or calling 01743 444100.
Get a Quick Price
Send us your email and an idea of your requirements and we'll get back to you with a quick price.
Send us your email and an idea of your requirements and we'll get back to you with a quick price.
Dining Shelter Built On-Site at Poltair School in St Austell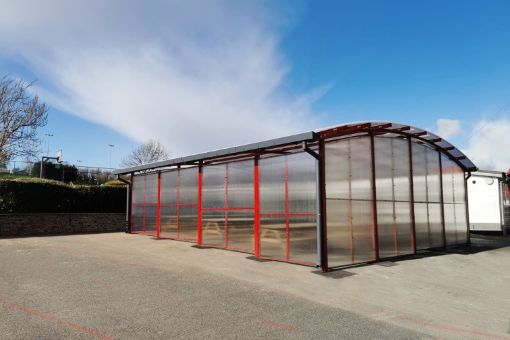 Poltair School in St Austell, Cornwall wanted to have a dining canopy installed in order to increase their lunchtime capacity. Their perfect model needed to be robust in the face of Cornish weather and be a functional facility all year round, from winter to summer months. A&S Landscape was thrilled to be contacted by this institution to take on this project and endeavoured to provide them with the ideal product.
The team at Poltair School had many options to choose from our huge range of products, but eventually settled on the Motiva Duo™. An Opal polycarbonate roof, Brown Red steelwork and Slate Grey guttering came together to create an attractive design, while the curved roof of the Motiva Duo™ canopy could withstand the unpredictable weather and allow the shelter to be used throughout the year with the help of handy side panels. What's more, the 10000mm X 10000mm measurements offered the opportunity for many students to eat and socialise outdoors, as well as opening up space in the other facilities.
The children and staff love the new dining canopy. Lunchtime capacity is no longer an issue at this institution – which encourages learners to make positive contributions to the community – and they now have a versatile facility that could also be used in other ways, including providing some fantastic outdoor classroom ideas for outdoor learning! A&S Landscape was pleased to hear that their outdoor canopy would benefit this dedicated school for years to come. Get a quote for your project and use our online enquiry form or call 01743 444100.
Falmouth School Add Curved Roof Dining Shelter to their Grounds in Falmouth, Cornwall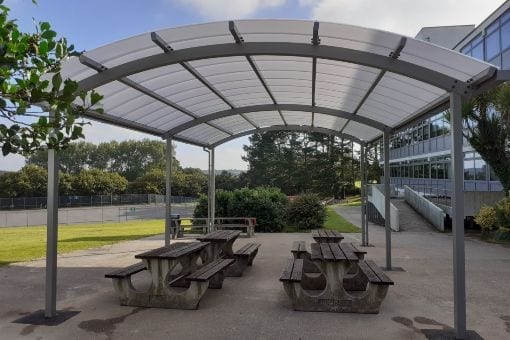 Falmouth School in Falmouth, Cornwall faced the issue of typical Cornish weather and students not getting to spend enough time outside because of it. Situated in a town of natural beauty with fabulous coastal views, staff of the school were eager to increase opportunities to experience them. They decided to investigate adding a dining canopy to their outdoor areas in order to allow everyone to enjoy the fresh air, even in less desirable weather.
The Motiva Duo™ was chosen as the perfect solution, because of its modern, curved design and the fact that it would provide shelter for students all year round. The model was built to specifications of 10m X 6m, with grey steelwork to compliment the school buildings and Opal polycarbonate for the curved roof that they so liked. The latter would let in lots of light to benefit the students' wellbeing while also offering UV protection in the summertime, as well as shielding them from the ever-present rain!
This design looks wonderful in the lush school grounds, and students are excited to enjoy breaks outdoors, no matter the season. Benches were installed beneath the dining canopy, which had the brilliant effect of increasing the number of children watching their friends compete in matches on the opposite sports field. To discover more about canopy and shelter specialists A&S Landscape's wide range of dining shelters, simply contact our helpful team at a time that suits you. You can email us at [email protected] or use our online contact form.
Find out more about where we work