Linking Covered Walkway in Warwickshire
Posted on 22/09/2014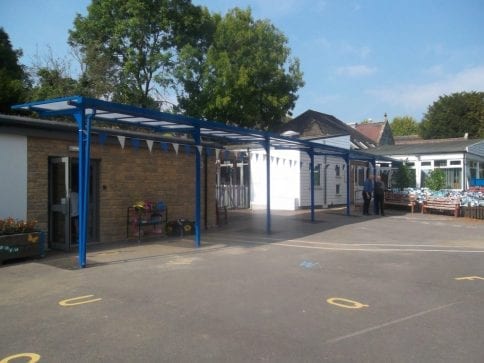 Wilmcote Primary School now have their very own Motiva Linear walkway in a smart blue steelwork with opal roofing.
Project – Bright covered walkway – Wilmcote C of E School
Product – Motiva Linear
Requirement – You know the feeling; you're inside, looking out, rain is lashing down, peppering the windowpane but you feel a little smug, don't you? Because here you are, inside, warm and dry.
That is until you realise your upcoming class is in the building next door and all you have to protect yourself from the elements is a cardboard folder and a copy of Top of the Pops magazine. (Ok, so maybe that's my childhood)
That's where covered walkways come in, offering a simple, attractive structure that provides shelter from the elements when moving between buildings.
Wilmcote Primary School were looking for exactly that when they contacted A&S Landscape but the job itself provided a greater challenge than we first expected.
Solution – With varying angles and levels as well as doorways and an access ramp, installing at Wilmcote Primary School was a refreshing challenge for us. But with a smart design team, CAD experts and a professional and experienced installation crew, we were able to get the job done.
Now Wilmcote Primary School have their very own Motiva Linear walkway in a smart blue steelwork with opal roofing.
Result – The result can be measured in two ways.
Firstly, Wilmcote Primary School now have a covered walkway that protects from the elements whilst also looking pretty great.
But more than that, they have dry staff and students, happy in the knowledge they can make it from one building to the next without having to make a 'run for it'.
Find Out More – At A&S Landscape we are experts in covered spaces. From walkways to dining shelters, playground zones to cycle storage. There really isn't much we don't deal with.
To get some inspiration and start making plans, have a look at our main gallery page here. If you like what you see, get in touch. We have a design team on hand are ready to help you get the shelter you really need.