Down Hall School in Essex Wows Students with Playground Shade Sails
Posted on 29/05/2018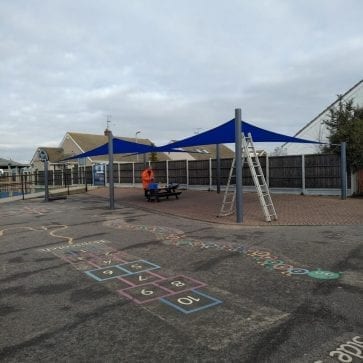 A&S Landscape has been helping schools transform their outdoor spaces for more than 40 years. We have a large range of products and the Maxima Shade Sail was the canopy which Down Hall Primary School selected.
Project – Large playground canopy shade sails at Down Hall Primary school in Essex
Product – Maxima Sail
Requirement – Down Hall Primary School in Essex say "We are an extremely busy school with enthusiastic children and supportive staff, parents and governors." Like all schools, they are aware of the benefits of offering outdoor play and learning facilities to their children. Children love the fresh air and it helps them to gain experience and also improves their focus once they return to the classrooms. So, the requirement here was to add a large sheltered area to the playground, which could be used for a number of different activities.