Fabric Umbrella Canopy at Hadrian School in Northumberland
Posted on 01/05/2020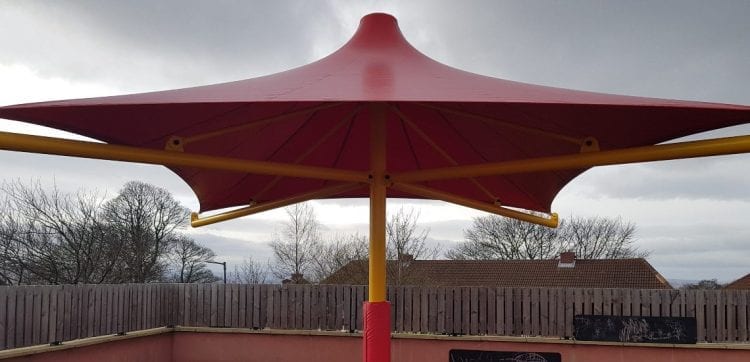 Hadrian School in Northumberland were looking for a way to get better use out of their playground. A&S Landscape worked closely with the school to design a product which met all of their needs.
Project – Hadrian School add umbrella canopy in Northumberland
Product – Maxima Umbrella
Requirement – The pupils of Hadrian School in Newcastle Upon Tyne couldn't use their fantastic playground when the weather was poor. To allow the children to spend more quality time outside in the fresh air, the team decided to add an area of shelter and shade.
Solution – A fabric umbrella canopy was installed at the school, covering an area of 5m x 5m. The school chose a Poppy coloured roof, which contrasts well with the Signal Yellow steelwork. The Maxima Umbrella was a great choice for the play area as the single post design means there is less obstruction and more room to play underneath.
Result – Hadrian School thrilled with their new shelter. More break times can be spent outside, allowing the pupils to let off steam and refresh properly. Made from a waterproof material, the umbrella will provide shelter from the rain and snow. There's also no need for the school to take down the fabric roof, as this is an all-year-round product.
Find Out More – A&S Landscape works with schools across the country, supplying canopies, shelters and shade sails. Talk to our expert team to get advice on your situation and see how we can take your project from a concept to completion. Email [email protected] or call 01743 444100.