Hadrian School in Northumberland Add Playground Umbrella Canopy
When the weather was poor, the pupils of Hadrian School had to spend their break times inside. To get better use out of the playground, the staff decided to add an area of shelter and shade.
Project Specification
Product:

Maxima Umbrella™

Size:

5000mm X 5000mm

Steelwork:

Signal Yellow - RAL NO. 1003

Fabric:

Post Pad:
A&S Landscape installed a Maxima Umbrella at the school, covering an area of 5m X 5m. The fabric roof was made in a bright Poppy red, which contrasts nicely with the Signal Yellow steelwork. As an extra safety precaution, a red post pad was also added to the structure.
The pupils absolutely love the umbrella canopy and it has quickly become a very popular addition to the playground. If the temperature gets too hot, the children can play in the shade created by the sail. And when it starts to rain, the waterproof umbrella is the perfect place to gather underneath.
The canopy has allowed the pupils to spend more time during the school day outside, in the fresh air. Having the space to let off steam means the children can fully refresh before their next lessons.
How to keep your school playground safe and why this is so crucial
Play yards and any outdoor play equipment is a excellent way to provide your pupils a healthy option to get a break from the classroom. Pupils getting exercise at the same time as their friends is something that schools should definitely endorse, but it's also greatly important that the fun isn't ruined by a child getting hurt while using the playground.
Playgrounds can become unsafe for a wide range of differing reasons. Unsafe behaviour is definitely something that teachers and students alike should be on the lookout for. But together with protecting children from the elements, uneven and improper surfaces can also cause accidents – and unsafe or broken outdoor equipment can rapidly turn the fun sour.
It's predicted that in the UK alone, around 40,000 children are hurt by playground accidents. Several of these even end up in the hospital or A&E, making it vital that schools do everything they can to apply proper playground safety. UK schools across the country face problems with making their playgrounds as safe as possible – luckily, a lot of these accidents can be prevented with attentive supervision.
By following safety instructions and testing surfaces and equipment, you can do a lot to prevent future accidents that your pupils may have – making it an area that can be safe and fun to play around in with reduced hazards.
Find more guidance on how to keep your play area safe by reading the rest of our article here.
We're so glad that Hadrian School picked the Maxima Umbrella. As an all-year-round product, there is little maintenance required and the shelter doesn't need to be taken down either. Designed with one upright, there's little obstruction created so there's more room for playing.
A&S Landscape has worked with many schools across the country, helping them get better use out of their playgrounds. From shade sails to multicoloured polycarbonate shelters, our wide product range has something to suit everyone. Start your project today by emailing [email protected] or calling 07143 444100.
A&S Landscape has installed many other canopies across Northumberland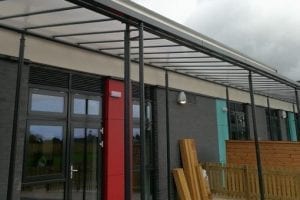 Morpeth First School Add Polycarbonate Playground Shelter
In collaboration with our building contractor client we created a straight polycarbonate roof canopy at Morpeth First School, Morpeth, Northumberland. The job involved the supply and installation of one Motiva™ monopitch straight roof canopy measuring 31800mm X 3000mm and included for our Alu-Tuff™ aluminium box profile guttering and downpipes in matching Dura-coat™ colour finish.
St Cuthbert's Catholic High School Add Bespoke Tepee Canopy
Our team produced an octagonal tepee structure in St Cuthbert's Catholic High School, Fenham, Newcastle Upon Tyne, Northumberland. The full contract involved the supply and installation of one Maxima™ Octagonal Tepee fabric roof structure measuring 10000mm x 10000mm including for aluminium frames, windows, doors and laminate glass.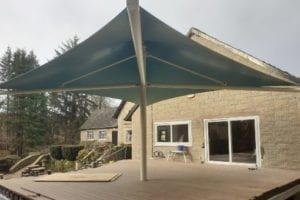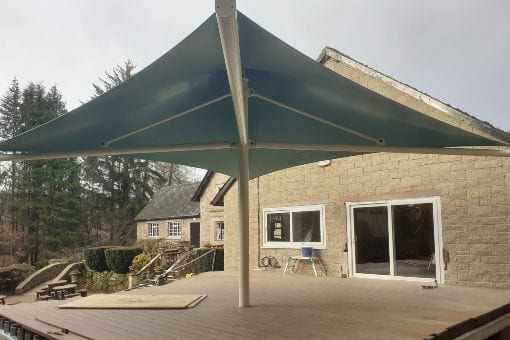 White Umbrella Shelter Installed at Vindolanda Hexham Cafe
Working for our building contractor client our engineers designed a playground umbrella in Vindolanda Hexham, Northumberland. The contract included the supply and installation of one Maxima™ waterproof Umbrella structure supported on a single upright measuring 6000mm X 6000mm.
Our Lady Immaculate Catholic Primary School Add Three Fabric Sail Shades
We constructed three sails at Our Lady Immaculate Catholic Primary School, Northumberland Terrace, Merseyside. The full contract involved three Maxima™ tensile shade cloth fabric sails including for all stainless steel fixtures and fittings.