Covered Walkway at Dowdales School in Cumbria
Posted on 20/04/2020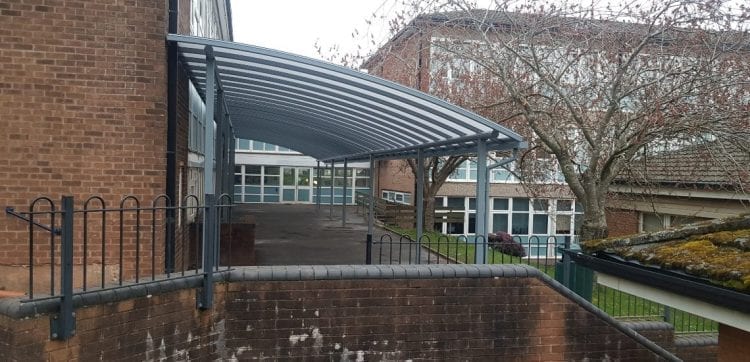 Dowdales School wanted to further improve their existing facilities by covering a regularly used walkway. The school decided to add a canopy as a cost-effective solution and contacted A&S Landscape.
Project – Dowdales School add curved roof canopy in Cumbria
Product – Motiva Mono
Requirement – Dowdales School in Dalton-in-Furness, Cumbria wanted to improve their student's experience during the school day. While moving between buildings and classrooms, the rain would often damage books and equipment, and students would arrive at their lessons damp. The staff decided to add a shelter to cover one of the most regularly used areas.
Solution – A&S Landscape installed a curved roof canopy at the school, measuring 21m X 5m. The Motiva Mono was finished with subtle Squirrel Grey steelwork which helps the structure fit in with the surrounding area. Opal polycarbonate sheets were used on the roof, which blocks harmful UV rays while allowing a safe level of sunlight through.
Result – The students of Dowdales School love the new covered area and it has been a very popular addition. They can also choose to sit in outside under the new canopy during their lunch and break times. This allows them to enjoy some fresh air while they refresh and refuel. The shelter has become a very popular area at the school with the students already, it is their new favourite place to hang out.
Find Out More – A&S Landscape has installed many dining area shelters at schools across the UK. This is a great cost-effective solution to many oversubscribed school's capacity issues. Choose from straight, fabric or multicoloured roof designs to create the ideal canopy for your school. Our experienced team can help you every step of the way, call us today on 01743 444100.