Covered Playground Area at The Bridge Primary School in Suffolk
Posted on 29/08/2019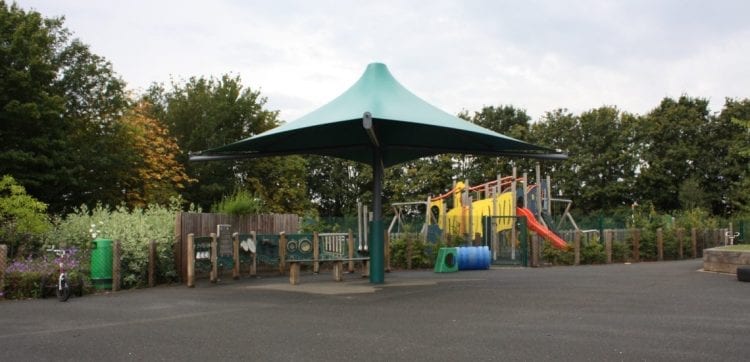 The Bridge Primary School has a large playground, but they didn't have any shaded areas. A&S Landscape worked closely with the school to find the best shelter solution.
Project – The Bridge Primary School add umbrella canopies in Suffolk
Product – Maxima Umbrella
Requirement – The Bridge Primary School in Ipswich, Suffolk, had brilliant playground facilities, but they were lacking a sheltered space. The staff wanted the area to be waterproof and provide shade from the hot weather, so the pupils could play outdoors all-year-round. A&S Landscape had the perfect product in mind and loved transforming this brilliant school's outside area.
Solution – Two fabric umbrella canopies were installed in the playground, both measuring 5000mm X 5000mm. The Dark Green fabric helps the Maxima Umbrellas blend into the surroundings and contrasts well with the Slate Grey steelwork. The Bridge Primary School also chose to add green post pads to the canopies for extra protection.
Result – The pupils can now play outside in the lovely playground all-year-round. Whether it is sunny and hot, or cold and rainy, the two umbrellas will provide cover for the children. The teachers can also hold lessons outside, without having to worry about the weather. This alternative learning environment will help to engage the class.
Find Out More – A&S Landscape offers a range of fabric canopies, including our Tepee, StarSail and Sail designs. These products can be used to create shaded areas, which can be used throughout the year. Take a look at our gallery for more inspiration or call our friendly team today on 01743 444100.