Bespoke Covered Dining Area at Whitecross High School in Herefordshire
Posted on 24/09/2019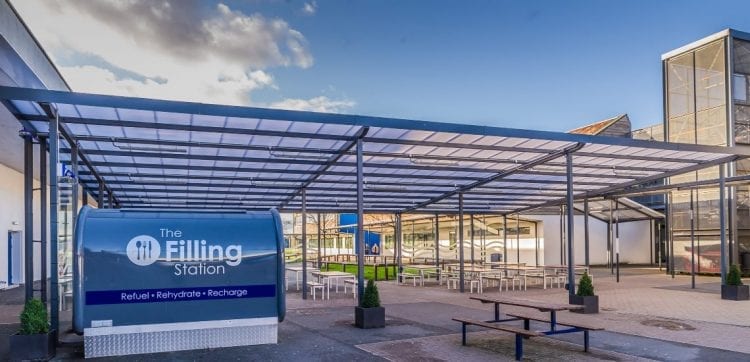 This Herefordshire based school was running out of space in their dining hall as they were going through a period of growth. A&S Landscape was brought on board to find a solution.
Project – Whitecross High School add Bespoke Canopy in Herefordshire
Product – Bespoke Motiva Canopy
Requirement – Whitecross High School in Hereford are currently undergoing a phase of growth and needed extra space for their students at lunchtimes. They understand the importance of providing their students with a space to relax, socialise and eat. A&S Landscape was approached to design a bespoke canopy to meet all of their needs and requirements.
Solution – A bespoke Motiva steel and polycarbonate dining canopy structure was chosen and installed at the school site. The steelwork was finished in a modern Iron Grey RAL colour, which complements the surrounding buildings perfectly. The Opal roofing lets sunlight through while protecting the students from harmful UV rays. A glass side was also included, to offer extra protection from the weather.
Result – The finished canopy meets all of Whitecross High School's needs. The students have a sheltered area where they eat lunch, socialise with friends and relax in the fresh air. The shelter has also relieved pressure from the dining hall, providing a cost-effective solution. Even during rain, wind or sun, the students can enjoy their lunch outside in the canopy.
Find Out More – Our design, manufacturing and installation process allows us to create bespoke canopies to suit your specific needs. We can manufacture to any given dimension and accommodate specific preferences. From covered dining areas to playground shelters, we can design a canopy for your exact requirements. View our gallery to get inspiration or see what past clients have said about us here.