The Hand Sanitiser Dispenser Designed for Schools
Sanitisation in schools has never been so crucial as the UK recovers from the coronavirus. Schools across the country will be putting plans in place to reduce the spread of the virus, especially in high traffic areas like the reception. It is vital that these plans are effective.
This specially designed hand sanitiser dispenser can help your pupils, staff and visitors to your school stay safe. Thanks to the mechanical foot, this sanitiser dispenser is completely hands-free, to help protect everyone at your school.
Stock is available for dispatch before September
This dispenser is available at £330.00 (plus carriage) Plus VAT each.
See the dispenser in action
Key Features
Simple and fully mechanical, no electronics
Brushed stainless steel finish
Durable and robust
Simple assembly, freestanding design, no installation required
Purpose-made 1 litre refillable bottle included
£330.00 plus vat Plus £25.00 carriage per consignment
And to go with the touch-free sanitiser dispenser: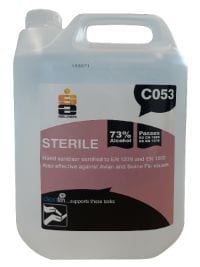 Selden C053-5 Trust S Alcohol Hand Sanitiser, 5 L
Alcohol rub for rapid and effective hand sanitising.
Quick acting, non-tainting food safe alcohol hand rub approved to both BS EN 1500 and BS EN 2176.
Built-in skin conditioners prevent drying of skin while not leaving any sticky residue.
Effective against a wide range of common organisms. 5 litres
£49.95 plus VAT Plus £7.50 (per consignment) delivery.
SPECIAL OFFER!
3 no Hand Sanitiser Dispensers and 20L Alcohol Hand Sanitiser (4x5L) with FREE delivery
£1095.000 Plus VAT
Stop the Spread
You may be shocked at how many different people will touch hand-operated dispensers in your school. That's why A&S Landscape has introduced this hands-free design to schools in the UK. The clever foot pump design will help you to massively reduce the risk of infection in your school and help to stop the spread of the coronavirus.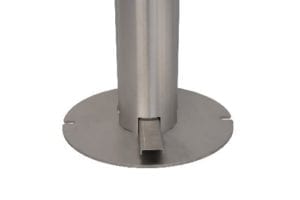 The freestanding design means you can place the sleek dispenser wherever you need it, from the reception to individual classrooms.
Technical Information:
Height: 1000 mm
Diameter: 114 mm
Foot diameter: 330 mm
Adaptable to any bottle with a push-in top
Diameter max: 330 mm – Height max: 110 mm
Stock is available for dispatch before September
Click here to see more of our COVID-19 Response Related Products.