Three Fabric Canopies at St Cenydd Community School in Caerphilly
St Cenydd Community School had a vision to transform an old taxi rank in the school grounds into a vibrant and multi-functional outdoor space for the students to enjoy. The school wanted to create a contemporary, all-weather space to offer flexibility to students and staff throughout the school day.
Project Specification
Product:

Maxima StarSail™

Size:

8000mm X 8000mm | 5000mm X 5000mm

Steelwork:

Slate Grey - RAL NO. 7015

Fabric:
What was the project?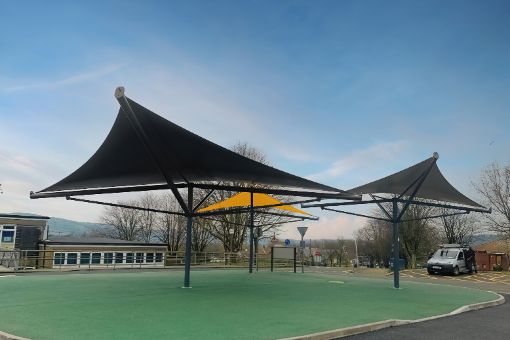 To construct three stylish fabric canopies to create a functional outdoor area for students to use at St Cenydd Community School in Caerphilly.
What was the problem?
The school wanted to redevelop a disused space into an inviting and attractive sheltered area for students to enjoy while they socialised, eat their lunch and even learnt outside. By transforming the disused area, St Cenydd Community School was able to expand upon their existing facilities and help improve the wellbeing of both the students and the staff.
What was our solution?
The school loved the features and design of our fabric canopies, which provided all the practical requirements and stylish design elements that they wanted to achieve within the space. In the end, three Maxima StarSail™ canopies were installed offering large areas of cover from the weather and shade to provide a flexible area of focus for social activities and an open space for learning. The innovative design and contemporary colour palette of Dark Blue, Aluminium and Lemon waterproof fabric with Slate Grey steelwork offered a striking and appealing space for young people to gather while offering shelter from extreme weather. It's safe to say that the three canopies have been an incredible addition to the school and will help them to get better use from their external areas.
What product did we use?
We installed three Maxima StarSail™ shelters to maximise the potential of the space and provide a robust structure. The highly durable shade cloth offers protection from the wind, snow and even has UV protection from the dangerous sun rays. Another key feature of our popular Maxima StarSail™ is the use of the singular central post, which maximises floor space under the shelter.
What was the result?
The students and staff are already enjoying the new outdoor canopies throughout the day, from before lessons begin to during lunch breaks. They provide an attractive outside space, away from the classroom, and without the threat of the weather ruining students' fun. The new canopies can be utilised throughout the school's busy timetable so that all year groups can benefit from outside socialising and learning.
A little bit about the client…
St Cenydd Community School is a secondary school with a sixth form department, situated in Caerphilly, South Wales. Headteacher, Miss Rebecca Phillips, is ambitious for students at the school to thrive academically and socially by following the school motto 'Aspire and Achieve'.
It was particularly rewarding to work on a redevelopment project of the old taxi rank into a fantastic space for pupils aged 11 to 18. Due to Covid-19 and the need for social distancing and school ventilation, the school has used this space creatively to encourage the students to be outside and enhance their wellbeing during the school day.
What is a fabric canopy?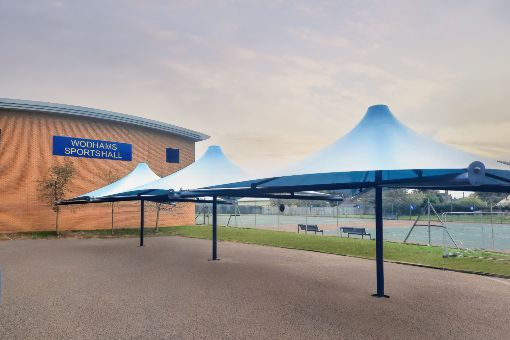 A fabric canopy offers shade to outdoor areas such as playgrounds, college grounds, public space, plaza areas, pubs and restaurants. The need for minimal steel posts maximises the use of space, providing extra capacity for dining benches and seating. What's more, is that we offer a wide range of colour choices to choose from when it comes to designing the steelwork and fabric coverings.
Why are canopies perfect for secondary schools?
Secondary school students grow and change rapidly throughout their latter years in education. The ability for them to access outside space plays a vital part in helping them to become physically and mentally healthier as they develop into young adults. Canopies transform outdoor areas of a school into a defined place to come together and socialise for learning and recreational activities, while providing shade and shelter from wet weather.
Due to the confinements put on young people after Covid-19, canopies offer a really positive way to encourage students to socialise and learn together while reaping the benefits of fresh air. School shelters create versatile outdoor spaces which can be easily adapted with the addition of dining benches, outdoor furniture and can become a meeting place for sports teams and community groups. Schools and colleges enjoy this versatility to suit different year groups' needs and demonstrates their commitment to the health and wellbeing of students.
Entrance canopies also can create a striking statement and welcome to a school building, adding colour and a contemporary first impression to a school. A&S Landscape has a wide range of styles and dimension options with an impressive range of colours to complement your school's branding and desired finish.
Our wide range of canopies are versatile and expertly designed to your unique specifications. Our products are ideal for playgrounds, walkways, school grounds and amphitheatres – at competitive prices. We have robust health and safety measures and industry-specific accreditations, and always ensure the least disruption to your working environment whilst installing. Read what our customers have to say about working with A&S Landscape.
How A&S Landscape can help you
With over 44 years of experience, we have a proven track record of providing innovative designs and manufacturing expertise. That's why we've been trusted to install outdoor covers for all types of buildings including schools, parks, sports facilities and healthcare sites. Our expertise in delivering high-quality canopies ensures we find solutions and ideal outcomes for your project so you can enjoy the best final results of the project.
We build excellent relationships with local authorities, NHS trusts, schools and colleges, gaining a reputation for delivering high-quality canopies and shelters at competitive prices. As a family-owned business, our core values ensure a professional and approachable team you can trust.
We are ready to help you find the right outdoor cover and discuss your requirements. Please call our friendly team on 01743 444100 or send us an email to [email protected].
Take a look at some of our other projects based in Wales
Bodnant Community School Add Six Outdoor Shelters
Working with our building contractor client our team erected six canopies for Bodnant Community School, Prestatyn, Denbighshire. The job involved the supply and installation of six canopies. One Motiva™ monopitch straight roof canopy measuring 6700mm X 2000mm, one  measuring 8200mm X 2000mm, one measuring 7400mm X 2000mm, one measuring 7800/7400mm X 2000mm, one measuring 6400mm X 2000mm and one measuring 6400mm X 2000mm.
Five Canopies Designed for Ysgol Carreg Emlyn
In combination with our building contractor client A&S constructed five straight polycarbonate roof canopies in Ysgol Carreg Emlyn, Clocaenog, Ruthin, Denbighshire. The full contract involved supply and installation of five canopies. One Motiva™ monopitch straight roof canopy measuring 15000mm X 3800mm in a nursery/reception area. One measuring 8800mm X 3900mm for year 3/4. One measuring 8800mm X 3900mm  for Year 1/2. One measuring 3000mm X 3000mm for the Entrance Lobby and a canopy measuring 3000mm X 3000mm for the Community Entrance. All with Alu-Tuff™ aluminium box profile guttering and downpipes which were coated in a matching Dura-coat™ colour finish.
Outdoor Bicycle Shelter Installed at the Welsh Ambulance HQ
In combination with our building contractor client our engineers erected a cycle store in Welsh Ambulance HQ, St Asaph Business Park, St Asaph, Denbighshire. The full contract involved one Cyclo 'Bike' cycle store unit measuring 9400mm x 2100mm allowing for 10 cycle racks to accommodate 20 cycles.