The Austen Academy in Hampshire Add New School Canopies
The school decided to bring in A&S Landscape, who could provide expert advice for the four canopies they had in mind.
What was the project brief?
The Austen Academy in Basingstoke is a new, purpose-built school, designed specifically to educate students with special communication needs (SCN) – a diagnosis associated with autism. Set to open in 2021, the school has been busy making plans about how to create an encouraging, inspiring, and motivating learning environment. They knew that to achieve this, they had to ensure outdoor spaces were accessible all year round, and so incorporating a high-quality shelter with maximum protection was a top priority.
The school decided to bring in A&S Landscape, who could provide expert advice for the four canopies they had in mind. With 44 years' experience in the UK shelter industry, they knew were in safe hands. Thankfully, A&S Landscape was introduced early on in the project, and so were able to provide a wealth of industry knowledge to the school of their available cover solutions.
What was our shelter solutions?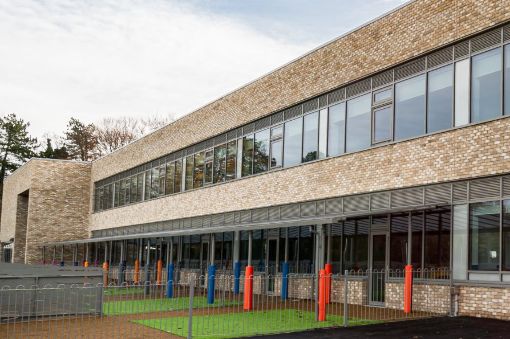 Of the four shelters installed, A&S Landscape installed two Motiva Linear™ canopies, a Maxima Tepee™ that would accommodate dining, and a Maxima StarSail™ for the play area. They are all high-quality and long-lasting cover solutions, perfect for the needs of The Austen Academy, and they were designed to meet their specific requirements.
The two linear canopies are from the straight roof range of Motiva polycarbonate canopies, and are 'monopitch.' This means that one side is higher than the other. They are commonly fitted against existing building walls but are also great freestanding canopies. They are a highly functional canopy, but also come with a wide variety of design options, and so can be styled to match the aesthetics of the surrounding environment. At The Austen Academy, for example, they chose clear panels (over opal or multicoloured) for the roof.
While the Motiva product range comes with a sturdy, polycarbonate roof, the Maxima range – the Tepee and the StarSail, are tensile fabric structures. Fabric canopies add character and style wherever they are installed, at the same time as being highly practical and robust. The Tepee, for example, uniquely has its own guttering system, and the StarSail, with its one central post, saves more room for activities underneath the canopies. The school opted for a 'buttercup' waterproof shade sail on the StarSail, and an oyster coloured roof for the white Tepee, and the steel frame of all of the above canopies, including the two linear models, were finished in stone grey (RAL 7030).
All of our canopies at A&S landscape have a unique range of specifications and features – if you'd like to find out more, please give the friendly team a call on 01743 444100.
What was the result of the new canopies?
As not all the school buildings are finished, it takes some imagination to see how the learning space will look once completely finished. The canopies, however, have brought some much-needed brightness and colour already to the building site – and look great against the buildings that are completed. We are certain that they will look great against their future surrounding architecture, and the students will enjoy playing and eating outdoors, thanks to all-year-round weather protection.
The shelters will play a huge part in the students' everyday lives at school. With the Tepee being specifically installed as a dining area, the children will be able to eat their lunch outside and socialise together during break time. The StarSail will also allow for the children to play underneath – rain or shine. All the shelters will make a positive contribution to outdoor learning, something extremely important particularly for children with SEN.
About the client
The Austen Academy is a new school, set to be opened in April 2021 in Basingstoke, Hampshire. The school is being opened by the Catch 22 Multi Academies Trust and is being purpose-built for the needs of children who have autism and other special communication needs. This was after the council found there was a shortfall of specialist education provision in the county. The school will cater to 125 pupils aged 4-16 and will provide both educational and therapeutic programmes.
We very much enjoyed being a part of the new school plans and are sure all the high-quality canopies we installed, the tensile fabric structures and the straight roof canopies, will be of great use and joy for the children.
What learning activities can you do with SEN children in your new outdoor classroom?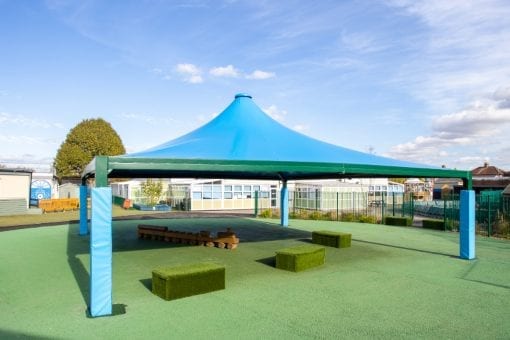 The ideal shelter on your school grounds is far from just being a practical addition, and an item that will add to the overall aesthetics, it opens up a whole world of educational wonders and possibilities, especially for SEN children. To help you reach your full potential when teaching, we've put together a few ideas of how you can utilise your new outdoor learning area.
Turn natural sound into a sensory experience
Outdoor spaces allow us all to connect more with our natural surroundings and fresh air. By simply getting the asking the children to listen to the birds chirping, or feel the vibrations caused by wind chimes – you can create a full-sensory experience for the pupils – and a pleasant place too! This is a great way to engage pupils who find communication difficult.
Play some classic games 
The extra space now made accessible by canopy addition can now be used to play fun games of hide and seek, parachute plays and treasure hunts. There's a reason these games never grow old, and it's important that your school environment incorporates space for children to let off some steam!
Make use of nature for art
Using rocks, twigs, charcoal, chalk, mud, or anything else nature provides, you can encourage pupils to open up their own world of creativity. There's no need to worry about the mess, a canopy allows for an easily-cleanable outside space, and if you're looking to invoke creativity in your pupils, our amazing range of tensile fabric structures are unique features in themselves, and have a versatile variety of shapes and sizes available.
How we can help more children to play outside and benefits of doing so?
Converging studies prove that children's outdoor play is integral for their healthy development and academic performance. This subject highlights the benefits of outdoor play in early childhood on physical health, mental well-being, and social and cognitive development. It also raises the need to change the trends so that children can have daily access to outdoor play. The extensive interventions required to reduce parents' concerns need practitioners' training, policy changes and improved urban planning for safer environments and natural play spaces. That is a huge task that will take many years to complete. Regardless, there are ways that schools can intervene, to assist children in attaining their crucial repeated experience with high quality unstructured outdoor play opportunities, which will support their development and academic performance.
Carry on reading to find out why outdoor play is so critical for child development, why it is disappearing and how schools can assist.
Why choose A&S Landscape for your shelter?
With 44 years of experience designing, manufacturing and installing high-quality canopies, A&S Landscape are experts when it comes to canopies tailored to customers' requirements. Even if you've got limited space, or you'd just like something a bit different, we can help you find your perfect solution. Across all our ranges, you are able to create a bespoke shelter, one that is truly unique to you.
Our canopy expertise doesn't stop there, we manufacture cycle shelters, shelters to protect play equipment from the winter weather, and can even add roller shutters for maximum security protection. Whatever your specific requirements, we can help you turn your canopy vision into a reality. If you'd like to discuss how we can help find you your perfect outdoor canopy, get in touch with our friendly team on 01743 444100 or at [email protected].
Read about some of our other projects based in Hampshire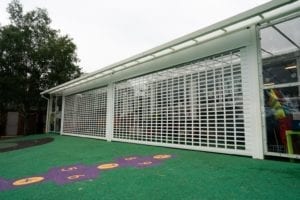 Harefield Primary School Add Secure Canopy with Roller Shutters
A&S erected a straight polycarbonate roof canopy with roller shutters in Harefield Primary School , Southampton, Hampshire. The job involved the supply and installation of one Motiva™ monopitch straight roof canopy measuring 17600mm X 4000mm and included for our Alu-Tuff™ aluminium box profile guttering and downpipes in matching Dura-coat™ colour finish.  The supply and installation of two electrically operated punched and glazed roller shutter doors to front elevation and glazed panels to the other sides.
Umbrella Canopy We Designed for The Portsmouth Grammar School
In combination with our trade partner A&S produced a playground umbrella in The Portsmouth Grammar School – Senior High Street, Portsmouth, Hampshire. The job involved the supply and installation of one Maxima™ waterproof Umbrella structure supported on a single upright measuring 4000mm X 4000mm.
Timber Gazebo Designed for Pennington Infant School
Our engineers built a gazebo at Pennington Infant School Pennington, Hampshire. The contract included 3.5m Square Gazebo with Timber Roof.
Ditcham Park School Add Canopy with Polycarbonate Roof
Our team erected a straight polycarbonate roof canopy for Ditcham Park School Ditcham, Petersfield, Hampshire. The contract included the supply and installation of one Motiva™ monopitch straight roof canopy measuring 9500mm X 3500mm and included for our Alu-Tuff™ aluminium box profile guttering and downpipes in matching Dura-coat™ colour finish and glazed panels to side elevation and one end (13m).