St John Fisher Catholic High School in Cambridgeshire Add Sail Shades
When the time came to revamp this lovely outdoor space St John Fisher Catholic High School contacted A&S Landscape for our input.
What was the project brief?
St John Fisher Catholic High School is a smaller sized high school and sixth form located in Peterborough. It's a school that has seen development over recent years, and which prides itself on its faith-based values. The school recently celebrated its 60th anniversary and is still going strong as a school of choice in the Peterborough region. It's proud of the school site, the facilities on offer and the varied and interesting curriculum available to its pupils.
The school grounds offer everything from well-equipped classrooms to sports facilities, including a floodlit all-weather pitch. Students are encouraged to take part in everything from tennis to netball, athletics to football and rugby, and cricket or rounders. The outdoor spaces are certainly important to pupils and teachers alike. At the centre of one of their outside spaces, an extensive area of seating and shade had been installed. This had become a popular place for pupils to meet up and to utilise during break times.
When the time came to revamp this lovely outdoor space St John Fisher Catholic High School contacted A&S Landscape for our input.
What was our sun shelter solution?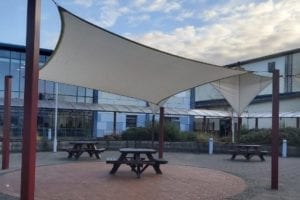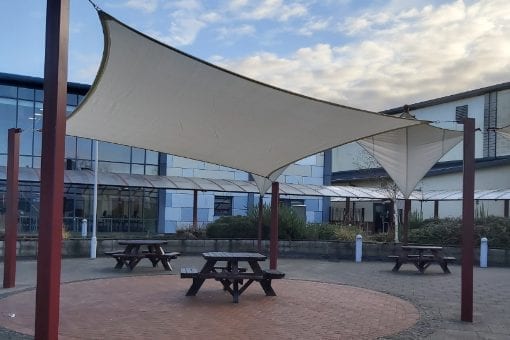 At A&S Landscape we don't just design, sell and install brand new canopy covers. We have helped many clients to refurbish existing structures, or even to add additional or new features. Our canopy products are versatile and practical, and with our talented design team on board, there's always a creative opportunity to be explored.
The existing canopy poles that had been installed on the St John Fisher Catholic High School site meant that our team were able to use them to calculate the design for brand new sail covers. These were then to be affixed to the existing canopy architecture. Based on the configuration available, the A&S Landscape Maxima Sail™ canopy worked well to cover a total area of 23 meters.
The unlimited number of shapes that can be achieved with a Maxima Sail™ mean that it's a great choice for creating a really eye-catching design. St John Fisher Catholic High School knew that the area being refurbished was a sun-trap. Their key aim was therefore to create a sun shelter with their sail cover. By using our shade cloth, St John Fisher Catholic High School have generated a very sheltered seating area which will protect those sitting beneath, even in the height of summer.
Our range includes not just shade cloth, but also waterproof fabric, both of which are available in a choice of fabulous colours. St John Fisher Catholic High School selected Chino Cream for their sun shelter cloth, creating a really smart overall design.
What was the result of their sun shelter revamp?
With fresh, new shade cloth fabric, St John Fisher Catholic High School has given the whole area a new lease of life. In a sunny spot like this on a high school campus, it's really beneficial to create an area that encourages pupils to be outside and enjoy the fresh air. It generates a social space, and one that pupils can identify as their own.
About the client
St John Fisher Catholic High School might be small in size, but this certainly doesn't mean that the opportunities offered to its pupils are in any way limited. The list of clubs and activities outside the normal curriculum on offer is almost endless! Pupils can choose anything from acapella to futsal, or they can join the concert band, or maybe sign up to the film club. There is even the opportunity for pupils to join the Combined Cadet Force, where there are still more opportunities to get involved in activities and development opportunities.
April 2019 marked two significant events for St John Fisher Catholic High School. Not only was it the school's 60th anniversary, but this date also marked the retirement of their former headteacher. The values that the school has fostered throughout its 60-year history are as alive today as they ever were. Despite the challenges that 2020 brought with it, the school's pupils still found the time to create Christmas hampers to deliver festive joy to elderly people in the community.
Why invest in a sun shelter canopy?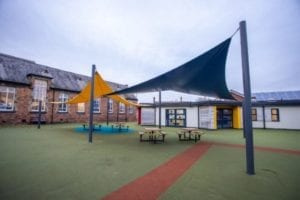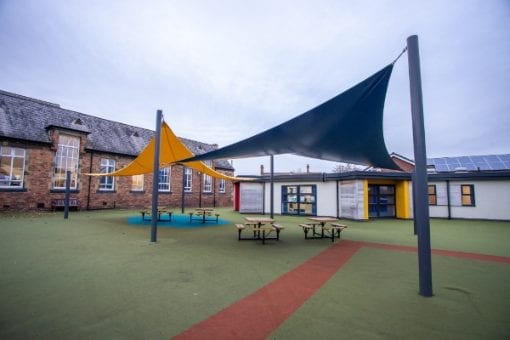 School estates often have to make the very best of limited space, and outside space is just as important as inside facilities. When it comes to encouraging pupils to get outdoors, schools often have to think creatively about how they can enhance the spaces that they have. By installing a sail cover in a spot that would otherwise be over-exposed to the sun, pupils will benefit from the following:
A dedicated social space for them to enjoy and relax in, even during the very height of summer.
Protection from the sun's harmful UV rays which can lead to skin damage.
A place to meet friends and enjoy downtime during a lunch break.
An outdoor classroom environment which enables teachers to bring something different to the learning experience.
What is a tensile canopy system?
Sunshade awnings like the one at the St John Fisher Catholic High School site are based on tensile canopy system technology. This means that the chosen fabric is affixed to steel (or wooden) uprights utilising tension to secure and shape them. This form of installation enables a really eye-catching design to be achieved. With the fabric looking almost like the sail of a yacht, you can easily understand the reference to sails in the names of some of the products in our fabric canopy range! Not only do they look great, though, used in combination, or grouped together, it's possible to achieve a wide area of coverage whilst also making a fabulous design statement.
Is dining outdoors a privilege or essential to school children?
There are a great deal of proven benefits to dining outdoors as a part of the school day. As pupils spend a large amount of the day in a classroom setting, it is critical that they are given time to breathe at lunchtime. In spending this break in the fresh air, it not only provides a relaxing atmosphere but can also decrease levels of hyperactivity in a student. If a pupil is directed to occupy their break indoors, it can mirror the classroom setting and stop them from taking enough amount of time to relax. Alfresco dining is also a really sociable activity, free by the dining hall environment young people can mix with other year groups easily.
Over on our blog you can learn how schools can help their students to eat outside regularly – click here.
Why choose A&S Landscape for your tensile canopy system?
As market leaders in the design, installation and maintenance of canopies for senior school sites, we bring a vast amount of knowledge and experience to our projects. It doesn't matter whether you need a whole new design and installation, or customisation or refurbishment of a previously installed structure. A&S Landscape welcome your enquiry and our team are on hand to assist you with your questions, no matter how small. Contact us today to find out more or visit the other pages of our website to see more of our previous projects.
Find out more about our other projects based in Cambridgeshire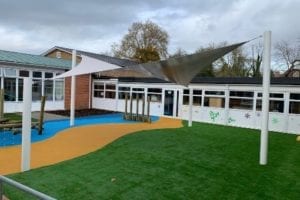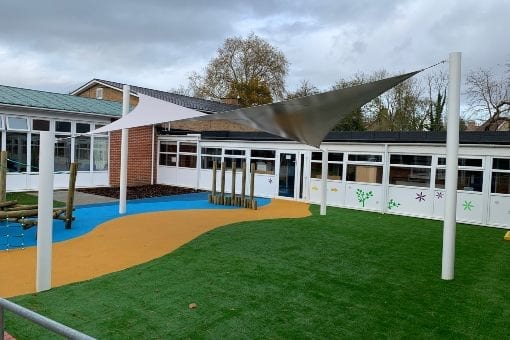 Stapleford Primary School Add Shade Sail to Playground
Working for the specialist building contractor our engineers designed a sail structure in Stapleford Primary School Cambridge, Cambridgeshire. The job involved one 6000mm X 6000mm Maxima™ tensile waterproof fabric sail structure comprising one sail on  4 uprights including for all stainless steel fixtures and fittings.
City College Peterborough Add Fabric Canopy to Campus
We produced a StarSail for City College Peterborough Western Avenue, Peterborough, Cambridgeshire. The contract included the supply and fitting of one Maxima StarSail™ tensile waterproof fabric structure supported on a single upright measuring 6000mm X 6000mm.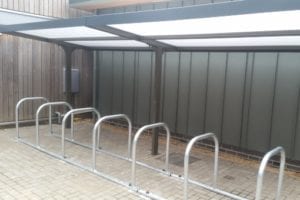 Bike Shelter We Designed for Jesus College at University of Cambridge
Our engineers erected a cycle store in Jesus College University Of Cambridge Jesus Lane, Cambridge, Cambridgeshire. The job involved one Cyclo 'City' cycle store unit measuring 5500mm x 2000mm.
North Witchford Lodge Add Curved Roof Shelter
Working with our building contractor client our team made a curved roof canopy in North Witchford Lodge Wimblington, March, Cambridgeshire. The job involved one Motiva Duo™ duopitch curved roof canopy measuring 4800mm X 3200mm and included for our Alu-Tuff™ aluminium box profile guttering and downpipes which were coated in a matching Dura-coat™ colour finish.