Secure Covered Area At St Cuthbert's School
St Cuthbert's Catholic Primary School is a modern voluntary aided Roman Catholic Primary School in the Norley Hall area of Wigan. Succeeding where others had failed, A&S Landscape is proud to have satisfied the school's brief for an aesthetically pleasing large secure covered area.
Project Specification
Product:

Bespoke Motiva Canopy

Size:

14000mm x 6000m

Steelwork:

Moss Green - RAL NO. 6005

Roof:
Working with well-respected Architects E C Harris we were pleased to be able to offer our design expertise early in the planning stage providing several alternatives including photorealistic visualisation and cost options for the client's perusal.
The final design is a statement in itself with the curved roof sweeping up from the school to create a feeling of space within the area.
Visual we created for St Cuthbert's School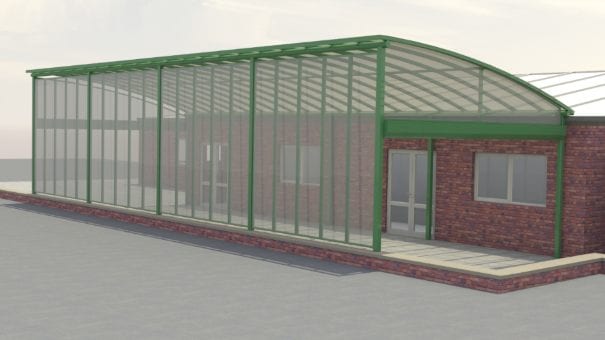 Based on our standard Motiva design and with additional design features the canopy benefits from two No 5.2 metre roller shutter doors giving the area the added value of 24/7 security. We were pleased to work with the main contractor assisting with foundation detail and setting out and working to tight timescales the project was successfully delivered in time for the new school term.
How schools can create more teaching space with outdoor classrooms and what items are needed to equip these?
Schools increasingly need to find additional space to teach students either as a class or in smaller focus groups. Instead of looking inside, there is generally unused space outside a school.
Outdoor classrooms can not just provide key space but also an inspiring learning area for pupils and teachers alike. This change of scene can incite better concentration and renew interest in a subject matter. Even the largest of outdoors spaces must be fitted out with some basics if they are to be used for outdoor classrooms.
Looking to create an outdoor classroom? Click here to see the full article with the rest of our tips.