Regent High School in London Installs Shade Sail
The students love the canopy; it has brought the outdoor area to life and now the unpredictability of the British weather doesn't stop anyone from having a friendly or competitive match of table tennis on their breaks, or from being a supportive spectator.
Project Specification
Product:

Maxima Sail™

Size:

6000mm X 6000mm

Steelwork:

Slate Grey - RAL NO. 7015

Fabric:
What was the project brief?
Regent High School in London wanted to cover their table tennis area so they could install seating there and turn it into a space that was usable year-round. They thought that a shade sail would be best as it would have a breezy design, and they were looking for something modern and striking that could shelter a large area in different kinds of weather. It needed to enable students to enjoy more social time and exercise outside, playing table tennis or watching friends' matches. The staff approached us here at A&S Landscape and we knew exactly how to help them.
What was our shade sail solution?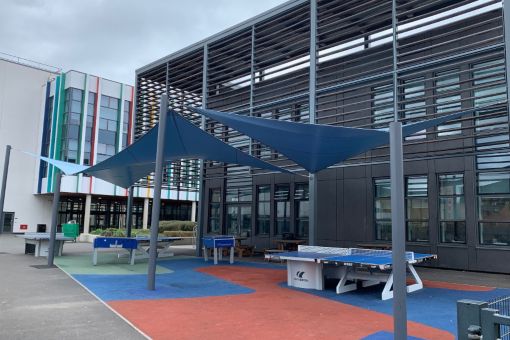 We explored our product range with Regent High School and they decided that our Maxima Sail™ was their favourite model. This was a brilliant choice, because it has an eye-catching design that is also suitable for a variety of applications – everything from outdoor seating areas to covered sports areas. The team picked out Slate Grey steelwork and a Steel Blue fabric roof which made for a sleek, contemporary look and heightened the open, airy feel of the structure. It comprised of three 6000mm X 6000mm sails on a total of eight uprights, so there was room for a collection of table tennis tables and seating beneath which would be protected from the elements.
What was the result of the new shelter?
The students love the canopy; it has brought the outdoor area to life and now the unpredictability of the British weather doesn't stop anyone from having a friendly or competitive match of table tennis on their breaks, or from being a supportive spectator. The shade sail has created the perfect space to install benches and keep things relaxed outside, and the sophisticated colour scheme really suits the institution's atmosphere. We were thrilled that this fantastic example of tensile fabric canopies has been of such great benefit to the school, and we hope that it shelters many fantastic table tennis matches in the coming years.
About the client
Regent High School is an 11-19 co-educational comprehensive school. It boasts a £26 million state-of-the-art new building, opened in 2015 by Nobel Prize-winning professor John O'Keefe, and uses its facilities for the benefit of the community. The staff help their students to enjoy personalised learning experiences, with many having moved on to careers in sectors like medicine, architecture and law. We enjoyed collaborating with them and wish them all the best for the future.
This client is located in London, an amalgamation of exciting cultures and one of the world's most visited cities. It features iconic landmarks including Tower Bridge and Westminster Abbey, as well as attractions like London Zoo, the London Eye and Madame Tussauds London. Among the hustle and bustle, there are also Royal Parks in which to enjoy quiet time with loved ones and more than 230 theatres that provide entertainment for the whole family.
In what ways can academic institutions use shelters in their sporting facilities?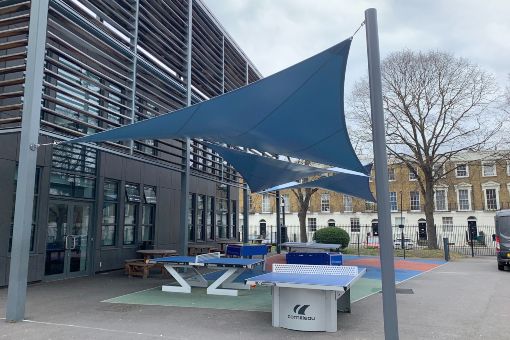 Canopies can help institutions to make the most of their sports spaces throughout the year by ensuring they are safe, dry spaces to exercise in, no matter the weather. Here are some examples of how they can use them.
Schools may wish to purchase a shelter that can accommodate many different activities and be a single space where their entire population can enjoy physical education. Our Covered MUGA™ is an ideal model for this, as it can be used for everything from hockey and tennis to cricket and athletics. These types of areas can ensure that all students have access to a high-quality sporting facility.
These canopies can be installed on football or rugby pitches, for example, to keep supporters dry in the rain when watching matches and supporting players. They can also make being a spectator more comfortable during the summer, as they are able to block some UV rays and act as a sunshade.
Specific canopies for certain sports
Some institutions may specialise in an activity or two, and shelters dedicated to these can go a long way to improving the experience for students using the spaces throughout the year.
Whether you have a talented young athletics team or want to create a top-class facility for your school to enjoy an array of sports and games, we can help you achieve your dream with our diverse sporting canopies. You can easily find out more about how we can do this – just send us an email at [email protected]m and we'll be in touch.
Who are some past A&S Landscape clients?
We are proud to have supplied canopies to a wide variety of customers in all sorts of sectors. Some examples are local authorities like Devon County Council, universities like the University of Birmingham and commercial clients like Severn Trent Water. If you'd like to join our extensive list, contact the canopy and shelter specialists, A&S Landscape, by calling us on 01743 444100 now.