Roman Vindolanda Fort & Museum Café in Northumberland Add Umbrella Canopy
A&S Landscape installed a large fabric umbrella canopy for the café at the Roman Vindolanda Fort & Museum. This was part of a series of works made to further improve the outdoor seating area.
Project Specification
Product:

Maxima Umbrella™

Size:

6000mm X 6000mm

Steelwork:

Slate Grey - RAL NO. 7015

Fabric:
A Maxima Umbrella was added outside of the café, on the new decking area. Measuring 6m X 6m, there is plenty of room for several tables to sit underneath the cover. The Slate Grey steelwork and Porcelain Green roof give the canopy a stylish and subtle look. Made with a waterproof material, the umbrella can be used during the wetter months too.
The customers of Roman Vindolanda Fort & Museum can enjoy their refreshments outside on the decking area, in the fresh air. The canopy will keep the visitors cool and comfortable in the sun, and dry in the rain. Now when the Great British Weather can't make up its mind, the customers can continue relaxing outside.
"There were no problems at all, we're really happy with A&S Landscape's work."
– Roman Vindolanda Fort & Museum
Installing a shelter is a great cost-effective way of increasing the seating capacity of a café, bar or restaurant. There are many options and extras you can also consider, including adding a heater to the post of the umbrella for cooler seasons.
A&S Landscape has worked with many businesses in the hospitality sector, supplying canopies, shade sails and shelters. Take a look at our gallery of completed products for more ideas or find out how you can easily get a quote from us. You can also call us directly on 01743 444100 to discuss your options.
Look through some of our other canopy projects based in Northumberland
St Cuthbert's Catholic High School Add Octagonal Tepee Canopy
A&S created an octagonal tepee structure at St Cuthbert's Catholic High School Fenham, Newcastle Upon Tyne, Northumberland. The contract included the supply and installation of one Maxima™ Octagonal Tepee fabric roof structure measuring 10000mm x 10000mm including for aluminium frames, windows, doors and laminate glass.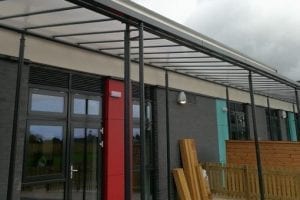 Straight Roof Shelter Designed for Morpeth First School
In combination with our building contractor client our team built a straight polycarbonate roof canopy at Morpeth First School Morpeth, Northumberland. The full contract involved the supply and installation of one Motiva™ monopitch straight roof canopy measuring 31800mm X 3000mm and included for our Alu-Tuff™ aluminium box profile guttering and downpipes in matching Dura-coat™ colour finish.
Three Sail Shades Designed for Our Lady Immaculate Catholic Primary School
Our engineers produced three sails at Our Lady Immaculate Catholic Primary School Northumberland Terrace, Merseyside. The contract included three Maxima™ tensile shade cloth fabric sails including for all stainless steel fixtures and fittings.
Wooden Planter Sail Structure Installed at Hadrian School
We erected a planter sail structure for Hadrian School Pendower, Newcastle Upon Tyne, Northumberland. The job involved one 4000mm x 4000mm Maxima™ Planter Sail including for fixtures and fittings.