Kirton Lodge in Greater London Install a Variety of Shelters
The staff and residents at Kirton Lodge were delighted with their seven outdoor canopies. They met their various needs, and now everyone can get the benefits of spending time outside throughout the year. The entrance shelters signpost the ways into the buildings with style.
Project Specification
Product:

Motiva Linear™

Steelwork:

Basalt Grey - RAL 7012

Roofing:
What was the project brief?
Kirton Lodge in Wandsworth, London wanted to add a range of canopies to their outdoor areas to benefit the residents of their retirement housing facility. They needed a total of seven shelters to cover several requirements, including entrance canopies. They had to come in a variety of sizes, add something striking to the look of their existing buildings and offer fantastic protection from the unpredictable British weather. The team got in touch with A&S Landscape who had the expert knowledge that they needed, as well as some practical ideas about how to approach the project.
What was our canopy solution?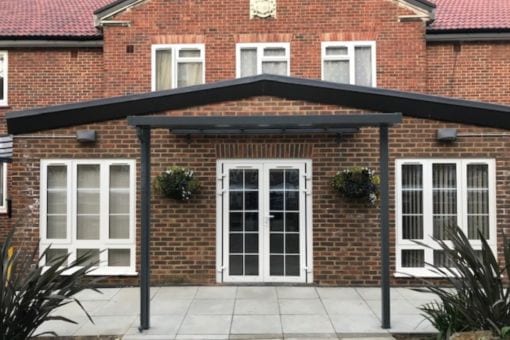 After considering the complex requirements of the client and the large number of canopies that they had requested, A&S Landscape suggested their popular Motiva Linear™ model. It has a roof with one side higher than the other and is versatile enough to adapt to many different shelter requirements, such as those of Kirton Lodge. The seven canopies were supplied in a range of sizes and they all sported Basalt Grey steelwork and Clear roofs. This was an excellent choice of colour combination, as it created a stylish, modern feel that complemented the other facilities. The straight roof design of the Motiva Linear™ also offered effective shelter from the elements, so residents enjoying time outdoors or visitors arriving at Kirton Lodge wouldn't be bothered by rain or wind.
What was the result of their new shelters?
The staff and residents at Kirton Lodge were delighted with their seven outdoor canopies. They met their various needs, and now everyone can get the benefits of spending time outside throughout the year. The entrance shelters signpost the ways into the buildings with style, the matching designs add unity and appeal to the architecture, and the different canopy sizes allow them to be used for many purposes. A&S Landscape was thrilled that the shelters were so well-received and that they would add something special to the daily lives of everyone working and living at Kirton Lodge.
Why should healthcare providers consider adding a shelter to their premises?
More and more healthcare sites are deciding to add canopies to their facilities, from ambulance depots to doctor's surgeries. But why are healthcare shelters growing in demand so quickly? Canopies can have many uses and bring a wealth of benefits to healthcare sites, from creating a sheltered outdoor seating area for the patients to use to creating covered walkways around large sites. Many providers are recognising canopies as a cost-effective way of developing their sites and getting more use from their external areas.
About the client
Kirton Lodge is a retirement housing facility situated on the Wendlesworth Estate in Wandsworth, London which accepts residents of 55 years and above. It is comprised of 21 flats spread across two floors and boasts attractive front and rear communal gardens. The manager of the site says that 'there is a lively and friendly community spirit amongst the residents', and day trips are regularly organised. A&S Landscape found the staff at this facility to be extremely accommodating and was pleased to add this complex project to their successful portfolio of work.
Those living or working at Kirton Lodge can enjoy having the bustling benefits of England's capital city right on their doorstep. From its 170 museums and iconic landmarks like Big Ben and the London Eye to the many wonderful theatres of the West End, London has countless attractions to experience. Foodies and fashion lovers won't be disappointed, thanks to the variety of vintage shops, designer stores, Michelin star restaurants and street food offerings. London even boasts four UNESCO World Heritage Sites – including the famous Tower of London – and many beautiful green spaces in which to relax, such as Hampstead Heath and the Royal Parks.
How can retirement homes and housing facilities make use of shelters?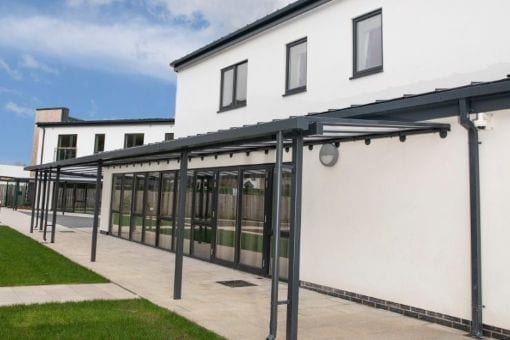 Canopies are incredibly versatile products that can have many benefits for retirement facilities, but which types can they get the best use out of?
Dining shelters – these can be installed to provide everyone at the site with a functional and attractive, sheltered space to eat and socialise outdoors, whether it's sunny or rainy. They are also ideal for extending capacity when facilities are crowded.
Entrance canopies – adding shelter to entrances makes sure that visitors such as family and friends can be shielded from the elements and will easily be able to identify the way in.
Covered walkways – sites with multiple buildings can benefit from covered walkways so staff are protected when moving between them outside. Furthermore, they add a feeling of unity and can improve the look of facilities.
Cycle stores – these ensure that staff bikes are always kept dry and secure, instead of cluttering outside areas.
If you're thinking about installing a canopy cover at your retirement facility – or perhaps an outdoor classroom gazebo or shade sail at your school – give A&S Landscape a call today on 01743 444100. We'll be happy to help you find the perfect model, whether one of the examples above suits your needs or you're after a different solution.
What do past clients think of A&S Landscape?
We are proud to have worked with hundreds of satisfied clients, having supplied them with everything from outdoor classroom buildings to playground shelters. Take a look at our testimonials to read their feedback and then, why not contact us to find out more about how our products can help you? Email us at [email protected] – we can't wait to hear from you.
Continue reading about other projects we have completed in London
White Fabric Umbrella Canopies Designed for The Willow Primary School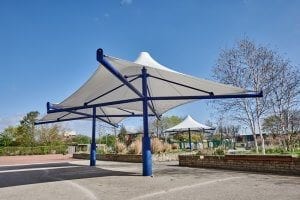 A&S constructed five umbrellas for The Willow Primary School Broadwaters Inclusive Learning, Adams Road, London. The job involved five Maxima™ waterproof Umbrella structures each supported on a single upright measuring 5000mm X 5000mm.
The Olive School Add Multicoloured Polycarbonate Roof Canopy to Play Area
Our team designed a straight polycarbonate roof canopy for The Olive School Hackney, London, Greater London. The job involved one steel framed Motiva Linear™ monopitch straight coloured  polycarbonate roof canopy measuring 9000mm X 3900mm and included for our Alu-Tuff™ aluminium box profile guttering and downpipes in matching Dura-coat™ colour finish and six post protection pads.
Fabric Shade Sails Installed at Grazebrook Primary School
Our engineers created five triangle sails for Grazebrook Primary School Lordship Road, London, Greater London. The job involved supply and installation of five bespoke triangular sails from monotec 370 fabric.
Outdoor Dining Canopy Designed for Claremont High School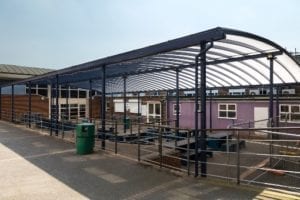 A&S created a curved roof canopy at Claremont High School Harrow, London. The full contract involved one Motiva Duo™ duopitch curved roof canopy measuring 23236mm x 12384mm and included for our Alu-Tuff™ aluminium box profile guttering and downpipes which were coated in a matching Dura-coat™ colour finish.
St John's School Add Fabric Roof Shelter
Our team made a tensile fabric roof Tepee at St John's School Potter Street Hill, Northwood, Greater London. The full contract involved the supply and installation of one Maxima Tepee™ tensile waterproof fabric roof structure measuring 6000mm X 5400mm including for 2m length splash plate and post protector pads.