Greensward Academy in Essex Adds Three Outdoor Canopies
The three outdoor shelters have been a wonderful addition to the grounds at Greensward Academy. Staff and students alike can now experience more time outside, no matter the season, and the new spaces created are bursting with possibilities.
Project Specification
Product:

Motiva Linear™

Size:

8000mm X 8000mm | 6000mm X 4000mm

Steelwork:

Gentian Blue - RAL NO. 5010

Roof:

White - RAL 9010
What was the project brief?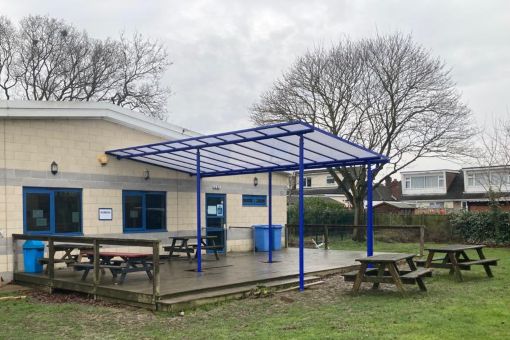 Greensward Academy in Hockley, Essex wanted to have three shelters installed to create more covered outside space for its students and staff. They were searching for something that could offer significant coverage on the playground and be used in many different ways, as well as a smaller structure to adjoin one of the buildings. All the canopies needed to be able to withstand the unpredictable British weather, and complement each other and the look of the school with classy designs. The team got in touch with us here at A&S Landscape and we knew just how to help them.
What was our canopy solution?
We talked through our product range with Greensward Academy and they eventually settled on two different models. The first was our Maxima Tepee™, which boasts a myriad of features like an integral gutter system and fire retardant fabric. This was ideal to form two standalone structures on the playground, each measuring 8000mm X 8000mm, and the minimal uprights meant there was space for everything from dining to relaxation there. The second canopy the staff chose was a 6000mm X 4000mm version of our ever-popular Motiva Linear™, with its classic, asymmetric straight roof that lends it well to being located against building elevations. The shelters featured Gentian Blue steelwork with White roofs and Ultramarine Blue steelwork with an Opal roof respectively, which worked perfectly with the modern academy aesthetics, and they were up to the task of shielding people beneath them in all weathers.
What was the result of the new canopies?
The three outdoor shelters have been a wonderful addition to the grounds at Greensward Academy. Staff and students alike can now experience more time outside, no matter the season, and the new spaces created are bursting with possibilities. They could explore using one of the canopies as an outdoor classroom shelter for more varied teaching and learning opportunities, and they would work equally well as dining canopies to help alleviate overcrowding in existing indoor facilities at break times. Greensward Academy said that our installation team was very accommodating of their needs and mindful of student safety when manoeuvring equipment. We would love to return to offer them further shelter solutions in the future.
About the client
Greensward Academy is a co-educational comprehensive in the Academies Enterprise Trust, with around 80 staff who teach approximately 1,400 11- to 19-year-olds. Its mission is to 'gather and motivate inspirational people committed to delivering an excellent education that launches children into remarkable lives.' The community values bravery, curiosity, pushing limits and compassion – we found working with them to be a delight and would happily do so again.
Greensward Academy is situated in Hockley, a village in Essex. It features the 130-hectare Hockley Woods, which is the largest remaining area of the wild wood that covered the county following the Ice Age and is a fantastic place for all ages to visit. Essex is diverse and includes the bustling hubs of Chelmsford and Colchester, plus a 350-mile coastline and fun attractions like Colchester Zoo and Lee Valley White Water Centre.
How can I customise my canopy?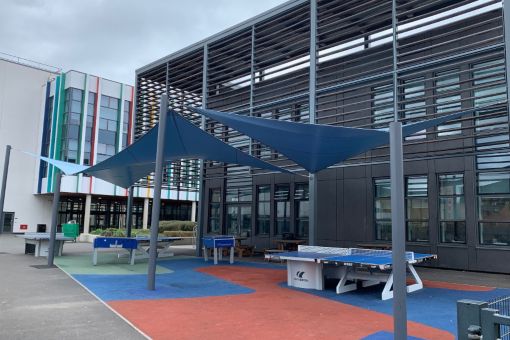 There are lots of ways in which you can make your shelter your own, to suit your preferences and the needs of your institution, business or organisation. Here are just a few:
We have a variety of colours available across our product range, so every client can find those that appeal to them. You can select your ideal shades for your steelwork, roof and post pads and with great options like Signal Green, Foxglove and Celestial Blue, it can be a fun decision that can ultimately boost your brand and business.
We build all our structures to order, so the size is completely up to you! Whether you need a large playground canopy to enable your pupils to get some fresh air in the wetter months or a waterproof sail shade for your restaurant or park grounds, we can accommodate your size requirements.
We all know that the British weather is unpredictable, so this added feature can be useful to keep your shelter warm and well-lit and ensure the best experiences possible.
You can choose to have side panels, shutters, windows or doors installed with your canopy. This can create an enclosed area in a cost-effective way and make it even more adaptable, secure or suited to specific needs like dining.
If you'd like to find out more about how you can customise a shelter so you get the best use out of it, contact us today. You can reach us by calling 01743 444100 or emailing us at [email protected].
What locations does A&S Landscape work in?
We are centrally located in Shrewsbury, Shropshire and this helps us in our work supplying canopies to customers based across the UK. So, whether you're in London, Devon, Scotland or Wales, get in touch to start your shelter journey today – simply call us on 01743 444100.