Carisbrooke College on the Isle of Wight Cover Outdoor Area
Carisbrooke College on the Isle Wight needed to provide their students with shelter from the unpredictable weather. A&S Landscape worked with the college to create a practical, yet stylish, shade solution.
Project Specification
Product:

Maxima Sail™

Size:

6000mm X 6000mm

Steelwork:

Slate Grey - RAL NO. 7015

Fabric:
The finished product makes a real statement on the campus. The Maxima Sail structure is comprised of three sails, each measuring 6000mm X 6000mm. The dark blue fabric chosen works perfectly with the school buildings. The eight upright posts are finished in a modern slate grey steelwork colour, which complements the surrounding environment.
Because the shade sails are finished in a waterproof PVC fabric, they can be used every day and offer essential protection from the rain. This was an important requirement that the college had because of their location.
The students of Carisbrooke College now have an area they can shelter underneath when the weather is poor. This means the outside space can be accessed and used more frequently, relieving pressure from the existing facilities.
Giving students the chance to enjoy some fresh air and outdoor space has many benefits on the college. Classes can turn up to their afternoon lessons refreshed and motivated to learn. Teachers can also use the shelter as an alternative learning environment.
The Benefits Of Outdoor Learning on Students and Teachers
There are many benefits of learning outdoors which help school children as well as staff. A component that is usually disregarded is the teacher's enjoyment of teaching lessons and how the opportunity to teach outside can be just as enthralling for them as it is for children. Being in an outdoor setting is healthy and creates positivity for teachers which is frequently emulated in their lessons and the way they teach. If a teacher is uninspired, that lack of eagerness can carry over into their lessons but putting them in contact with nature can thoroughly alter the way they think about teaching.
A happy teacher is a great teacher and one that is avid about educating children. Introducing a canopy into a school gives both teachers and children a chance to explore this together and brings with it a positive sense of freedom. Increasing engagement in school is something every teacher is looking to do and with an school canopy from A&S Landscape, it's made much easier. The more involved students are with their learning, the more their skills advance and the more assured they become in their abilities.
Being outdoors instead of inside a building, or mundane classroom, all day prompts a healthy relationship with nature and helps children to grow up with an gratitude for living things. Teaching children about nature is not necessarily something that is included as part of a curriculum, but it is part of life and an important part of their development as a human being.
Click here to learn more about the varied benefits of learning outdoors.
A&S Landscape offers a range of fabric canopies, including Tepees, Umbrellas, Parasols and StarSails. Our team can help you every step of the way, from the initial idea to completion. Get in touch with our friendly team today on 01743 444100.
Find out about some of the other shade sails and shelter projects we have completed nearby in Hampshire
The Portsmouth Grammar School Add Umbrella Shade to Playground
In combination with our trade partner our team built a playground umbrella at The Portsmouth Grammar School – Senior High Street, Portsmouth, Hampshire. The job involved the supply and installation of one Maxima™ waterproof Umbrella structure supported on a single upright measuring 4000mm X 4000mm.
Straight Roof Shelter Designed for Ditcham Park School
Our engineers built a straight polycarbonate roof canopy in Ditcham Park School Ditcham, Petersfield, Hampshire. The contract included the supply and installation of one Motiva™ monopitch straight roof canopy measuring 9500mm X 3500mm and included for our Alu-Tuff™ aluminium box profile guttering and downpipes in matching Dura-coat™ colour finish and glazed panels to side elevation and one end (13m).
Timber Gazebo Fitted at Pennington Infant School
Our team designed a gazebo at Pennington Infant School Pennington, Hampshire. The job involved 3.5m Square Gazebo with Timber Roof.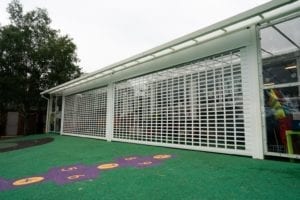 Harefield Primary School Add Canopy with Roller Shutters
A&S made a straight polycarbonate roof canopy with roller shutters at Harefield Primary School, Southampton, Hampshire. The contract included the supply and installation of one Motiva™ monopitch straight roof canopy measuring 17600mm X 4000mm and included for our Alu-Tuff™ aluminium box profile guttering and downpipes in matching Dura-coat™ colour finish.  The supply and installation of two electrically operated punched and glazed roller shutter doors to front elevation and glazed panels to the other sides.