Bowesfield Primary School in County Durham Add Fabric Tepee Canopy
After the options were discussed and refined, the final shelter solution was selected from our Maxima fabric range.
Project Specification
Product:

Maxima Tepee™

Size:

8000mm x 4000mm

Steelwork:

Slate Grey - RAL NO. 7015

Fabric:
What was the project brief?
Bowesfield Primary School in Stockton on Tees, County Durham, is a school for some 300 pupils. As a school with a commitment to health and fitness, and being part of the Healthy Schools initiative, physical education is extremely important to the school and its pupils. They even offer access to an after-school sports programme, and with their own playing fields to run around in, there are plenty of opportunities for the children to be involved.
Bowesfield Primary School contacted A&S Landscape for help to deliver on a vision of creating a shaded space on the playing fields. Their desire was to generate as much covered space for the children to use as possible.
What was our shade canopy solution?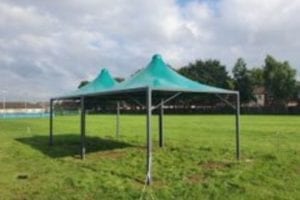 With the aim of providing as much covered space as possible, A&S Landscape surveyed the proposed site and talked to the school about exactly how they wanted to utilise the space. This approach enables our team to develop a design for just the right type of canopy cover. After the options were discussed and refined, the final shelter solution was selected from our Maxima fabric range. The model chosen was the Maxima Tepee™ free standing canopy, with two individual structures together to create the area of coverage that the school wanted to achieve. Available in standard modular sizes from 3 metres up to 15 metres, it really is an excellent choice for large covered areas, particularly when grouped together.
The Maxima Tepee™ steel shelter frame is engineered from galvanised and PPC steel and includes an integrated gutter system. It is waterproof, UV resistant and fire inhibiting fabric creates the overhead canopy cover.
Bowesfield Primary School selected from our extensive range of steel and fabric colours to customise their new canopy, with the steel canopy poles and frame finished in Slate Grey (RAL 7015) and Green overhead fabric.
What was the result of their new shade canopy?
Bowesfield Primary School now has a fantastic shelter solution at the heart of their playing field. Creating a central meeting point for team sports, as well as the desired shaded area. This is a great addition to the facilities meaning that there is refuge from the sun's rays on hot summers days. With lots of after school sporting activities taking place, it's also a great asset for setting up games and other outdoor activities outside of the standard school day too. With a strong and durable steel shelter frame, it will be a lasting asset for years to come.
How outdoor classrooms can be used during the school day and what resources are needed to equip these?
Schools increasingly need to attain extra space to teach pupils either as a class or in smaller focus groups. As an alternative looking inside, there is typically unused space outside a school.
Outdoor classrooms can not only offer all-important space but also a stimulating learning area for children and teachers alike. This change of setting can inspire better concentration and revive fascination in a subject matter. Even the largest of outdoors spaces will need to be fitted out with some essentials if they are to be used for outdoor classrooms.
Planning to create an outdoor learning space? Click here to read the full blog with the rest of our tips.
About the client
Bowesfield Primary School has been officially recognised as 'Good' by Ofsted. The school recognises the part that it plays as a crucial organisation for the wider community too. This is reflected in the fact that it is a designated School of Sanctuary. A School of Sanctuary is one that commits to offering a safe and welcoming space for anyone looking for refuge from life-threatening danger, trouble at home or those simply needing to reach out for a feeling of safety.
The school also embraces the fact that some of their children are bilingual and some are even multilingual! They have a wonderful group of Language Ambassadors amongst their pupils who are there to help new children joining the schools to settle in quickly and to feel at home. They have also held events to recognise International Mother Language Day, a UN initiative aimed at safeguarding linguistic diversity.
Why invest in a shade canopy?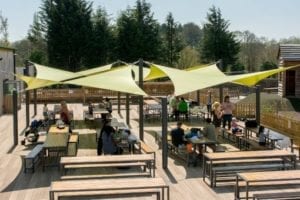 As shelter solutions go, there is much to recommend our range of custom canopy solutions. In a vast range of shapes and sizes, with a plethora of steel and fabric colours, there is no limit to the creative options to choose from. So why should your primary school invest in a shade canopy? Here are just a few reasons:
In areas where shade is scarce, they offer a strong, durable solution
They create a central point for team sports and outdoor games
Not only do they offer shade in the summer, but they also provide shelter from the rain too
With a range of options and features to choose from, you can create a long-lasting asset to your school's playing field or playground areas
Turnaround from concept to installation is quick and efficient
Take a tour of our previous projects to see the creative ways our shelter solutions can be used.
Why choose A&S Landscape for your shade canopy?
A&S Landscape have a history in the canopy design and installation industry spanning in excess of four decades. During this time, we have worked with schools from every corner of the United Kingdom. Our experience of helping school managers to deliver commercial school projects, on time and in budget, means that we understand the challenges that our school customers often face. And with every customer's needs being different from those of the last, we deal with each project individually. This means that you can be assured that, whatever your vision for your new shade solution, it will be a custom canopy that delivers on your expectations. We welcome your enquiries so reach out to our friendly team of advisers today to find out more and explore the options suitable for your school.
Take a look at some of our other jobs located in County Durham
Rossmere Play Park Add Five Fabric Tepee Shelters
Working alongside our building contractor client our team erected five tepees for Rossmere Play Park Hartlepool, County Durham. The contract included the supply and installation of five Maxima™ Tepee tensile waterproof fabric roof structures each to overall sizes as follows: 1no. 4500mm X 5500mm linked to 2no. 4500mm x 4500mm linked to 2no. 3500mm x 3500mm.
Fabric Shade Sail Structure Designed for Dawson Landscapes
Working alongside our trade partner we built a shade sail in Dawson Landscapes Ltd Hartlepool, County Durham. The job involved one 6000mm x 4000mm Maxima™ tensile shade cloth fabric sail including for all stainless steel fixtures and fittings.