Archbishop Holgate's School in York Add Stylish Fabric Canopies
We recently installed four fabric roof canopies at Archbishop Holgate's School in York. The school were so pleased with the popularity of a dining canopy that we'd installed previously, that they wanted to follow it up with five more canopies to add further outdoor shelter for students.
Project Specification
Product:

Maxima Tepee™

Size:

7000mm X 7000mm | 5000mm X 5000mm

Steelwork:

Slate Grey - RAL NO. 7015

Fabric:

Brown Red - RAL NO. 3011
What was the project?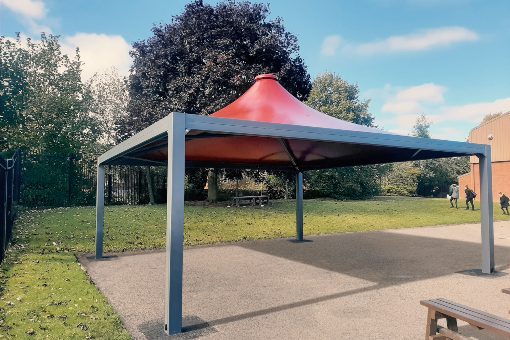 To install five canopies across separate sections of the site at Archbishop Holgate's School, York, North Yorkshire.
What was the problem?
Archbishop Holgate's School in York has several spacious outdoor areas that they wanted to keep covered for students. Previously, at the same school, A&S Landscape had built and installed a dining canopy that had become very popular with students. The school got back in touch and asked us to install five more canopies to keep the students sheltered while spending time outside.
What was our solution?
Five separate canopies were used to maximise the school's outdoor space. All five featured Slate Grey steelwork, with the two Maxima Tepee™ structures topped with Brown Red coloured fabric and the Maxima StarSail™ canopies with Raspberry. Separate styles were requested to suit the size and space of each outside area. This offers students more sheltered outdoor space alongside the existing dining canopy. They now have plenty of options when it comes to remaining dry in wet weather and cool in the height of summer.
What products did we use?
Two Maxima Tepee™ canopies were used to provide shade and shelter for students so they can utilise the outdoor space. Both of the Maxima Tepee™ designs were constructed from a Slate Grey steel frame and covered with a Brown Red fabric roof. In addition, three Maxima StarSail™ canopies were used to cover different parts of the playground. All of the StarSail™ canopies were made from chic-looking and durable Slate Grey steelwork and covered with a fun, raspberry-coloured fabric roof.
What was the result?
Archbishop Holgate's School now has a good portion of its playground sheltered from the elements. This is popular with students and provides a protected place for them to hang out together and enjoy spending time outdoors.
Client testimonial
"All of the A&S Landscape staff were great. Everything was left perfect and in immaculate condition. They always turned up when they said so top marks for reliability. We also appreciated the ongoing project updates every step of the way both in delivery and production."
A little bit about the client…
Archbishop Holgate's School is a high achieving secondary school in York, North Yorkshire. With almost 2,000 students, including a Sixth Form department, Archbishop Holgate's School has been consistently rated as Outstanding by Ofsted which is mirrored in the staff and students that attend the school.
Having recently had a covered dining area installed, we were overjoyed to hear that Archbishop Holgate's School wanted four more canopies to be added to other parts of the playground. We always want our friendship with clients to be long-term which is why we were especially pleased to continue our work with the staff and Headteacher, Andrew Daly.
As always, everyone at Archbishop Holgate's School was a joy to work with and we're proud to be able to offer students even more sheltered outdoor space for them to enjoy together.
What is a fabric canopy?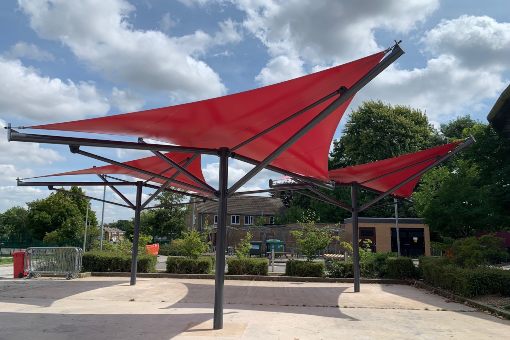 Fabric canopies are made from either steel or timber posts and are covered with tensioned, colourful, waterproof PVC fabric or shade cloth. They're extremely versatile and often used to provide shelter across a range of outdoor facilities, from children's playgrounds to café dining areas. Our variety of fabric canopies covers all shapes, sizes and styles from umbrellas and parasols to tepees and sails.
Why are canopies suited to senior schools?
We understand the need for students to be able to get outside as much as possible. It's not only good for their health and but also provides a much-needed respite from overcrowded indoor areas. Providing shelter in playgrounds and in between buildings is the perfect way for senior schools to give students access to the outside, whatever the weather. From getting together with friends to eating lunch outdoors, canopies are suited to senior schools because they bring a much-needed touch of colour as well as essential protection from the elements.
Canopies can also give students an extra location to study and can turn an otherwise drab part of a playground into a colourful and fun place to hang out. The more space there is for students to spend time in the fresh air, the more positive their overall educational experience will be.
Essentially, that's why canopies suit senior schools. Students are provided with additional places to take shelter as well as having access to recreational and social settings to spend time with friends. Fabric canopies, especially, always look fun and stylish too, thanks to the wide range of colours available. That pop of colour in the playground really gives a burst of extra energy to the school day as well as ensures students have pride in their school and ultimately, themselves.
If you're interested in finding out more about the benefits of adding a canopy to your senior school, you're welcome to read some of these testimonials from senior school representatives.
How A&S Landscape can help you
We've been working within the canopy business for over 40 years. During this time we've helped to design, manufacture and install thousands of canopies across the UK. Here at A&S Landscape, we understand the need for quality just as much as the need for a fair and honest price. We also understand the importance of building excellent relationships with our customers and partners. Our hard-working, friendly and knowledgeable experts are a team that you can trust.
Whether you're interested in covering outside space at a secondary school or asking for ideas to suit a different type of concept that you have in mind, A&S Landscape are here to help.
We've helped a wide range of sectors, including senior schools, parks and public spaces, sporting facilities, and healthcare centres, to name but a few. We stock and supply a huge selection of canopies for a wide choice of public and private sectors.
If you'd like to find out more about our choice of canopies and our competitive pricing policy, please get in touch by calling 01743 444100 or emailing [email protected].
Continue reading about more of our projects based in Yorkshire
Gillshill Primary School Add Straight Roof Shelter with Roller Shutters
Our team constructed a straight polycarbonate roof canopy with roller shutters in Gillshill Primary School, Cavendish Road, Hull, East Yorkshire. The contract included the supply and installation of one Motiva™ monopitch straight roof canopy measuring 19680mm X 4000mm and included for three electrically operated roller shutter door(s) to front elevation and glazed panels to side/front elevation.
Three Fabric Canopies Designed for Hessle Academy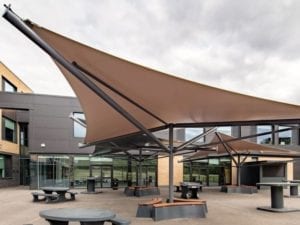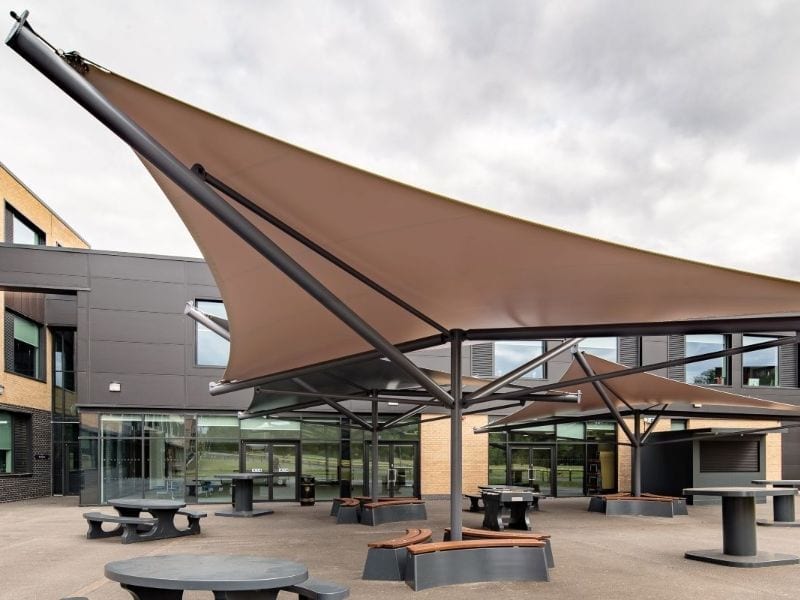 A&S designed three Maxima StarSail™ canopies for Hessle Academy Community Trust, Tranby House, Heads Lane, East Yorkshire. The job involved three Maxima StarSail™ tensile waterproof fabric structure supported on a single upright measuring 8000mm X 8000mm.
Outdoor Playground Canopy Manufactured for Hawksworth CE Primary School
We built a curved roof canopy for Hawksworth CE Primary School, Main Street, Leeds, Yorkshire . The full contract involved one Motiva Duo™ duopitch curved roof canopy measuring 6100mm X 6000mm with Alu-Tuff™ aluminium box profile guttering and downpipes in matching Dura-coat™ colour finish.
St Mary's CE Primary School Add Straight Roof Shelter
Our engineers produced a straight polycarbonate roof canopy for St Mary's CE Primary School, Beverley, East Riding of Yorkshire. The job involved the supply and installation of one Motiva™ monopitch straight coloured polycarbonate roof canopy measuring 5000mm X 5000mm and included for our Alu-Tuff™ aluminium box profile guttering and downpipes in matching Dura-coat™ colour finish.