Outdoor Seating Canopy at Coleg Gwent, Newport Campus
Posted on 30/07/2018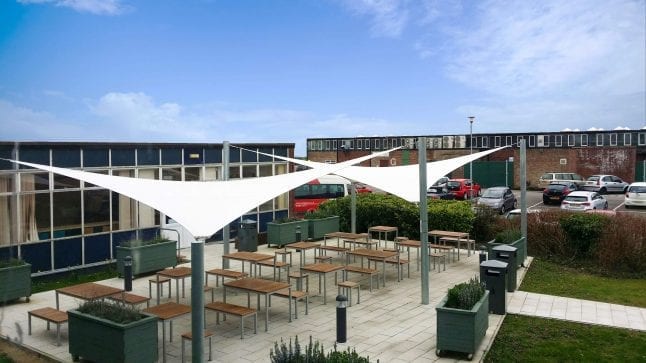 The resulting space now has modern tables and benches underneath and the shade sails look fabulous. This new area, which was previously an unused space, adds seating for students to eat and drink socialise or indeed study.
Project – Shade Sails create a modern outdoor canopy at Newport Campus
Product – Maxima Sail
Requirement – Shaded outside seating space was the requirement for the Newport campus at Coleg Gwent. Coleg Gwent is amongst the best performing colleges in Wales and they are also one of the biggest with over 23,000 students. When the sun shone through, the campus was lacking shaded seating areas. The addition of some shade become top of their wish list.