Large Playground Shelter at Holymead Primary School (Junior Site) in Bristol
Posted on 14/06/2018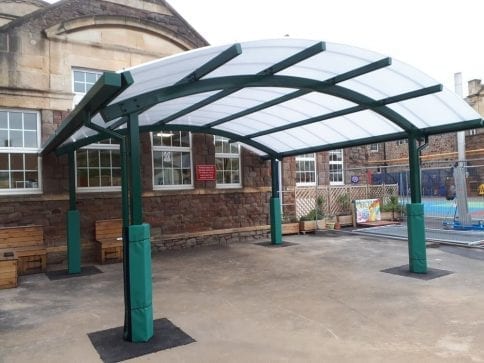 The resulting canopy looks fantastic. It creates a large area where the children can play, learn or socialise all year round. The post protectors are an added level of safety for the pre school children who are very pleased with their new space.
Project – Playground canopy adds shade for pre-school children in Bristol
Product – Motiva Duo
Requirement – Holymead Primary School (Junior Site) in Brislington in Bristol wanted to add some shelter from the sun for their pre-school children. The playground had a perfect space and the only question was which design would work best. A&S Landscape offers a wide variety of school canopies, some with fabric roofs and others with polycarbonate roofs, so there were plenty of designs to choose from. We have worked with schools across the UK for more than 40 years so we are sure to have a product that will enhance your outdoor area.