Whether your aim is to define specific areas or just enhance the overall aesthetic, a canopy can provide vital shade and shelter in addition to being a bold design feature. Design options are virtually endless. The vast availability includes fabric shade sails, straight and curved roof canopies, linear or cantilever designs.
At A&S Landscape we manufacture canopies right here in the UK. We believe quality is paramount and many of our designs have galvanised and PPC steelwork, unbreakable roofing, aluminium rainwater goods. Our growing list of repeat customers is a testament to the quality of our products and experienced installation teams.
Steel and Polycarbonate Canopy Designs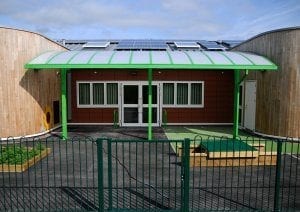 Our Motiva range of steel and polycarbonate canopies comes in a wide range of designs and sizes with straight or curved roofing. The main structure is powder coated steel to ensure they are long-lasting. Rainwater goods are always aluminium to ensure that they endure. The steelwork is finished in a Dura-coat™ finish to any RAL colour, so these canopies can be finished to your exact specification.
The most cost-effective widths for the straight roof Motiva Linear canopy are: 2000mm, 3000mm, 4000mm, 5000mm, 6000mm. Any size and shape can be designed and manufactured easily. Polycarbonate roof covering is either clear or opal as standard or coloured at extra cost. Additional options include side panels, roller shutter doors and post pads which can be any colour.
Fabric Canopy Designs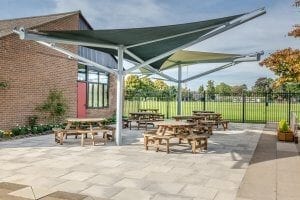 Our Maxima range includes Shade Sails, Umbrella shades, Tepees and StarSails. These ranges are available with either shade cloth (which provides UV protection) or PVC sails which provide UV protection in addition to being waterproof. You will be amazed by the number of colours available with 40 options of PVC fabric. Shade sails can be square or triangular, set individually or overlapping, depending on the space. We will work with you on a bespoke solution to meet your exact requirements
Key Considerations When Considering a Canopy:
Any height restrictions on site
The size of the space to be covered (width and length)
Colour themes or branding considerations to match the surroundings
Position and number of posts – consider whether these will restrict movement or flow of people
Requirement for post pads
Groundworks
Choose of materials – steel and polycarbonate or PVC shade sail
Access to site – any restrictions
The use of the area – who is going to be using the space
Maintenance of the canopy – who will be maintaining the canopy
To discuss your options in detail, call our friendly team today on 01743 444100.