Bright School Shelter in Colchester
Posted on 17/08/2014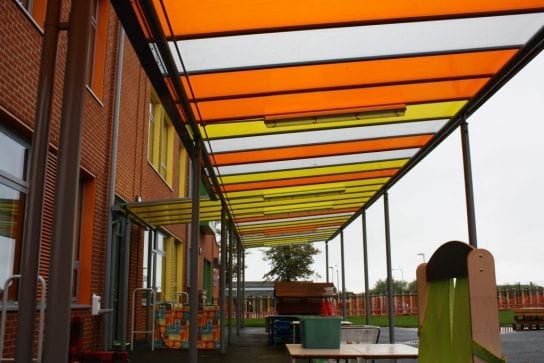 Adding a Motiva Linear canopy gave St John's Green Primary School a useable space. But when we added the sunshine palette to the polycarbonate roofing the structure came to life.
Project – Linear canopy – St John's Green Primary School

Product – Motiva Linear
Requirement – You can have sunshine on a grey day. Hadn't you heard?
It's all about positive colour choices. No, we didn't just make that up.
Positive colour choices mean that no matter what the weather you have space that feels bright, energetic and full of life and that's where good design meets good behaviour.
You see, we are constantly influenced by the space we are in. Some spaces make us feel uninspired, whereas some give us a kick that lifts us out of a low mood.