Umbrella Shade Added to Thakeham Pre-School in West Sussex
Posted on 10/05/2018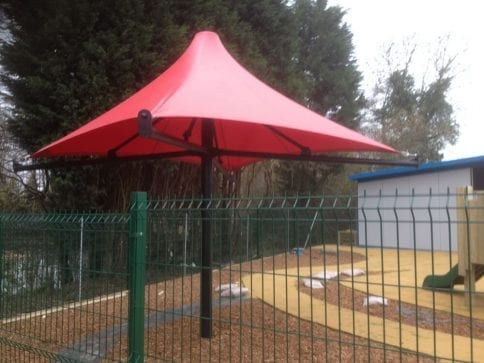 We all know that children love being outdoors and this splendid nursery has shown their commitment to ensuring the children enjoy as much time as possible in the fresh air.
Project – Red Umbrella shade completes pre-school garden in West Sussex
Product – Maxima Umbrella
Requirement – Thakeham Pre-School in West Sussex is an outstanding pre-school and one of the things that sets it apart from others is the outdoor space.
As their website says, they have –
• Muddy kitchen with sensory garden
• Flower and vegetable beds
• Natural wooden climbing apparatus
• Fairy garden
• An area for our famous campfires, where we have so much fun helping to chop wood and make our own firelighters, and best of all toasting muffins and marshmallows and singing our favourite campfire songs.
The final addition to such a super space was some shade and shelter and this is what A&S Landscape was able to help with.