Once lockdown restrictions are lifted in the UK, customers will be flocking to dining and drinking terraces all over London. Retractable canopies have the potential to transform an outdoor space and drastically increase any restaurant or bar's revenue. The airy atmosphere and increased footprint (without the need for lengthy and expensive renovations) will be crucial for reopening after covid-19. Increased demand for safe social distancing and open areas will be on the cards for some time to come, making greater space more important than ever. So, whether you're looking for your next sunshine spot or inspiration for your establishment, take a look at our picks of covered outdoor terraces in the capital.
Skylark Roof Garden, Paddington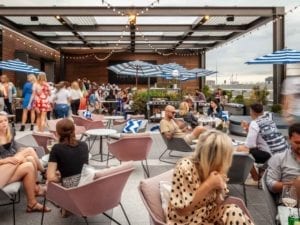 With enviable views from its tenth floor location overlooking Notting Hill on the banks of Little Venice – it is no wonder that Skylark made the most of their roof space. This terrace has been turned into one of London's premier rooftop cocktail bars (also offering delicious, freshly cooked pizzas) with truly panoramic views across the West London skyline. The sturdy and innovative retractable canopy roof system allows the space to be used throughout the year – providing shade in summer and sheltered cover for those chillier winter months. To find out more about Skylark Roof Garden, click here.
Number 90 Bar and Kitchen, Hackney Wick
Boasting a fantastic canal-side location, this stunning bar and restaurant at Hackney Wick offers something a bit more creative. Presenting locally sourced food, handcrafted décor and an outdoor terrace complete with disco ball, Number 90 Bar and Kitchen has become a Hackney institution. The smart, stretched canopy allows the relatively small outdoor space to be used to its full potential with customers enjoying the water-side vibes come rain or shine. Visit the Number 90 Bar and Kitchen website to see more details.
The Prince of Wales, Brixton
Described by Time Out as "the best outdoor terrace in London", The Prince of Wales certainly has much to offer. There are two outdoor, heated levels for partygoers to dance away the evening, as well as themed bars including rum shacks and cocktail stations spread throughout this multi-level club and pub. With a combination of outdoor coverings, including a retractable roof canopy, The Prince of Wales have maximised their space to create a fun, vibrant venue. Read more about The Prince of Wales here.
Seabird, Southwark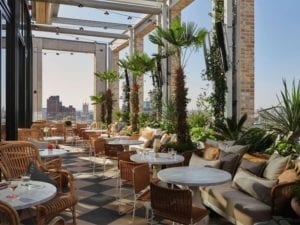 Based at the Hoxton Hotel, Southwark – this rooftop seafood restaurant boasts London's longest oyster list, marble bars and panoramic city views. Inspired by the Mediterranean and filled with palm trees and rattan furniture, guests would be forgiven for forgetting they were in the UK at all. The retractable canopy allows the sun to stream in (fully extendable if the British weather does prove unpredictable), further adding to the elegant, laid-back vibes. See more information about this stylish restaurant here.
Radio Rooftop, Strand
As one of the most impressively designed outdoor terraces in London, Radio Rooftop is high on the list of London's most iconic venues. Situated on the 10th floor of the ME London hotel, it offers guests striking views across the River Thames and the London skyline. The gently curving, fully retractable roof accentuates the unusual shape of the building – demonstrating the benefits of bespoke design services to ensure your space is working to its full potential. Visit the Radio Rooftop website to learn more about this venue.
Dalloway Terrace, Bloomsbury
The name gives it away – but a major selling point of this restaurant is its truly magical terrace. The floral backdrop is regularly refreshed (making it a social media dream), with the romantic atmosphere supplemented with warm throws for winter and a retractable fabric cover roof for balmy spring days. The classic menu and substantial cocktail list look fantastic, and the black and white striped cover adoring the bespoke retractable canopy gives the whole space a whimsical feel. See more about Dalloway Terrace by visiting their website.
Savage Garden, Tower Hill
Whether it's the 'Pink Gin Terrace' with its spectacular views, stylish parasols and relaxed sun shades or the "Savage Schloss" with its fully retractable roof (decorated to look just like a swiss ski chalet in winter) – there really is something for everyone at this coolest of rooftop bars. Spread over the 12th floor of the Hilton Doubletree on Pepys Street, Savage Garden provides a dazzling array of indoor and outdoor spaces attracting young city workers from across the capital. Click here to find out more about Savage Garden.
Angler Terrace, Moorgate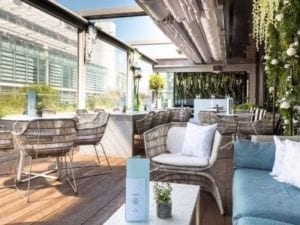 Keeping things simple and elegant, Angler Terrace (located on the roof of the South Place Hotel) is one of London's sleekest rooftop bars. The stylish white retractable canopy (which could be installed in a wide range of colours) allows diners to allow the best of both sun and shade, whilst the floral touches throughout add to the relaxed outdoor atmosphere. If all this wasn't enough to inspire you – the adjoining restaurant also has a Michelin star. Need we say more? Visit the South Place Hotel website to find out more about this venue.
Boundary London, Shoreditch
With outdoor fire pits, trees adorned with fairy lights and blankets a-plenty, Boundary London uses heated umbrellas and outdoor parasols to great effect. These zonal areas create the perfect cosy atmosphere to enjoy their seasonal menus and cocktails. With year-round potential, southern-French fare is offered during the summer and alpine treats in the winter. Described as "like a ski holiday without the hard work" – think melting raclette alongside warming cocktails on a chilly London night. Click here to find out more about Boundary London.