Are Schools The Solution To The Dying Sport Of Cricket?
"Cricket as a sport promotes respect, leadership and resilience at its heart allowing the game to transcend race, gender, age and ability. It delivers mental, physical and cultural benefits that can help positively shape the individuals, communities and societies involved."  – Your School Games
The online world is abuzz with a surprisingly large number of interesting links associated with the search terms 'cricket' and 'school'. Search these terms on Google and you'll discover that there are 'cricket schools' — schools that have demonstrated their excellence in the sport of cricket according to The Cricketer Magazine's stringent guidelines. There is The Cricket School, a Leeds based business that delivers cricket coaching to children and young people aged between 5 and 15. And there are numerous cricket academies out there, along with many other resources for schools that want to teach cricket for students.
As confusing as they may be, these results indicate that cricket is an in-demand sport amongst students, schools and parents. So we decided to debunk the confusion and take a look into what makes a 'cricket school', how schools can implement some cricket school tactics and why they should.
What Are Cricket Schools?
The term 'cricket school' applies to several different types of establishments:
Cricket schools are private or public schools that have met several stringent requirements in the sport of cricket. These requirements are laid out by The Cricketer Magazine who publish The Cricketer Schools Guide every year which features the top 'cricket schools' in the UK.  The idea is that these schools 'preserve the love of cricket' for future generations and keep the game alive.  The process of becoming a cricket school is exhaustive. Schools need to show an incredible commitment to cricket through their facilities, coaching and curriculum. Cricket schools can be secondary or primary schools.Unfortunately, most, if not all of these types of cricket schools are private or public schools rather than state schools. This means access to such high-tech facilities is not inclusive to every child. And while it's fair to say that the sport of cricket isn't for every child, the better the facilities, the more chance a child has of falling in love with the sport of cricket, and of developing their game.
A cricket school is a sports establishment focused on teaching the sport of cricket. It's not a compulsory school of general education, rather it's a sports establishment focused on teaching cricket. Usually, this type of cricket school will have the facilities to coach individuals from beginner player to advanced, and depending on the school sometimes to professional levels.Many cricket schools work directly with educational schools to help them deliver a cricket programme to their students. Which is a perfect way to help deliver excellent cricket facilities and training without blowing your school's budget.
What's The Difference Between A Cricket School and A Cricket Academy?
Like cricket schools, cricket academies are either sports establishments — focused on the teaching of cricket, and usually offering the same types of services as cricket schools do. They can also be educational academies for older students that also specialise in teaching cricket. A cricket academy never refers to those cricket schools that have earned their name from meeting The Cricketer Magazine's cricket school criteria.
Why Should Your School Become A Cricket School?
Having defined the term 'cricket school' it's easier to see that the levels that you might go to, to turn your school into a cricket school differ. You may choose to focus on cricket as one of the main sports within your school, or at least focus your budget on creating better cricket coaching opportunities or facilities. Or you might consider going the extra mile to become one of The Cricketer Magazines cricket schools. No matter what type of investment you make, there are a few advantages for your school.
Enhanced Reputation
Chances are, you don't need us to tell you the reason why private and public schools are clamouring to make it onto The Cricketer Magazines, Best Cricket Schools list. You'll likely already know it's to improve their reputation, network amongst the movers and shakers, demonstrate their sporting prowess, deliver excellent education and make more profit from boarding fees. The Cricketer Magazine's best-of list is the proverbial peacocks tail. And the investment that these schools make into the sport of cricket often repays them tenfold.
You may not intend to have such commitment to the sport of cricket, but any efforts you do make will also allow you to shake your tail feathers too. Showing your commitment to sports, specifically in this situation, the sport of cricket and encouraging your students to learn more about the game will do wonders for your school's reputation. It will demonstrate your strive for perfection, your efforts to invest in your student's education and will naturally convey a strong school ethos — something that is often very desirable for prospective students and their parents.
Furthermore, studies have concluded that a positive perception of a school (a good reputation) leads to a better school ethos, which in turn leads to a safer and better learning and teaching environment, better behaved and more invested students and higher staff retention. One study, in particular, outlined in the policy guidance in response to the Behaviour In Scottish Schools Research (December 17) highlights the 'strongest predictor of experiences of negative behaviours, for teachers and support staff was the perception of a school's ethos. Specifically, there was a significant correlation between the perception of a poor ethos and negative behaviours and vice versa (good ethos and better behaviours).  Of course, this is just one example, but it does demonstrate why reputation is important not just for public schools to make more profit but also for state schools to create a better school for everyone.
Contribution To The Sport Of Cricket
Teaching Cricket helps you to engage more students at your school in the sport of cricket, a sport that is critical to our culture. It's one of our top three sports in the UK and the British summertime sport. But today, fewer state schools at secondary level are playing cricket.
With this lack of exposure to a sport like cricket, at such a crucial time in a young person's life, the future does not look bright for the sport. And, as The Cricketer claims, this could be a contributory factor to the eventual death of the sport of cricket in the UK. Which would be a crying shame. Every school that makes some effort to keep the game of cricket alive enables a centuries-old sporting culture to thrive and gives a child access to that culture.
Promote A Positive School Ethos
We've already mentioned how the positive perception of a school's ethos leads to a positive reputation and in turn, better experiences for all people involved with a school, and how sports like cricket can invoke a positive reputation through the ethos. This leads to the question: how does cricket promote a positive ethos in school? Well, it's the comradery, team effort, the efforts of the school to ensure each child has a positive experience of the game and the connections a school makes as they participate in games and competitions.
All of these seemingly small factors lead to a strong reputation, excellent school ethos and a thriving school. Cricket is one sport that will provide a ticket for your school to accomplish this.
How To Turn Your School Into A Cricket School
How you turn your school into a cricket school depends on how far you want to go, or can go — budget depending. If you want to go the full way, and become a cricket school and make it onto Cricketer Magazines Cricket School Guide then you'll need to purchase the Cricket School Guide to learn how to qualify. But if you're not inspired to become an official cricket school there are many ways for you to promote the game of cricket within your school. Here are a few ideas:
Facilities Upgrades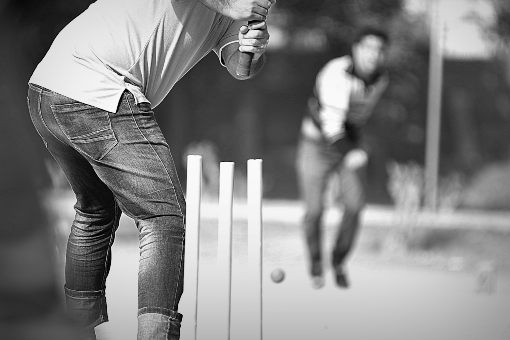 Whether you want to teach indoor cricket, outdoor cricket or both there are many different types of facilities you can add to your school. At the higher end, you can add pavilions to create a strong ethos and atmosphere, or provide changing facilities and spectator seating.  There are many options for pitches, there are non-turf outdoor pitches and netting systems or indoor pitches with pro surfaces and shock pad systems, netting and even sports canopies to host your indoor cricket facilities. At the lower end, adding a few cricket related accessories can begin to change the way you play the game.   
High Level Or Advanced Coaching
Logically, better facilities attract better coaches. But that's when all of those cricket schools that provide coaching to schools can come in useful. They usually have coaches that can visit your school and teach your students, or they have facilities that you can take your students to. So that they can enjoy excellent cricket coaching without blowing too much of your school budget.
Cricket Resources For Schools
England and Wales Cricket Board (ECB) is an example of some of the kinds of resources you'll find available for your school. Their core focus is to 'connect communities, and improve lives by inspiring people to discover and share a passion for cricket' ECB can offer you guidance through direct contact or one of their publications to help you find the right kind of coaching (and facilities) for your school. In 2019 ECB had around 200,000 young people taking part in one of their programmes 'Kwik Cricket', as well as 2500 club centres which accommodated 75,000 5-8-year-olds in their national cricket program.
There are also charities like Chance to Shine, which are a national cricket charity focused on delivering cricket programmes to children throughout the UK. Chance to Shine's goal is to give all children the opportunity to 'play, learn and develop through cricket'. They believe that their programmes not only enhance a child's relationship with the sport of cricket but also that the impact of their programmes transcends the sport to maximise physical, personal, social and mental development.
Finally, Your School Games works with schools to inspire young people to become more physically active. They aim to provide all children with; 'A positive experience in an environment where the young person's motivation, competence and confidence are at the centre of the competition.' The School Games provide a toolkit that is designed to support teachers in all educational settings to 'consider their part in reducing the risk of a negative experience in sports competitions'.
Your School Games works in partnership with ECB to give 'as many young people as possible the chance to say "cricket is a game for me".' And to accomplish this task, they've adapted the sport to introduce national programmes like All-Stars and Dynamos Cricket, along with digital cricket resources, like those you'll find at the bottom of this link.
The resources are different, depending on which key stage a child is at. Regardless of age though, the intent is to allow maximum participation for every child. So that they can develop enhanced skills, and maximise their chances of developing the personal and social skills that come from playing cricket.
Examples of the kinds of cricket formats a child might experience are either skill or gameplay (e.g 8-a-side with squads of ten so players can rotate roles) based which can be adapted to play indoors or outdoors. For smaller play areas Your School Games advocate the use of softball versions of cricket although this version of the game is more suited to younger children rather than those of secondary school age, who will reap better rewards from playing the original hardball version of the game.
Cricket in schools has multiple benefits for your school, your students, for our culture and for the longevity of the sport of cricket. This is the reason why so many schools are focusing on developing their facilities and coaching in the game. Fortunately, there are other establishments and councils who are focused on keeping cricket alive who are also invested in helping schools teach cricket. No matter what your budget, there are plenty of options and resources available for your school to further its cricket journey.