The All-Inclusive And Rewarding Sport Of Padel
Are Your Students Missing Out On The All-Inclusive And Rewarding Sport Of Padel?
What Is Padel?
If you haven't heard about padel before, don't worry, you haven't been sleeping under a rock. While it's becoming an increasingly popular sport over here in the UK, not to mention in Europe in general, it's still in its early stages of growth (at least it is in the UK).
Padel began in the 1960s originating from Acapulco, Mexico and is now a popular sport in many Hispanic countries as well as in Spain and Italy. And with a growing number of padel courts in the UK, the future of the sport in the UK looks promising. Even the LTA (The Lawn Tennis Association) now recognises padel as a discipline of tennis and has stepped up to be the governing body for padel in the UK. This move from the LTA is a step forward toward encouraging more people to become involved with the sport of tennis, and its easier variations (padel).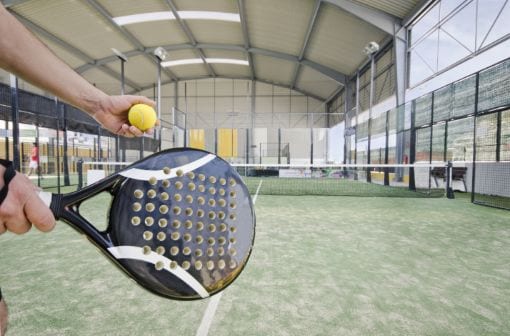 You could describe the game as a simplified mash-up of several other sports like tennis, badminton and squash. As you can imagine from this description, padel is a racquet sport, but it's played in its own unique style of court (which also takes inspiration from tennis, badminton and squash). The padel court is enclosed (usually with glass or metallic mesh) and is about 25% smaller than a tennis court.
The rules and scoring in padel are very similar to tennis with a few exceptions. The main one being that serves are underhand, and the walls are a feature of the game, as the balls bounce off them to create a faster-paced variation of tennis. The reduced size of the court, combined with the inclusion of walls creates a fast-paced game that is very different from the experience of playing tennis.
Padel is usually played in doubles, and because it's not power-dominant, mixed groups of players with differing abilities can all play together well and enjoy a satisfying and social game.
The sport of padel may at first appear to be best suited to older school children and adults rather than young primary school pupils — but there are rising reports of junior schools encouraging their pupils to learn and participate in the game. And perhaps more importantly, both the children and the school are loving the experience.
The same story can be replicated through to secondary school and beyond. We expect that these positive outcomes are because the sport features so many advantages. It's inclusive, exciting, and easy to play. Padel is a sport that features the right level of gameplay to make it compelling too.
Could padel be a booming sport?
We think so.
It's certainly a growing sport over here in the UK. And one that provides endless advantages to schools and their pupils. Keep on reading to learn more about why padel is quickly growing in popularity in UK schools.
Why Is Padel Becoming So Popular In UK Schools?
Padel is a fast-paced, exciting and sociable sport that is hard to not enjoy. It gets the blood pumping and is suitable for students to enjoy at all ages and levels of fitness. The game is easy to learn and play, and naturally encourages, and rewards, players for their efforts. These short dopamine hits are positive factors, especially good for encouraging those who are not so keen on sports. Anybody who plays padel will enjoy the physical, emotional and social benefits of engaging in this physical activity even if they started out reluctant!
For those who love to play sports, padel offers something new and easy to learn. But it's also a sport where the gameplay offers the potential to advance the players skills as they grow in experience. And in terms of fitness and weight management, a 30-minute game of padel burns around 305 calories.
What Are The Benefits Of Introducing Padel To Your School?
You might be surprised to see exactly how many ways your school and students can benefit from the sport of padel. Here are some of the main advantages:
It's a fun and sociable sport.
Suitable for primary school children upwards.
Children at all fitness levels can play padel.
Encourages cardiovascular exercise.
Easy to learn.
A fantastic introductory sport for children who don't enjoy physical exercise.
Plenty of opportunities to grow into the sport and for students to finesse their skills.
Provides physical, social, and emotional reward which, in turn, leads to enhanced academic success.
It's cheaper and more profitable to install a padel court than it is to install a tennis court.
There are several opportunities to create funding for your school by installing and leasing your padel courts.
You may have access to funding to build a padel court on your school premises.
How Can Schools Introduce Padel To Their Students?
Padel At Primary School Level
Because padel is a fun and very sociable sport that doesn't demand too much exertion to play, it's the perfect kind of sport for your primary school students. But you need access to a padel court to play! Building a court might be a little too impractical for your junior school but there are other ways to get your pupils involved with the game.
If you have access, it's worth considering partnering with organisations like 'Go Padel'. They are 'the leading UK institution for developing and enhancing the use of padel clubs'. As of July 2021, they appear to operate from Essex and have most of their facilities around that part of England. However, they are growing, and also provide services, through their sister site 'Go Padel Club' to help you build your own padel courts and, if you desire, turn them into a profitable club for your community.
Go Padel offers junior programmes where they'll coach a group of children at their courts, on the game. A trip out to a new environment is a great way to switch up the school day and, learning a new sport, like padel, will encourage children to experiment with sports in the future.
However, there is an issue with this rather idealistic solution for primary schools, and that's the limited availability of courts. According to the LTA, as of November 2020, there are only 100 padel courts in the UK, compared to Spain's total of around 20,000 or the number of tennis courts available in the UK which currently averages at around 14,500 (2017 figures).
This means that not every school will have access to the kind of facilities that Go Padel provides. However, you can use the following resource to locate a court near you. If you can't find a local court we suggest connecting with your local secondary schools to discover whether they have any plans to build a padel court that you may be able to have access to in the future.
Introducing Padel To Senior Schools
Want to introduce padel to your secondary school students? We recommend that if you do, building a padel court (or two) on your school premises is the best approach. Especially if your school is not close to an existing padel club.
One of the reasons why padel courts in schools is a popular feature in Spain is because the build cost is much less expensive than it would cost to install a tennis court. You can install up to three courts in the same area that a single tennis court would take up. And, one tennis court keeps two players occupied, whereas padel usually requires four players per court. So in the same space, with padel, you're occupying twelve players.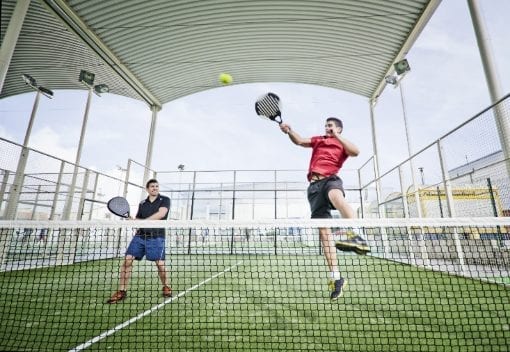 It's best to install more than one court, two to four courts are ideal because it's more cost-effective to install this way. It also provides more opportunity to play, or lease out when your court is not in use.
There is plenty of advice on how to go about installing a padel court, which you can access from the LTA or on sites like Padel Creations.
Most establishments rent a hall to create a padel club. But it can be a challenge to find the kind of space that fits the right criteria for a padel court. Though there is a more convenient and cost-effective way to own a hall for indoor padel courts if you have the land (as many secondary schools have), which is to consider installing a sports MUGA. An all-season sports shelter (also known as a canopy) that can be open to some elements, or fully closed in and heated. Installing a sports MUGA will allow your students to enjoy padel in all weathers. It will also easily meet the following recommendations for installing an indoor padel court on your school premises:
The 'hall' needs to be big enough to hold two to four padel courts.
The ceiling height should be a minimum of 8 metres.
Solid concrete floors are the best for anchoring the courts to the ground.
There should be no water, gas pipes, electrical wiring or underfloor heating systems under the floor.
The floor needs to be even, smooth and crack and dint free.
Doors need to be big enough to move all the components of the padel court into the 'hall'.
The fire exits need to be positioned safely and correctly.
You can build a sports canopy (MUGA) anywhere on your school grounds with very little inconvenience. Furthermore, you are in control of the specification — there are very few limitations. In fact, you could allocate space within your sports MUGA for sports other than padel in the same 'hall'.
And when you combine this option with Padel Creations advice on how to build (and run) a padel club, you'll find that your budget stretches much further than you may at first imagine. You even have the potential to create a profitable padel club out of school hours. For example, you might rent out your courts to a padel coach in the evenings, or even rent to other local schools, or run the courts as a business.
Which Types Of Padel Courts Are Common In Schools?
When it comes to padel courts, there really is no difference in size requirements, no matter how professional or relaxed your intentions are about the sport. However, you can install different types of padel court, with the differences being the materials used and whether you include space for spectators. In fact, there are non-permanent options you can hire from companies should you wish to 'try before you buy'. Of course, there are installation costs involved, along with necessary surveys, even for a pop-up court. But if you're on the fence about how well a padel court might be received in your school, this could be a good option for you. Installation only takes around 48 hours for a pop-up padel court.
Easipadel has options for 'gold' and 'silver' courts, the gold is the premium version which includes toughened glass panes, panoramic views, optimal spectator viewing and strengthened steel structure frames. The silver option is less expensive and includes a factory produced self-supporting structure ready for on-site installation with wire mesh walls and float glass.
While we took a detailed look at one supplier, you'll find, with a quick search, plenty of padel court installation companies to help you find the perfect solution for your school.
Conclusion
Padel is the kind of sport that once you start, you won't be able to stop. It's easy to play, the courts are easier to install when compared to other types of courts, and it's a booming sport that your students will thoroughly enjoy. Why not get ahead of the curve today and start looking into how you could incorporate this sport into your school. You never know you might just find some 'early bird' funding in your area to help you on your way. We recommend looking to your local council and the LTA to learn more about funding options.