Everything You Need To Know About Installing A Hockey Pitch
Everything You Need To Know About Installing A Hockey Pitch To Your School Grounds
Field hockey is the most well-known version of the game. It is this type of hockey that most schools will typically play on their school fields without considering the type of pitch they are playing on. But if you want to challenge your students and encourage them to take hockey seriously, or enjoy the game at its best, a field hockey pitch brings you lots of potential. You can install elite-level hockey pitches that could give your students the best opportunities to develop into serious hockey players. And still play other sports on the pitch.
Do you have a future Olympic gold medallist at your school? You may have. But without the right pitch, you will never know. Here are some of the main factors to consider if a field hockey pitch installation is something you are planning for your school.
Is A Field Hockey Pitch Installation Right For Your School Grounds?
Factors like size, orientation, and whether your school grounds are prone to flooding are some of the most obvious things to consider before deciding on a field hockey pitch installation. But there are a few other major considerations too. Here are a few suggestions.
Flooding
Over time and without maintenance, a field hockey pitch will succumb to flooding (unless you install a canopy to cover the hockey area). You don't need to help it along by installing your hockey pitch in an area prone to flooding. That would be a pricey mistake.
Size
Have you got enough room on your school grounds to install a hockey pitch? Will you add run-offs? Do you intend to add a canopy like a sports MUGA? If so, do you have the space?
Orientation
Do you have the space to fit your hockey pitch into your school grounds at the right orientation for maximum play experience, to prevent the late afternoon sun from blinding the players? Ideally, your pitch should face north-south.
Usage
Do you want to host hockey league events? Run a hockey training club? Or bring your community together through premier sports? If you do, you might want to consider getting your pitch certified by FIH. And factoring in where spectators will go, and whether you will provide shelter. To do that you will need to determine whether you have got the additional space and budget necessary.
Shelter
Do you want your pitch to be open to elements fully, or partially sheltered? Installing an all-weather sports canopy to create a covered hockey court will increase your installation costs. But it will also lower your pitch maintenance costs and enhance the longevity of your pitch. With a covered MUGA you won't have to deal with flooded pitches, debris, or sun damage to your spectators and players.
What To Consider When Designing My Field Hockey Pitch?
Installing or upgrading any kind of hockey pitch is a major investment, and field hockey is no exception.  Before you make any final decisions about your installation you should consider not only what specification to build your field hockey pitch to, but also for whom are you installing?
Will your new pitch be reserved for your school's students? Or do you plan to build a hockey club, train elite-level hockey players, or attract investment from clubs, associations, and authorities? And if you are investing in a new hockey pitch, would it be better, and more cost-effective, to build a professional level hockey pitch to The International Hockey Federation (FIH) standards? So that your school has the potential to garner maximum return on investment from your efforts financially, professionally, environmentally, for your reputation, and within your community?
When you begin to take a look at the specifications and practicality of your hockey pitch such as the wearability and maintenance costs, you may determine that you would prefer a specific type of pitch. Perhaps for environmental, practical or budget-related reasons. But before you choose, it makes sense to understand all the options available to you. Including their limitations and their potential.
Coming up are some of the most common considerations you'll need to make before committing to a field hockey pitch installation for your school.
What Size Should A Field Hockey Pitch Be?
Sport England has the following information concerning what size a field hockey pitch should be, depending on its intended use.
Pitch Type
Recreational

(LxWxH)

Club

(LxWxH)

County & Regional

(LxWxH)

Nationwide & International

(LxWxH)

Basic Court Size (Minimum)
36 x 18 x 0
36 x 18 x 0
36 x 18 x 0
36 x 18 x 0
Basic Court Size (Preferred)
44 x 22 x 0
44 x 22 x 0
44 x 22 x 0
44 x 22 x 0
O/A Size Including run-off (Minimum)
42 x 20.2 x 0
42 x 21.4 x 0
42 x 21.4 x 0
42 x 21.4 x 0
O/A Size Including run-of (Maximum)
50 x 24.2
50 x 25.4 (including 1.2m for officials)
50 x 25.4 (including 1.2m for officials)
50 x 25.4 (including 1.2m for officials)
There are no specific height requirements. Height should be driven by other sports that you intend to play on the pitch. Run off to ends 3m, side 1m (measured outside of 0.1m side boards).
With field hockey, all pitches are the same size no matter the purpose, which gives you more flexibility with how you will use the pitch in the future. For example, if an opportunity arises to host a nationwide or international match, with water-based hockey pitches you will be equipped to rise to the challenge—even if you did not install your field hockey pitch with that goal in mind.
What Are The Different Types Of Field Hockey Pitches I Can Install?
There are three main options when installing a field hockey pitch: water-based, sand-dressed, and sand-filled. All three options can be certified by FIH which will ensure your pitch is of high quality. It could also help you to put your hockey pitch to your intended use without running into problems. If you want to maintain a reputation of being the best, there's a pitch for that. Or if you want to run a club, or provide club and training quality pitches, there's a pitch for that too.
Here's an overview of each pitch type.
1. Water-based Field Hockey Pitches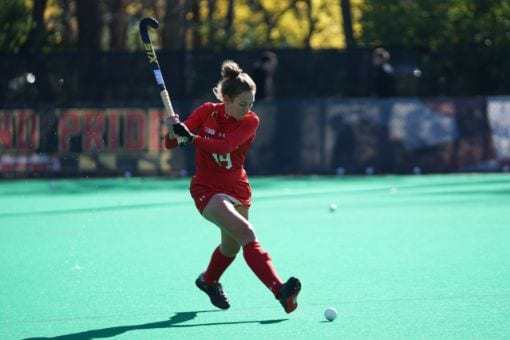 A water-based field hockey pitch is the 'crème de la crème' according to FIH—the governing authority of field hockey in the UK. Water based pitches are the highest specification of field hockey pitch you can install. This is the type of pitch you will see at the Olympics, world championship qualifiers and international global hockey matches. And this is for good reason. The nature of this type of pitch reduces friction, improves play, and provides shock absorption.
What Is The Infill Of A Water-based Field Hockey Pitch?
The infill for a water-based pitch is a high-density carpet. One that requires a water application instead of sand, silica or other infill materials. Water is usually applied via a water sprinkler or irrigation system just before play.
What Is The Installation Cost Of A Water-based Field Hockey Pitch?
Sport England cited in 2016 a cost of around £855,000 to install a 6,388 sq m water-based field hockey pitch. This includes the cost of lighting and fencing.
What Are The Maintenance Requirements of a Water-based Field Hockey Pitch?
Because of the short and dense pile, water hockey pitches need to be kept wet at all times. This is because the water protects the grass pile.
However, due to their wet nature, water-based field hockey pitches are prone to algae, mould and moss issues. To maintain these pitches you will need professional help or professional equipment. Artificial Grass Maintenance explains their process of cleaning a water-based pitch. They pump jet water onto the surface of the pitch. And while pumping water, they use rotary cleaning heads to loosen debris, which is then sucked up and disposed of. Through regular maintenance, Artificial Grass Maintenance claims that the surface of your pitch could outlast your manufacturer's warranties by up to 50%, and ensures consistent play at all times. Most water-based pitches also benefit from a chemical algae treatment every six months.
What Are The Pros and Cons of a Water-based Field Hockey Pitch?
The Pros
The best type of hockey pitch to play on today.
Improved game.
Prestigious investment.
Long-lasting.
The Cons
Expensive to run.
High environmental cost.
There are rumours that this type of pitch will be phased out and replaced with artificial surfaces.
Expensive upkeep.
Case Study: McArdle Sports Water Field Hockey Pitch Installation At The Alan Walker Stadium in Portsmouth
The Alan Walker Stadium is home to the Royal Navy and British Armed Forces' most prestigious hockey facility.' Despite being resurfaced back in 2006, the water-based pitch suffered several complications that necessitated remedial works to the base. It also required the installation of a new shock pad layer. The final touch was a new blue coloured carpet with red 'run-offs' to represent Royal Navy colours. We have to agree, it looks striking indeed.
2. Sand-Dressed Field Hockey Pitches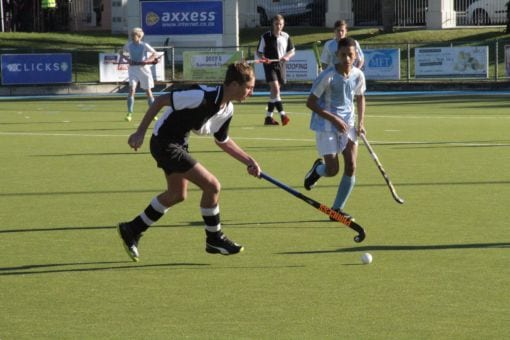 Next in the pecking order of field hockey pitches is the sand-dressed field hockey pitch. This is the most popular type of field hockey pitch for schools and education facilities. You will also find this pitch type at clubs, training facilities, and in use for national premier competitions — it is the most common type of pitch. Perhaps because it bridges the gap between elite and achievable, at least in terms of investment.
This type of field hockey pitch supports the carpet fibres while providing stability to the players.
What Is The Infill Of A Sand Dressed Field Hockey Pitch?
A sand-dressed field hockey pitch is filled with 18-22 mm carpet and then partially topped up with silica sand. Leaving around 25% of the carpet exposed.
What Is The Installation Cost Of A Sand Dressed Field Hockey Pitch?
You'll need a budget of around £760,000 to install a 6,388 sqm sand-dressed field hockey pitch. This estimation includes lighting and fencing.
What Are The Maintenance Requirements of a Sand Dressed Field Hockey Pitch?
As you might already imagine, a sand dressed field hockey pitch requires regular maintenance. Failure to do so can cause slippery dangerous play and premature ageing of the pitch. A simple matter like leaves, sticks, and water can build up leading to clogged piles and drainage. The growth of moss and algae also flatten the carpet pile.
Without maintenance, your pitch can also become prone to flooding.  The debris must be removed regularly to keep the pitch in optimal condition. You can hire specialist pitch maintenance teams who can usually rejuvenate and re-line your pitches when necessary, or do it yourself.
What Are The Pros and Cons of a Sand Dressed Field Hockey Pitch?
The Pros
This is a good 'all-rounder'.
Can be certified by FIH.
Lighter on the budget.
Better for the environment than the water-based pitch.
A professional pitch that gives some player stability.
Perfect for clubs, pro matches and schools.
The Cons
It's not an elite pitch.
Play won't be as good as it is on a water-based pitch.
You may need to refinish your pitch more frequently.
Maintenance is moderately expensive.
Case Study: Eton College's Sand Filled Field Hockey Pitch Refurb
This case study demonstrates how long a well-maintained sand-filled hockey pitch can last before requiring a refurbishment. Approximately 18 years (first pitch) and 13 years (second pitch) in Eton College's case.
Eton College contracted McArdle Sport to refinish their second pitch in 2015. They returned to the college in 2018 to refinish the college's original pitch. During the refurb, the existing synthetic carpet was removed and replaced with TigerTurf Evo Pro in Dark Green, with lighter green run-offs. An elegant colour choice, perfectly in-keeping with such a renowned college. To add to the elegance, Eton College's coat of arms was embedded at the pitch entrance.
The latter refurb took eight days to complete.
3. Sand Filled Field Hockey Pitches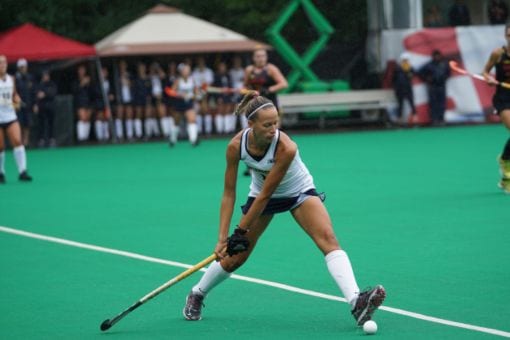 The advantages of a sand-filled hockey pitch lie in the fact that they are better for multi-purpose sports. Sure, they're not going to enhance the field hockey play experience. But they are a practical type of pitch if you're not looking to get serious about hockey.  Sand-filled hockey pitches are best suited to low-league national and club play.
What Is The Composition Of A Sand-filled Field Hockey Pitch?
A sand-filled field hockey pitch has the longest carpet pile out of all three options. The playing surface is the densest pitch type because it is filled with silica sand until it reaches the top of the carpet pile.
What Is The Installation Cost Of A Sand-filled Field Hockey Pitch?
It'll set you back around £720,000 to install a 6,388 sqm sand filled field hockey pitch with lighting and fencing.
What Are The Maintenance Requirements of a Sand-filled Field Hockey Pitch?
Regular maintenance of a sand-filled field hockey pitch involves drag brushing. A large brush is dragged across the pitch either by hand or by tractor to spread the sand evenly and dislodge any leaves, sticks or other matter that will lead to the decline of the pitch. You may need to clean or replace the sand in your pitch every now and again, especially if it has become too soiled, or needs topping up.
You can perform regular contamination tests on the sand to determine when it's time for a professional clean. This type of sand-filled hockey pitch cleaning involves removing and filtering the sand, then refilling your pitch. Then topping up with additional sand if your sand levels are low.
If you don't perform this level of maintenance on your pitch, you'll start to notice that it floods. Eventually it will be no good for playing on at all.
What Are The Pros and Cons of a Sand-filled Field Hockey Pitch?
The Pros
The most budget-friendly pitch.
Good for multi-sports.
The Cons
The pitch is very dense and will reduce the quality of play.
Requires regular maintenance.
The price difference is not too far away from the sand-dressed pitch which is probably why it's more popular than this sand filled pitch.
What Are The Frequently Asked Questions About Field Hockey Pitch Installations?
If you are serious about installing a field hockey pitch, you may have several questions outstanding. Hopefully this section will help you out. Here are some of the most common questions asked about installing a field hockey pitch.
A water-based field hockey pitch is by far the best surface for playing field hockey on. It enhances the way the game is played which is why it's the preferred surface for elite hockey games — like the Olympics.
Right now, FIH claims that the field of play should be greed or dark blue and that this shade needs to be uniform—to avoid distractions. However, you can add any colour option to the run-offs (unless your pitch is featuring in a televised match). When considering the colour of your run-offs, it's worth noting that lighter colours show dirt more quickly and are more prone to algae growth.
It's not the type of fence that is too important when it comes to field hockey pitches. Rather, it is the height and perimeter of the fence that is the critical factor.
You can consider a variety of mesh type fences or ball catch netting. You will need to select a durable fence though. A low specification fence will not withstand the impact of balls hitting it at speed. An act that is more damaging than you may, at first, believe.
There are no hard and fast fencing rules. Typical perimeter fencing stands at least three metres at the ends of the hockey field. It rises to 5 metres behind goals and can be 1metre along the sides. But if you are allowing spectators to view from behind the goal, you should increase the height of the fence to at least 7 m for safety reasons.
In many cases, you can play other sports on a hockey field, though it is important to remember that hockey turf is designed exclusively for hockey. Playing other sports on hockey turf may reduce the play experience of those sports. It could also damage the pitch. Typically, sports like 5 a side football, tennis, netball, athletics training and rounders are light enough for playing on a hockey pitch. You can even play cricket, but you will need a rollout mat.
We recommend seeking advice from your turf manufacturer before playing any of these sports. To prevent accidental damage, and to stay within any applicable warranties.
The answer to this question is yes. You can combine other court markings on a field hockey pitch. But there is a caveat, which depends on whether you intend on installing an FIH certified pitch, and if you plan to host high-level events.
FIH does allow additional markings. But there are some limits depending on different competition regulations that only allow hockey markings. The rule of thumb here is to add markings by all means, unless you wish to host high level events. If you intend to host such events, it is best to seek advice from FIH before adding any markings.
The ideal orientation for a field hockey pitch is north-south. This orientation protects players from being blinded by the low afternoon and evening sun.
You can cover your field hockey sports pitches with covers when they are out of use, which is supposed to protect them from the elements, and debris. These covers are usually rolled directly onto the pitch surface and form a protective layer from the elements. There are usually options to choose from, for example, permeable or waterproof. And are usually applied with an air roller (which requires a few people to apply the cover) or using an automated roller – a more expensive option.
Before considering a cover for your pitch, we recommend seeking advice from your turf manufacturer.  One of the main issues with field hockey pitches is the onset of algae, moss and mould. Some of which may thrive in darker areas, like the shade provided by a protective cover fitted so close to the pitch's surface.
Field hockey is an outdoor sport, and with good maintenance could be played most seasons. However, since the nature of the pitch design can rely on water, or can retain water, your options for playing on the pitch during winter may be limited because of ice. Furthermore, wind, hail and snow can cancel a game in a flash and add additional wear and tear to your pitch. In the summer, all is good and well until the hot sun beats down unbearably onto your players. Posing danger for their well-being (UV rays are dangerous) and to their gameplay.
But there is a solution, and that comes in the form of a sports canopy. In fact, a Hockey sports canopy could reduce the level of maintenance required for your field hockey pitch. It can shield the pitch from debris and minimise the wear and tear from the elements. Sports canopies, also known as sports shelters, and covered sports MUGAs can come in a variety of different shapes and sizes, many of which are customisable. All-weather sports canopies can have fabric tensile roofs or polycarbonate roofs. Some hockey sports MUGAs can incorporate sides, doors, windows, or left open at the sides. You can even install shutters to the sides of your hockey shelter. Or add a retractable roof which can be opened up in good weather and closed when the wind and rain comes.
Adding a hockey sports canopy will add more to your budget, but it will also reduce the level of maintenance and increase the longevity of your pitch. However, like all other options, if you intend to become FIH certified, or host elite games, you should seek advice from FIH before installation.
You only need to get your field hockey pitch FIH certified if you plan to host pro events. However, there are some advantages to getting your field hockey pitch certified, such as quality assurance. If you are installing a hockey pitch, you already know it is a big investment, maintenance and repairs are also costly. So it makes sense to have the best quality materials and installations teams on your side to mitigate some of these expenses.
This assurance of quality also reassures players, funding parties, insurance companies and national hockey associations. FIH supply a list of preferred suppliers, materials and so on, they can also help you with assessments and planning advice, protecting you from costly mistakes.
By installing an FIH certified pitch, you are also opening your school up to the potential for advancement in the game, future hockey clubs, and hosting elite matches. You will create opportunities that will ignite a passion for sport amongst your students and community, which will also give you a reputation for excellence.
Conclusion
The good thing about a field hockey pitch installation is its versatility. Especially because all pitches are the same size for all purposes (clubs, national games, international games and so on). Water-based and sand-dressed pitches open the door to all kinds of potential in the hockey world. Like training pro hockey players, creating a club, or getting your school and community involved in elite level and international hockey games. They also enhance the play experience for the players while screaming prestige. A field hockey pitch looks good and can adapt to other sports too. Furthermore, you can reduce the maintenance costs and raise comfort levels for both players and spectators, by adding a hockey pitch sports canopy or covered sports MUGA. It seems to us that as long as you're prepared to maintain your pitch, you can't lose.