How Football Can Benefit Schools and Pupils
How Teaching Simple Football Skills Helps To Improve Academic Performance, Increase Life Trajectory And Creates A Happy School Environment
Could football be the secret to your school's success?
It's the soundtrack to our school days; the thumps, taps and thwacks of a football. The patter of running feet, and animated shouting of the players as they run around the playground trying to attack or defend their makeshift goalposts. Come rain or shine, somebody somewhere would be, and probably is, kicking a ball around the school playground.
Love it or hate it, football is our heritage. It's in our memories. It's in our blood. And it's one of our national sports. So it's not unthinkable to consider the notion that schools could be responsible for the popularity of this sport.
And in the same vein, it's easy to see why schools teach football. It's an excellent sport for students to participate in, not just because it helps schools meet their national curriculum requirements for physical education (through all key stages) but also because it has many advantages for the students who engage in playing the sport.
It's clear to us that the relationship between football and schools is the perfect match!
Read on to discover exactly how football offers so many advantages to your students and school. And find out what key considerations you may need to make to optimise your students' experience of the game and to make the most of its advantages in your school.
What Are The Benefits Of Introducing Football In Schools?
So we've already made some big claims. It may appear to some that we've put football on a supersized pedestal already. But you'll soon see for yourself that we can stand by our claims.
To begin, here's a summary of the advantages of football in school for both the students and the school.
For The Students
Encourages an active lifestyle.
Children develop crucial communication skills through football.
Helps to stimulate social skills.
Enhances and teaches team skills and teamwork.
Develops fundamental movement skills.
For The School
Help schools to meet the national curriculum requirements for physical education through all key stages.
Improves academic performance.
Helps to meet recommendations in 'The Childhood Obesity Plan' from Public Health England for what works in schools and colleges to increase physical activity in students.
It's an easy, low cost, all gender inclusive sport to implement both as a playground sport and as part of the curriculum.
The Childhood Obesity Plan from Public Health England features several references to studies that demonstrate how regular exercise, like football, has a positive impact on long-term academic performance. For example, the studies featured shows how physical exercise improves concentration and working memory and also improves a child's self-esteem and confidence.
What Age Should Schools Begin To Introduce Football?
Teaching age-specific football skills, like ball skills, is a perfect opportunity for pupils at any age. But the focus through primary school should be more on play and technical or skill-based games rather than competitive football matches. For example, at the earliest ages, kicking a ball around, learning to dribble, shooting through goal posts or trying to save a goal could be all your students can do.
But it's a good start.
The FA has regulations that require the same approach to all players below under 6s. They prohibit competitive or professional training for any child who does not meet the criteria for under 7s and above.
How Can You Begin Introducing Football To Your Primary School Students?
So how do you introduce play and technical/skill-based games to your students? Here are a few ideas:
Football and ball work is perfect for helping you to meet the national curriculum requirements for physical education at key stages one and two.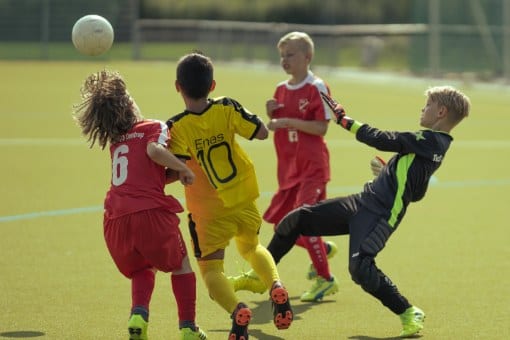 KS1 focuses on lessons to help children develop fundamental movement skills, and to develop confidence in agility, balance and coordination; both independently and with peers. Students should learn basic skills like running, throwing, catching and jumping. And should participate in team games to develop tactics for simple attacking and defending.
And at KS2, children continue developing the skills they've learnt in KS1 and now begin to learn how to use them in a variety of different ways. For example: to take purposeful actions, like a 'sequence of movement'.
This is where children learn to communicate and collaborate with each other and begin to understand how to improve their skills while developing skills in recognising and evaluating their progress. It's at this stage where modified football is suggested as one of several sports that are perfect for developing this level of attacking and defending skills.
According to the national curriculum guidelines, KS2 pupils should:
Continue to apply (and develop) a broader range of skills.
Learn how to use these skills in different ways so that they can link them to make actions and sequences of movement.
Enjoy communicating, collaborating and competing with each other.
Develop an understanding of how to improve in different sports or physical activities.
Learn how to evaluate and recognise their own success.
Take part in outdoor adventurous activity challenges individually and as part of a team.
Football anyone?
Skills like ball manipulation skills (toe taps, inside outside and sole rolls) or 'turns' are recommended. We Make Footballers describes these techniques and lists three turns that are perfect for children ages 6 – 8: the drag back, the L-turn and the Cruyff turn. They're the perfect type of football skills for physical education classes to teach, and are easy for children to practice at home or in the playground.
It goes without saying that schools that encourage football play in playgrounds during break times give their students the perfect opportunity to burn off their extra energy between classes. You also give students opportunities to practice their skills. Not just ball skills but those that help with social development, communication and academic performance.
However, in the earlier stages of school (KS1 and KS2) you might need to provide equipment, encouragement and supervision to help your students make the most of this opportunity.
The good thing about sports like football is that most children will enjoy the experience. Schools can take advantage of this by stacking football activities in after school clubs that support your lessons and playground activities. In doing so, you'll further encourage children to really get involved with the sport — helping them to stay focused on the development of these football skills outside of PE class.
What Types Of Football Pitches Are Common In Primary Schools?
Schools must comply with a set of regulations to provide suitable outdoor space for physical education. Without meeting these regulations, a school won't be able to comply with the national curriculum. The regulations differ slightly depending on what country your school is in within the UK — but these regulations are very similar across the board. They also recognise that some schools can be challenged with the problem of how to maximise their space for such facilities. And if your school doesn't have enough space, you'll need to provide suitable access to the recommended facilities off site, but they must be near to your school.
According to the regulations, outside space for school sports should include:
Formal grass pitches for various games such as football, rugby, cricket and hockey
All-weather pitches
Athletics running tracks and other facilities
Courts for games such as netball, tennis and basketball
Multi-use facilities
Practice areas for games and PE
And for most schools, particularly primary schools, multi-use (MUGA) sports pitches are the preferred solution when it comes to installing pitches of any kind — including football pitches. MUGA pitches are a versatile, space-saving option that will meet the requirements for the regulations, the sports you need to include for the curriculum, and the needs of the school. Especially because at this age, children are not ready to participate in fully-fledged competitive football matches. Rather, they're more likely to play 5-a-side football at the most and practice ball skills —so they don't need a dedicated full-sized football pitch just yet.
A MUGA sports pitch is considered to be a 'hard outdoor net site' for physical education. Whereas a pitch on a field is a 'soft outdoor net site'. In both new and old schools, the requirements demand both options. Though specifications may vary in a new school versus an old school.
Ways To Encourage Lifelong Participation In Football Amongst Students In Your School
We all know that good experiences in childhood can lead to the long-term enjoyment of a subject. And sports, or physical education is no different. If you can create the right kind of experience with football for your students, they'll reap this positive influence on their lives for years to come. You complete most of the hard work through the curriculum, especially so if you've continued to encourage children with their ball skills in the playground and in afterschool clubs. But there are a few extra considerations you might like to make to accelerate the football experience for your students such as:
Provide Ways For Children Of All Fitness Levels To Participate In Football Games
You have the power to provide children who live with obesity the opportunity to change the trajectory of their life through simple football skill training.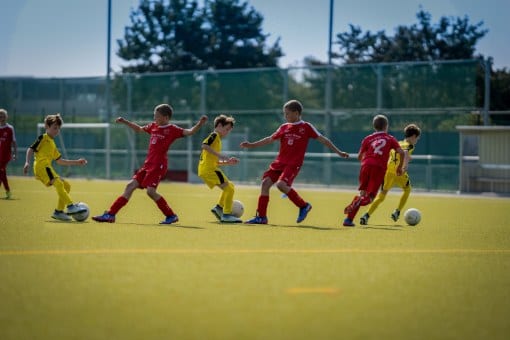 If they can accomplish some level of success in a sport, or physical activity, at such a young age, they may seek to replicate that positive physical experience in the future — and have the confidence (from their early success) to do so.
Most ball-skill activities are spent practising independently. They do not require a child who lives with obesity to have to keep up with a child who doesn't have these challenges. So the child living with obesity is not as limited by their problems as they may be in other competitive sports. Furthermore, some of these ball skills may not take up too much physical exertion but may offer just enough exercise to get the heart pumping in a child with obesity.
All of which means that if the child can focus, they have a good chance of enjoying a lifelong and rewarding accomplishment (through sports and physical activities, like football) that could serve them for a lifetime.
Encourage Consistent Play
"Anyone can play a game of football, you see a game on a Sunday, pub games, they all love a game of football. The real players had a practice ethic about them"— Alex Ferguson.
Maintaining consistency (even when it's raining, boiling hot or during school holidays) not only helps students develop the discipline to participate in their sports activities no matter the weather or circumstance, but it also keeps up the momentum and leads to success. Not to mention, if you can avoid weather disruptions within your school you will find it easier to maintain routine, and keep up their efforts to encourage children to play outdoors, participate in physical sports, and live a healthier life.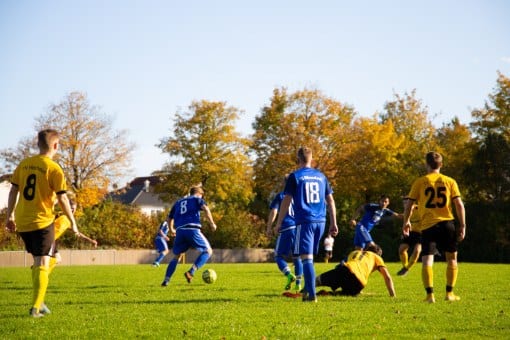 But as a school, how do you support this need for consistency?
When the sun is beaming down, you have an obligation to keep your students safe from the harmful UV rays the sun brings. And when it's raining, you need to be certain that your students won't be cold and wet for the rest of their school days. But at the same time, you're obligated to encourage outdoor play and meet your curriculum requirements.
MUGA sports pitches are perfect for all weather sports, when you can't run around on a soggy field. But they don't solve the other issues, like providing protection from the sun, wind or rain. Fortunately there's a simple solution. MUGA sports canopies and playground shelters are becoming an increasingly popular solution and for good reason. They provide the necessary protection from the elements, allow for increased playtime and sun protection, with very little maintenance required.
Create In-school Competitions
At KS1 and KS2, it's too early to participate in school football leagues. But that doesn't mean you can't create 5 a-side or ball skills competitions within your school, or partner with a school close by to create a mini league. Wembury Primary School in Plymouth has such a league that might give you some ideas for your own school.
Look For Opportunities To Work With, Or Partner With A Football Academy To Help Inspire Children
This is an approach that may appeal to parents as well as demonstrate your commitment to encouraging sports like football in schools. Not to mention how this kind of partnership will inspire and delight the students.
How Does Secondary School Football Games Differ To Those Played In Primary School?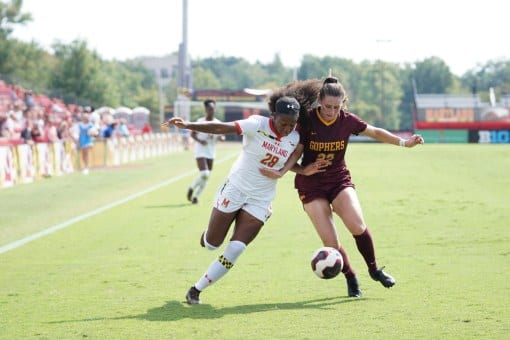 Secondary schools should have outside spaces that are suitable for use for at least seven hours per week during term-time, but they're often in use for much longer than that! Many secondary schools feature MUGA pitches, but they'll likely have more than one.
They'll also have full-size pitches too for a variety of sports.
At these stages KS3 and KS4 students are becoming more confident in their skills. They will master some of them and should know what makes physical activities effective and how to apply them to their own experience. It's at this stage where they should start to develop confidence and interest in exercise and sports activities. They should also begin to participate in physical activities outside of school. This is where students begin to participate in competitive football matches and start to learn how the game is really played. Their success depends on their dedication and their early skill training.
Conclusion
The national curriculum requirements ensure that children progressively build up their skills in games like football. So that by the time they leave school they have a full range of skills, knowledge and experience about different types of sports. It's not until KS3 and KS4 where football is specifically named as a sport that schools need to implement. However, teaching ball skills from KS1 brings many advantages for all students. Not just so that they can play football well in adult life, but also in providing positive and successful experiences related to physical activity, commitment, success and self-discipline.