How Can You Begin Introducing Football To Your Primary School Students?
So how do you introduce play and technical/skill-based games to your students? Here are a few ideas:
Football and ball work is perfect for helping you to meet the national curriculum requirements for physical education at key stages one and two.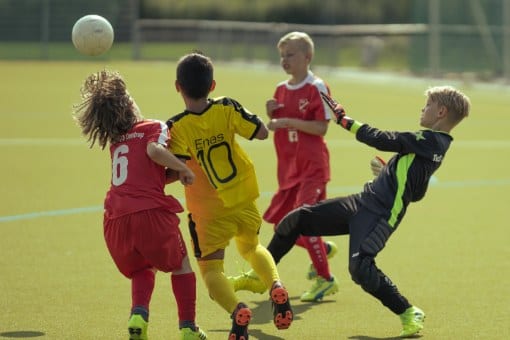 KS1 focuses on lessons to help children develop fundamental movement skills, and to develop confidence in agility, balance and coordination; both independently and with peers. Students should learn basic skills like running, throwing, catching and jumping. And should participate in team games to develop tactics for simple attacking and defending.
And at KS2, children continue developing the skills they've learnt in KS1 and now begin to learn how to use them in a variety of different ways. For example: to take purposeful actions, like a 'sequence of movement'.
This is where children learn to communicate and collaborate with each other and begin to understand how to improve their skills while developing skills in recognising and evaluating their progress. It's at this stage where modified football is suggested as one of several sports that are perfect for developing this level of attacking and defending skills.
According to the national curriculum guidelines, KS2 pupils should:
Continue to apply (and develop) a broader range of skills.
Learn how to use these skills in different ways so that they can link them to make actions and sequences of movement.
Enjoy communicating, collaborating and competing with each other.
Develop an understanding of how to improve in different sports or physical activities.
Learn how to evaluate and recognise their own success.
Take part in outdoor adventurous activity challenges individually and as part of a team.
Football anyone?
Skills like ball manipulation skills (toe taps, inside outside and sole rolls) or 'turns' are recommended. We Make Footballers describes these techniques and lists three turns that are perfect for children ages 6 – 8: the drag back, the L-turn and the Cruyff turn. They're the perfect type of football skills for physical education classes to teach, and are easy for children to practice at home or in the playground.
It goes without saying that schools that encourage football play in playgrounds during break times give their students the perfect opportunity to burn off their extra energy between classes. You also give students opportunities to practice their skills. Not just ball skills but those that help with social development, communication and academic performance.
However, in the earlier stages of school (KS1 and KS2) you might need to provide equipment, encouragement and supervision to help your students make the most of this opportunity.
The good thing about sports like football is that most children will enjoy the experience. Schools can take advantage of this by stacking football activities in after school clubs that support your lessons and playground activities. In doing so, you'll further encourage children to really get involved with the sport — helping them to stay focused on the development of these football skills outside of PE class.