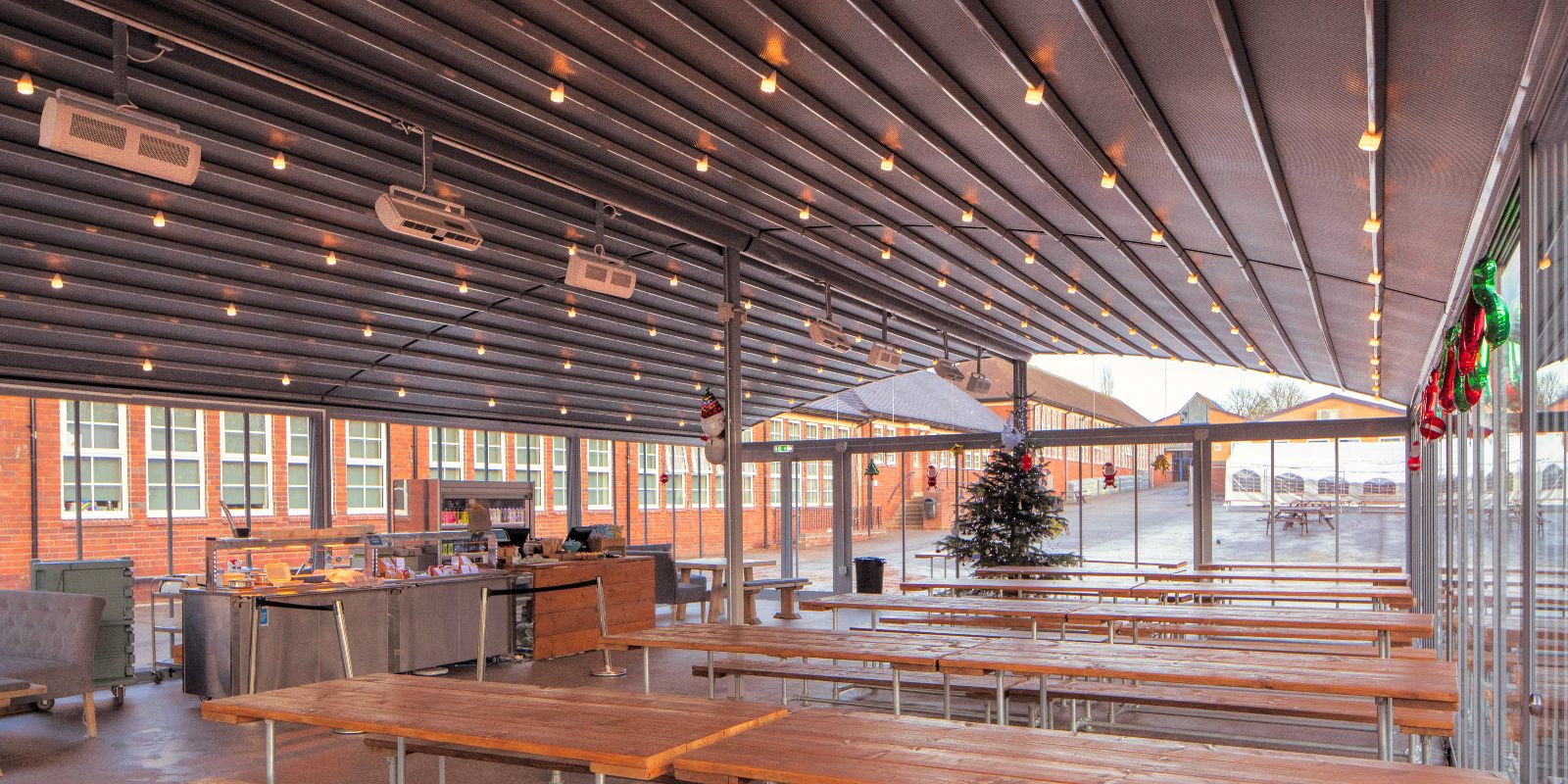 Retractable Canopies
Ideal for restaurants, bars, garden centres, healthcare sites and schools
Enquire Now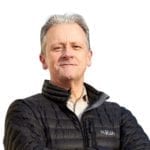 The whole process was stress-free; the installation was done safely. They couldn't have been more professional.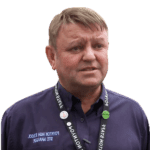 Right from the word go it was good working with A&S Landscape, they are marvellous. The team worked very well.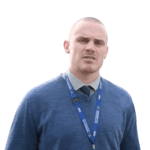 The A&S Landscape staff were very amenable. They showed extensive knowledge regarding the installation.
Get a Quick Price
Send us your email and an idea of your requirements and we'll get back to you with a quick price.
Transform Your UK Outdoor Space
Customers expect a perfect balance of comfort, functionality and aesthetics. For many kinds of businesses – restaurants and hotels, retail stores, healthcare facilities or any commercial property, retractable canopies are designed to address these challenges. These structures harness the potential usefulness of outdoor spaces into valuable amenities. A&S Landscape offers a wide range of retractable canopies so you can get the most out of your external space. No matter the weather conditions, you can utilise your outside space throughout the year by installing a retractable canopy that your customers will truly adore. If you are searching for an awning, please note A&S Landscape only provide commercial retractable canopies in the UK due to the many advantages that canopies provide over traditional awning.
What are Retractable Canopies?
In its broadest term, a retractable canopy can be defined as any structure that provides a roof covering or shelter that can be retracted, that is, it can be opened and closed.
Retractable canopies are sometimes called retractable awnings or foldable shade structures but shouldn't be confused with the traditional folding arm awnings found on many residential properties and shopfronts across the UK.
Whilst a retractable awning canopy of the folding arm type may appear to offer similar benefits and product features with that of retractable canopy it is a very different product to those we sell.
To give more value to this structure, retractable canopies are designed to allow more use, in terms of time and function, of your external space. With a retractable canopy installed, outside space can be used throughout the year regardless of season and weather conditions. For everyday use, you can use the space from sunrise till sundown. The sun is up in the morning but soon becomes unbearable around midday. Instead of retreating indoors, a retractable canopy gives you the ultimate shading solution.
You can also install the added amenities of heating and lighting fixtures to make use of the space even through the night and during the cold winter months. The main advantage of a extendable sun shade systems is the flexibility to adjust the amount of weather exposure at any time. You can retract or the roof to allow more sunshine on a sunny morning, then you can extend it to block the hot sun during the hot midday hours.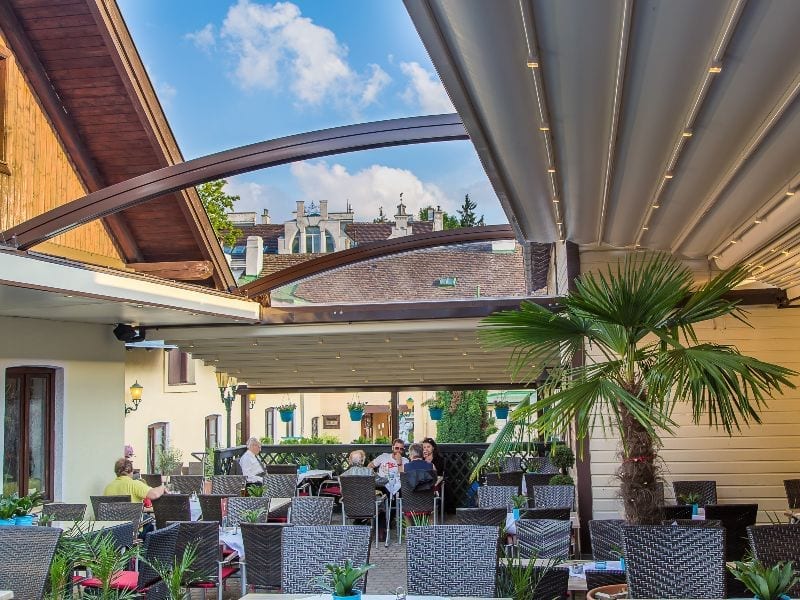 Commercial Retractable Canopies – Applications
Commercial retractable canopies offer a wide range of applications for many kinds of businesses.  Rather than opt for a more expensive renovation or construction of an extension to your commercial property, retractable designs give great options as an additional living and functional space to your fixed structures. Indeed, a retractable patio canopy is a logical cost-effective solution to your exterior space enhancements.
Though the initial outlay is upfront, considering a retractable canopy for your business is a sound decision. The rate of return or ROI is increasing over a short period of time, both quantitatively and qualitatively. The financial picture of your business, both the upline and bottom line, would definitely look encouraging and attractive to the stakeholders through increasing trend in sales revenue due to the additional space and customer coverage. On the qualitative aspect, there would be a wide range of benefits to enjoy which are definitely favourable, all of which are detailed further down the page.
Retractable structures are adaptable and flexible systems that provide protection from both the sun and rain. These structures glide open and close on aluminium roller casings and the canvas-type folds and orderly arranged into soft pleats when pulled back. This setup gives full protection and more sun exposure whenever weather permits. This setup adds shade and shelter and at the same time enhances your space's visual attractiveness, while enabling clients to have an unobstructed view of the sky.
The hospitality industry remains to be the frontrunners in implementing cost-effective exterior hotel improvements. These upgrade renovations would not be complete without considering the perceived potential commercial benefits of retractable canopy systems. These are considered stylish replacements to fixed structures, old fashioned awnings, or parasols. Hotel restaurant patios and outdoor dining areas are made highly attractive to vacationers and travellers with retractable canopies that add comfort to guests, expanding customer covers and more importantly, to add excitement and value to the outdoor dining ambience.
More common in restaurants, alfresco dining has become very popular and has started trending in recent times. You can vastly increase the number of customers you serve and cater for, a romantic ambience for night dining or outdoor dining and entertainment such as a live band under the moon and stars. All of these can be enjoyed during any weather under a retractable canopy. Moreover, with the attractive colour combinations and designs available in the market today, it definitely gives added aesthetic value to your restaurant.
Commercial retractable canopy roof systems have, additionally, other applications in garden centres, healthcare sites, schools and universities and many other applications. Garden centres are increasingly improving their premises and bottom line with a café or coffee area, these can easily be formed, expanded or improved with a canopy. Healthcare facilities, hospitals, and many types of clinics also utilise their outdoor space for added services.
Retractable canopies are excellent applications for schools and universities. They can create outdoor classrooms which can be used throughout the school year. They can also transform unused space as venues for events and student assemblies. Lighting and heating systems can be added to the canopy, making it functional throughout the day, whatever the season is. There are a very wide range of businesses all across the UK that can benefit significantly from an outdoor retractable roof system.
Retractable Canopy Designs
Retractable Canopy versus Retractable Awning: A Comparison
The term retractable canopy and retractable awning are sometimes used interchangeably by customers. Both products are often viewed as one and the same and, as the awning has been around for a long time it is not surprising there is some confusion.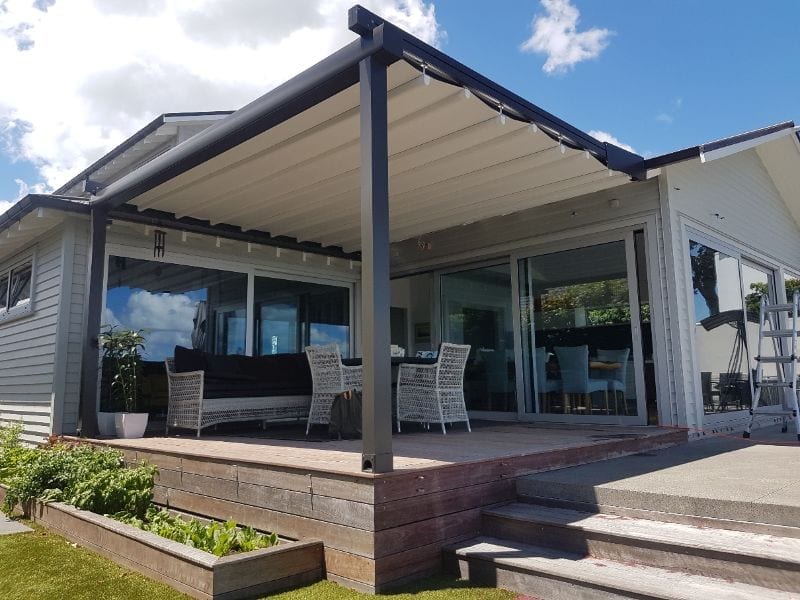 A retractable awning is a covering attached to the exterior wall of a fixed structure. It is typically a sheet of woven canvas in acrylic or polyester fabric, on a roller system that extends out when the folding aluminium arms are extended. It is normally fixed above a window or a door and overhanging a porch or patio or shopfront. Awnings are normally for shade, not shelter and often are to reduce sunlight into the window/building rather than to protect the area immediately beneath. Whilst very typically an awning will be attached to a building, sometimes they can be attached to a frame to make them more independent and often in these cases to both sides of a goal post style frame to form what is known as a butterfly awning.
An awning can be a good solution in these applications and for residential applications too, it may be the only option if a wall fixed cantilever type design is required. Many local blind companies as well as national companies such as www.hillarys.co.uk/awnings/ are offering these and will be able to offer you good advice.
Wall fixed or Independent – An awning is attached to a structure whilst a retractable canopy may or may not be attached to a structure depending on design.
Fabric – An awning will typically be manufactured with a woven cloth material suitable for sun protection and for some light rain. A retractable canopy design will use a PVC type of materials designed as 100% waterproof.
Rainwater – Any rainwater will drip off an awning, our canopies have an integral gutter.
Shade or shelter – A window awning provides shade to a window, door or patio while a canopy provides shade and shelter to the whole area.
Size – An awnings size is limited by either the size of the projection dictated by the strength of the design, often around 3 or 4 metres or the available space for the folding arms to retract into. A retractable canopy can be any size.
Cost – awnings have become very inexpensive over time with some designs supplied and fitted from just £2000.00. Our clients typically invest from £7,000 – £100,000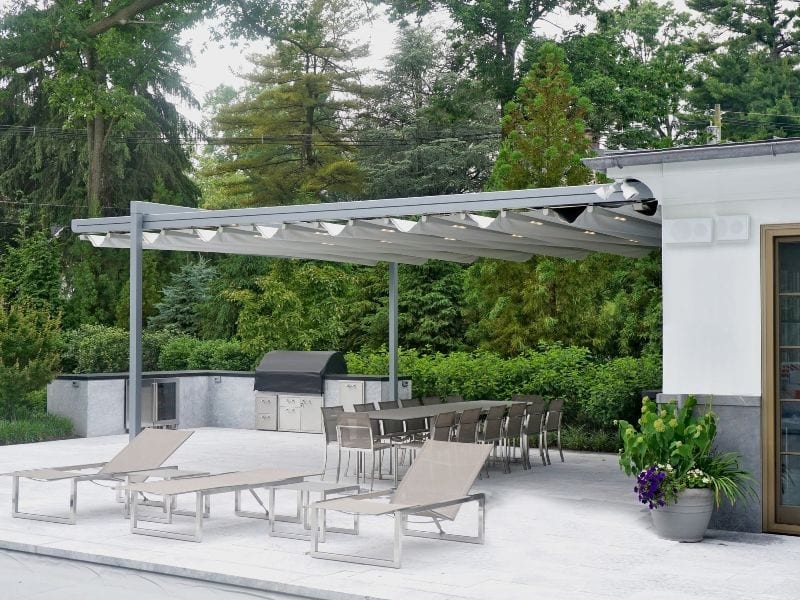 Benefits of a Commercial-Grade Structure
Purchasing a retractable canopy is, of course, an investment in your business and one in which the rewards can be substantial when done correctly. The benefits below are aimed to increase the rate of return on this investment.
Comfort for Guests. "Customer comfort is our priority" is a common slogan for any consumer-driven business. Retractable canopies keep your guests comfortable while they enjoy your services and amenities. It offers shade and shelter when needed but maintains the ability to open up the area when the weather allows.
Increased Foot Traffic. Foot traffic is one important business metric to gauge the profitability of any business operation but with pubs, hotels, restaurants and café's it's about the number of clients who you can seat comfortably at once and in a way in which they enjoy.
Enhanced Privacy. A retractable canopy or roof system will allow you to space out your tables giving your clients more space. Eateries in urban areas with overlooking windows or even balconies can also enhance the privacy of their areas with a canopy structure. Restaurant canopies that offer fine dining ambience may have their retractable roof adjusted to enhance the indoor atmosphere.
Protection from UV Rays. As much as we love sunshine, UV rays can be damaging in large doses. Retractable canopy systems block UV rays and reduce glare to make your space more functional even during midday. This not only protects the health of your guests but also helps reduce energy usage.
Reduce Energy Costs. The scorching heat of the sun increases the need for air conditioning of the interiors. Retractable canopies block those heat-inducing rays, while still allowing natural light indoors. This is an effective passive cooling solution that can result in significant energy cost savings, therefore increased energy efficiency.
Beauty and Aesthetics. With high-quality materials, commercial-grade retractable canopy systems add style and luxury to your property at the same time promoting the open-air ambience. A retractable canopy can quickly add upmarket appeal to an otherwise unexciting building.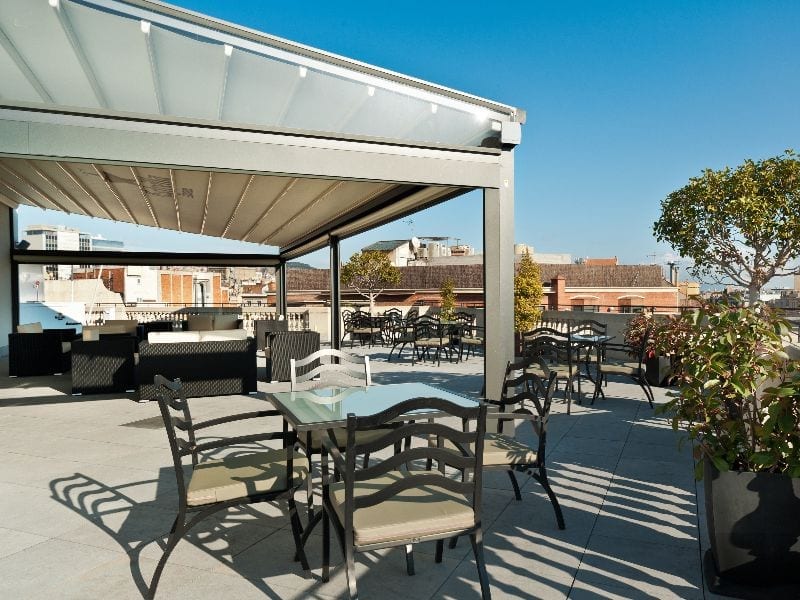 Protects Fixtures and Furnishings. Your furniture and other business assets need to be protected. Canopies are a great way to protect your outdoor furniture, as well as the furniture indoors. Soft and diffused light helps reduce the fading and wear that may otherwise result from constant exposure to the environmental elements.
Long-Term Durability. Unlike residential grades, commercial-grade retractable structures are built to last. From the motor to the canopy's fabric, quality materials, warranties and after-sales support from our team help ensure your guests will enjoy the benefits of your retractable roof canopies for years to come.
Add Iconic Brand Identity to Your Business.
With the wide assortment of design structures, coupled with attractive colour combinations that are made available on the market today, exterior branding of your business became a focal point. Foremost examples of these are in the hospitality industry and luxury restaurants where aesthetics and functionality are held at a premium for brand image.
Make the Most of Your Surroundings
If you are lucky enough to have a canal side, seafront, or country setting then you can make the most of the views all year round with a covered seating area.
Watch Our Retractable Canopies in Action
Frequently Asked Questions (FAQs)
What other names are retractable canopies sometimes given?
A lot of industry literature, websites and product pages, magazines and other marketing use various names to refer to retractable canopies. To mention a few – retractable awnings, retractable roof systems, retractable roof canopy, retractable awning roof, commercial canopy, commercial retractable canopy, commercial retractable roof system, commercial roof canopy, retractable awnings, retractable canopy awning, sunshades, outdoor shades, adjustable roof systems. All these product terminologies basically discuss and refer to retractable canopies.
Does my structure need foundations?
Yes, all structures require concrete foundations and fixings to ensure they meet building requirements. We are the experts to help identify and assess the specific foundation requirements for each project.
Does one side of my retractable canopy need fitting to a wall?
It depends on the design of the retractable canopy. There are lots of options for fitting to building exteriors. Not every canopy needs to and not every building is suitable to be attached to. At times, a freestanding canopy adjacent to the building would be a better option without attaching anything to the exterior wall.
Will attached retractable canopies permanently deface the exterior wall?
There will be markings on the wall brought about by the bolts used to secure the mounting brackets, but there should not be any substantial defacements evident at the exterior wall of the building.
Will the structure stress my wall?
When extended, the canopy does exert a force at the point at which it is mounted and attached to the wall. The load is generally spread between a number of installation brackets. We will make sure that your wall exterior and the canopy is properly fastened with the appropriate fittings and size of bolts.
Can I fit a retractable canopy to a rooftop?
Yes, as there are many available designs of retractable canopies that are suited to rooftops.
Can existing steel posts of my property be used?
The answer to this is probably yes but we will need to look at the size of the canopy and the sizes of any existing support structure.
Can it be designed as enclosed to be a room?
Yes, depending on design specifications, retractable canopies can be intended for an internal space with doors, walls and windows closures. Lighting and heating systems can likewise be installed. All these specifications should be discussed during the design stage of the project.
When should it be decided if a retractable canopy will be freestanding or attached?
In deciding whether to have the structure attached to the building or freestanding, many factors will be taken into account. First and foremost, you should express the purpose of the project, the foreseeable uses of the project in the near future, and your preferences for the canopy such as the material, the size, design and all other attributes. The overall physical attributes of the whole property in relation to the positioning of the planned structure are also considered. After all these, we will assess and make our suggestions with the end-view to ensure you are 100% satisfied at the completion of the project. We will suggest the type, shape, design and size and placement of the new canopy. In fact, many canopy designs are much appreciated when installed freestanding such as the shade sail, and the gazebo style.
What type of cleaning do retractable canopies require?
For fabric canopies, the only thing required is washing with mild detergent and water using a light pressure washer or brush. Retractable canopies tend to require much less maintenance than fixed units, which get dirty faster since they are constantly exposed to the exterior elements. Retractable canopies, as with any other equipment, may be cleaned at least on a seasonal basis. Over time, they collect dirt and dust, making them an eyesore rather than an attractive part of your exterior. In addition, water can collect in crevices in fabric canopies, which can lead to mould and dew growth. You will also need to keep the metal parts of the canopy clean and free of debris to keep it functioning properly.
How do retractable canopies withstand corrosion and rust when installed near beach or saltwater?
Salt laden air is extremely corrosive, so certain care and extra maintenance are required when installed where salt air is present. To prolong the performance of your investment, the recommended maintenance practices would be monthly washing of the frame and fabric with a suitable cleaner. Thoroughly rinse the frame and fabric with clean water and allow the fabric to fully dry before retracting the structure. Also, lubricate the moving joints with a penetrating lubricant at least twice a year.
What may be included in after-sales services?
Retractable canopies are major investments for many businesses. Hence, for every purchase, after-sales support should be carefully examined before closing the deal. Most manufacturers offer warranties, during which time, repair or replacement of certain parts may take place. Another important service is ongoing maintenance. Periodic checking, cleaning and lubrication of the electronic parts are required in order to ensure smooth performance for many years.
Can I save money by adding a retractable canopy to my existing canopy frame?
Retractable canopies and fixed-type canopies have completely different underlying structures and fittings and are not readily 'convertible'. Any attempt to do this would be, in our opinion, misguided.
Why Choose A&S Landscape for Retractable Canopies?
A&S Landscape is the significant industry player in the design, manufacture and installation of high-quality canopies in the UK market. Having been in business since 1976, we have a well-established name and have acquired professional accreditations with a huge range of industry associations, local authorities, architect, schools, builders, and property managers.
A&S Landscape takes pride as the manufacturer of our distinct brands of canopies and shade sails in the UK. Quality is foremost and held at a premium. Many of our traditional cover system designs boast galvanised and PPC steelwork, unbreakable roofing, aluminium rainwater goods and more.
Our client and project portfolio here at A&S Landscape is wide and varied with many of our clients in the education sector, from primary schools to colleges and universities but we also work with many other organisations including the Royal Mail, NHS, Sport England, The FA and many other commercial clients across the UK. A&S Landscape has a team of industry experts to offer architectural shading solutions to meet this growing demand. We have a multitude of designs and colour options to fit specific requirements of institutions.
A&S Landscape has etched a name in the industry that can set us apart from our closest competitors. We have the capability to offer services customised to each of our clients. Many of our projects can be completed within a week, but still depend on the design, size and complexity of the whole project. Our normal lead time is around eight weeks for manufacture and quality control. So if you're looking for a retractable roof for terrace, bar or café area, talk to us today on 01743 444100.
Retractable Canopies Create Outdoor Living Space
'Retractable canopies create extra outdoor dining space' is the most compelling call to invest in the robust design and long-lasting durability of retractable canopy systems. Much has been talked about commercial-grade retractable canopy roof systems. The wide range of benefits enjoyed in having such structure to many businesses may not be an overstatement. Indeed, it has already outperformed its closest product alternate, the traditional retractable awning.
Your business can benefit greatly from a retractable canopy that sets you apart and puts you ahead of the competition. Hospitality venues all across the UK are choosing to add an outdoor retractable canopy to increase the number of covers and customers they can serve. Retractable canopies are really the best way to get the most out of your under-utilised outdoor space and get the best return on your investment. Instead of adding a much more costly extension to your building our flexible retractable designs are a smarter choice and allow you to benefit from warm weather and fresh breezes. All you need to do is retract the roof at the touch of a single button.
We combine stylish, contemporary designs with the latest modern technology to suit your requirements and find the right solution for your business. It is not just hospitality business that can benefit greatly, retractable roof canopies are commonly used for many other applications including:
Property owners can now be convinced to make a big leap in their business venture, that is, to invest in a high-quality, long-lasting retractable canopy. And, only A&S Landscape can provide the most cost-effective solution to your exterior improvements on your commercial property.
Eating Out After Lockdown: Reopening Your Restaurant After Coronavirus

The coronavirus pandemic has fundamentally shifted the landscape of the UK's restaurant industry. With restaurants, pubs and bars ordered to shut down their usual operations from the end of March, the entire country has since been adjusting to the "new normal".
Despite the uncertainty over when and how lockdown restrictions will be eased, having a solid plan for reopening will be key for any hospitality business. Necessary adjustments will have to be made for government guidelines and public safety, but there is likely to be a boom with pent-up demand for dining out.
After months of isolation, the British public is looking forwards to the days when a trip to their favourite local restaurant or celebrating with family and friends are back on the menu. Ensuring that your establishment caters appropriately to the post-corona situation will be essential – with social distancing, enhanced hygiene and outdoor dining all likely to form part of the restaurant rulebook for some time to come. With these factors in mind, retractable canopies can provide a key solution for restaurants reopening after covid-19.
Establish socially distant dining
Industry experts predict that some level of social distancing will be part of the UK's daily life for the foreseeable future. This means that restaurants must give guests space to physically distance themselves from each other. Ensure that groups of tables and chairs are far enough apart to avoid ostracising diners wary of going back to 'normal' too soon. This is easier said than done, as space is often a key consideration for smaller establishments. If a restaurant's daily covers are halved, then revenue will be similarly reduced. So what is the solution?
Retractable awnings and canopies are the perfect way for restaurants to increase their footprint (and thus responsible covers) without investing in expensive renovation projects and complex planning procedures. The added benefits of fresh air and light, shade sails are a particularly stylish solution, will improve the 'safe haven' ambience for your guests, as well as resulting in safer working spaces for your staff.
Diversify your offering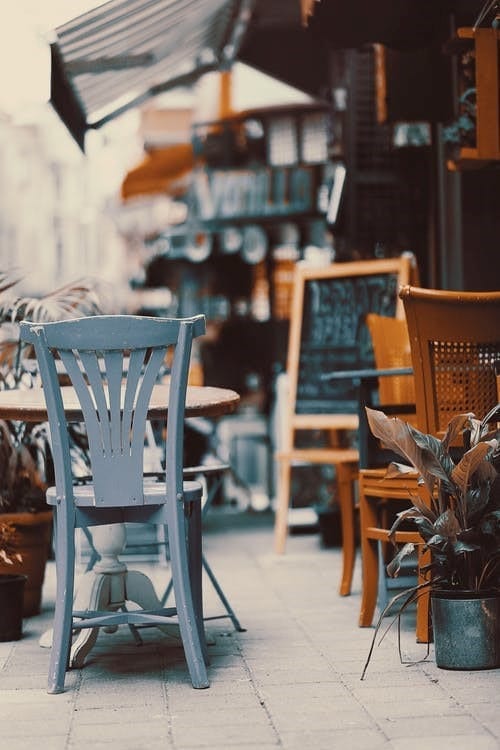 It is a sad truth that many restaurants and pubs may not survive the UK coronavirus lockdown. This does mean that with fewer options when businesses do reopen, those still operating may be even busier than before. One way to take advantage of this, and adapt your operations accordingly is to diversify your offering. Some people simply won't be comfortable dining out for a long time to come, so why not start providing some form of retail or take-out operations alongside your sit-in business?
Installing a bespoke covered outdoor area will assist with this, for instance allowing a pop-up food truck to be established or even serving takeaway meals from a pre-existing hatch. If your restaurant operates in a family-friendly area, providing reheatable meals in a variety of portion sizes could be a good idea, or even selling key grocery items under a retractable awning at the front of your establishment. Having somewhere comfortable for customers to wait for their orders (at a safe distance) will massively help your restaurant adapt to the post-coronavirus reality.
Create a safe space
Unsurprisingly, maintaining a clean and safe space will be even more important after covid-19 abates. Incorporating fresh air and more distance between customers, with retractable canopies facilitating outdoor dining throughout the year, will help establish a spotless atmosphere. This includes asking staff to wash their hands even more regularly, wipe down tables, chairs and high-contact surfaces, such as light switches, doors and POS systems, when customers leave and arrive, as well as considering going cashless and investing in signage and communicating your restaurant's efforts.
As a result of these actions, restaurants may have to employ more waiters or even a member of staff dedicated to cleaning during service. This means that further space, and income from increased covers, will need to be found. Making the most of any commercial outdoor area through terrace awnings and canopies will help make every table count. As coronavirus is spread through airborne droplets, eating outdoors without recirculating air conditioning or heating units will also be perceived as lower risk. Tackling these aspects now will increase consumer confidence in your restaurant as a safe, hygienic space.
Focus on atmosphere and ambience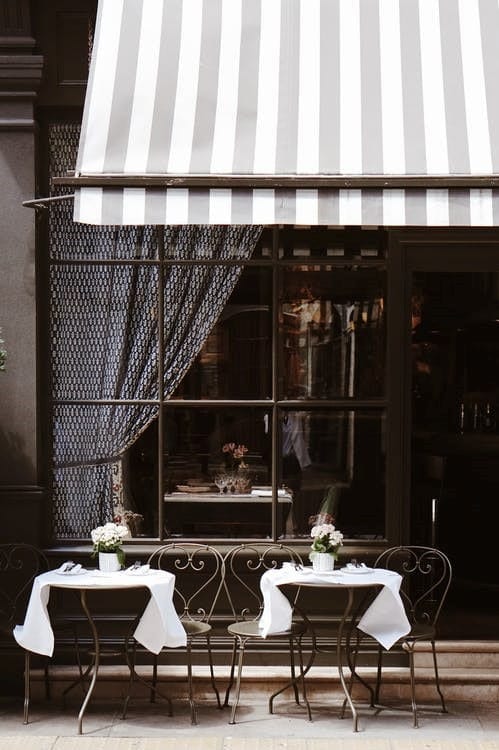 While demand is likely to bounce back quickly for social dining and drinking, there will also be pressure for safe, physically distanced spaces. People are willing to spend more money eating in restaurants, not only because of the quality of the food but also because of the atmosphere and social aspects. Consequently, focusing your marketing efforts on building a sense of responsible community is key. During the time that your establishment is closed or offering a reduced service ensure that communication with customers is maintained.
Keep your digital marketing content light and entertaining, offering added value such as skill-sharing with cooking tips and basic recipes. In an age when social media and appearance is more important than ever, sharing images and reminding customers of the fantastic, calming ambience of your restaurant will be key to their return post-lockdown. An outdoor space with a beautiful fabric canopy will go a long way in selling your restaurant as a safe refuge for local customers to responsibly gather.
Despite coronavirus posing the largest existential threat the UK restaurant industry has ever seen – there are also plentiful opportunities for businesses ready to adapt. Making the most of your existing outdoor space with retractable canopies and awnings will help put your customers' minds at ease and ultimately improve your revenue. With a focus on strategies for reopening in a responsible welcoming manner, you'll be back up and running in no time.
How a Retractable Outdoor Canopy Can Help Increase Your Revenue
Creating a covered outdoor space can be a great addition and a fantastic investment for any business in the hospitality sector. This is particularly the case for bars and restaurants, with research conducted by the Vucurevich Simons Advisory Group (VSAG) suggesting that street or patio seating can add as much as 30% to an establishment's profits. It will come as no surprise to anyone in the trade, that running a restaurant, pub or food pop-up can be tough. Business owners are constantly looking for ways to increase their revenue, especially in the slower winter months. Expanding your venue's capacity is the most immediate solution, but due to planning restrictions and costs – a full-scale renovation is not always possible. So how could a retractable outdoor canopy help your commercial venue?
What are the benefits of retractable canopies?
Creating an outdoor dining or bar area can have a massive positive impact on both your customer retention and revenue. Multi-functional and visually appealing, terrace awnings increase sales by attracting customers through increased prominence and publicity, enhancing their experience whilst at your venue, as well as offering greater seating capacity throughout the year. Making the most of your space during the winter months can be tricky, but a retractable canopy that can be quickly extended (and retracted) as needed forms the perfect versatile solution.
Covered outdoor dining appeals to the fundamental social aspects of going out. It allows guests to unwind with family and friends in the fresh air, perhaps enjoying beautiful views or just relaxing in a comfortable, beautifully designed setting. The possibilities really are endless when it comes to choosing the best option for your commercial space. From street-facing retail outlets to country pubs, restaurants at public attractions, roof-top bars or city-centre cafes, there are a plethora of shapes, designs, fabrics and customisation options to suit every budget and situation.
Cover whatever the weather
Whether you have a location within a park or public space canopies will or a terrace, courtyard, garden or even small amount of space available on the street – our team of canopy experts can ensure this can be optimised to maximise profitability throughout the year. As any restaurant, pub or bar owner will know, several days of rain and bad weather can make a serious dent in your revenue. Retractable patio covers and awnings keep your outdoor spaces up and running come wind, rain, snow or shine.
Even in the height of summer, many customers might look for a shady garden. If your patio is in full sunlight, this can be just as damaging to footfall as adverse weather conditions. A fixed retractable awning provides the flexibility and extra protection needed for the UK's ever-changing weather. Combine this with additions such as patio heaters, wall lights and heat lamps (ensuring they're safe to use with whatever canopy you install), appropriate furniture and even additional accessories such as blankets for guests to borrow, and you'll create a truly memorable alfresco experience.
Branding and customisation
Retractable canopies are beneficial for far more than just increasing your establishment's footprint and capacity. They boost visibility and exposure, as well as aesthetic appeal as they are a stylish addition. How many times have you walked along the street, perhaps on holiday in a foreign city, and been drawn to a restaurant from the mere sight of happy diners outside? Even when your business is closed, if you have your name or logo on a customised street-facing awning – the canopy is still working to advertise your company, even when there are no customers.
If your covered outdoor area isn't in direct eyesight, it can still become a destination space if treated imaginatively and stylishly. In an age of social media sharing, appearance really is everything. When designing the area under your retractable canopy, make sure that you complement and enhance your interior design, as well as align with your existing brand. Maintaining a colour scheme (albeit with opportunities to add complementary, informal touches) and utilising similar furniture adapted to open-air use is also advisable. This will ensure that your outdoor area feels like a genuine part of your existing space, rather than a separate add-on.
Crunching the numbers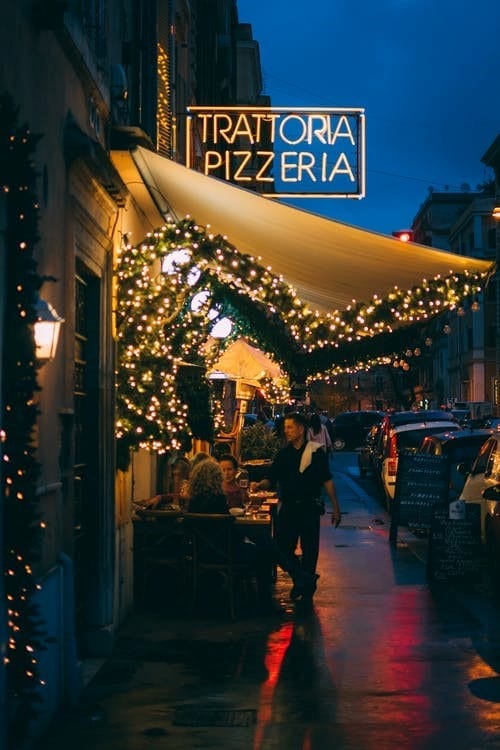 Purchasing a retractable outdoor canopy does represent a significant upfront investment for any business. Despite this, research has shown that return on investment (ROI) can be as much as 65%, making it a worthwhile investment for any business owner. A basic calculation can demonstrate the potential of any commercial awning. Take (for instance) a restaurant with £30 average spend per seat and an outdoor space with just five tables of four seats. By keeping the outdoor space useable an extra 20 days a year, the following calculation can be applied:
20 (days) x 20 (seats) x 30 (pounds) x 4 (table turnover) x 0.5 (capacity) = £24,000
With a retractable patio cover allowing for comfortable dining throughout the year (with this estimate adding merely 20 days, with 4 table turnovers at 50% capacity) – it is easy to see how your investment can be quickly recouped. This figure would be substantially higher if the entire year was considered, or if you are operating with a large space. Outdoor awnings not only add to your cover capacity but also offer added benefits in terms of marketing opportunities and customer satisfaction (equalling more repeat customers, longer stays and larger spends) and put your establishment on the map.
Whether you have an outdoor seating area for four or forty (or more), investing in a retractable canopy can have a massive impact on your establishment's profits and overall ambience. Outdoor dining and drinking really does set restaurants, cafes, bars (and just about any other business) apart, creating an informal, relaxing area for customers to enjoy. From branding and customisation to destination décor and increased profits – a retractable canopy will transform your business and its bottom line.
What is the Cost of a Retractable Canopy?
Unfortunately, we cannot offer a simple price list, how much any canopy will cost always depends on a lot of factors. Before anything else, your requirements will need to be identified and assessed. In the course of the discussion and negotiation, the team at A&S Landscape would make recommendations and suggestions from our retractable awnings uk range. The main cost components of the project are the retractable canopy itself and the associated works to do until complete installation. Basically, the composition of the pricing details may include the following:
size of the retractable canopy and the size of the area to be covered
roof shape or style of the canopy,
material choices
accessibility of the area
location
type of ground to be installed and the associated groundwork required
Prices will also depend on options chosen such as; –
motorised versions with remote control
motion sensor that enables the unit to retract on its own.
fixed sunscreens
side panels
lighting
heating
More often, you may have a budget or a maximum spend for the project. Hence, we may adjust to fit within your expectations.
Are Retractable Canopies Worth the Investment?
When carrying out any renovation, whether a major or a partial area or any improvement decision for that matter, it is logical to ask this question. It is natural that you want to be sure that you're getting your moneys' worth before making anything final. Here are a few ways how a new retractable sun canopy uk product might make it worth your spend.
Expanding your space. With the environmental elements and the varied seasons in a year, having an outside space would definitely give added value to the business. Having a retractable canopy will serve two purposes, covering your whole exterior and at the same time protecting you from the sun and rain. It is basically an additional open-air living space.
Lowering your utility costs. The largest summer energy expense is usually the air-conditioning system. With a retractable canopy system, you have the control of the heat coming indoors, thereby giving less work for your AC units. At the same time, this lowers down the wear and tear of your equipment. This will be one of your many cost-cutting measures in your business operation.
Heightened business image. This is a marketing-related concept that equates to increased revenue in a shorter period of time. With a new retractable canopy installed, this improves the exterior image of your commercial property to your customers. Customers are always excited to see something new, thereby increasing foot traffic that will, in turn, equate to sales revenue.
Between energy savings, long lifespan, and all other commercial benefits that retractable canopies can offer, it would be safe to say that they are worth every penny. While it is true that value is always subjective, if savings are on your mind then it seems like the investment would justify its cost.