Haslington Primary Academy in Haslington Install Entrance Canopy
With Covid restrictions easing, Haslington Primary Academy were having increasingly more visitors and staff coming into the building. However, since only a certain number of people were allowed in the building at any given time, they had many of their visitors waiting outside. Having an entrance canopy meant their visitors could be sheltered from whatever the weather – rain, snow, wind or sun; the canopy served to be of great protection and use.
Project Specification
Product:

Motiva Entro™

Size:

3000mm X 2000mm

Steelwork:

Ultramarine Blue - RAL NO. 5002

Roof:
What was the project?
To install an entrance canopy at the main entrance of Haslington Primary Academy.
What was the problem?
With their indoor entrance hallway fairly small, Haslington Primary were finding more of their parents and visitors waiting outside. Some of these visitors had small children, so needing shelter was paramount. A&S Landscape was chosen to work on this project, ensuring Haslington Primary had the perfect entrance canopy that would ease their concerns.
What was our solution?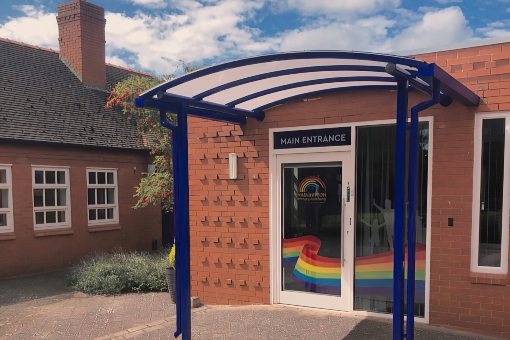 Our dedicated design team suggested the Motiva Entro™, curved roof shelter. This design not only looks appealing, but is also durable, lasting for many years due to its solid steel framework. We selected Opal roofing as it also provides protection from harmful UV rays keeping adults and children safe when waiting outside.
What product did we use?
A&S Landscape successfully installed a Motiva Entro™ curved roof shelter complete with steelwork and guttering in Ultramarine Blue and Opal polycarbonate roofing, making it the perfect first impression when someone arrives. For this project, Haslington Primary Academy opted for a blue finish, but we also offer a wide range of other popular colours.
What was the result of the entrance canopy?
Haslington Primary Academy is delighted with their new addition to their school grounds. Finally, no more soaking wet parents or children as they can stand under the entrance canopy without any worry. In addition to providing shelter and extra space, Haslington Academy have reached out to A&S Landscape to say how many compliments they have received from staff, parents and pupils on the beautiful design of the entrance canopy – it certainly is a great focal point when you arrive at the school.
Feedback / testimonial
"Thanks, the canopy looks fantastic! the guys did a great job. 10/10."
Haslington Primary Academy
A little bit about the client
Haslington Primary Academy are a wonderful school, offering a friendly and enriched learning environment, where every child matters. The school is at the heart of Haslington Community. They pride themselves on promoting the school and working with residents to make Haslington the best it can be. Their children gain a sense of responsibility and pride for where they live, and understand their place within the community. This includes attending the Village Day each year, singing for the elderly residents at Hollymere House, inviting the Fire Brigade to support their children with fire safety and much more!
The staff were a real pleasure to work with. From the initial first query, right throughout the entire process, they were extremely friendly, yet professional. Working with schools is always a rewarding experience for A&S Landscape, especially as we build trust with them, which is one of our many core company values.
What is a curved roof canopy?
A curved roof canopy is a very popular design amongst schools. This canopy can be symmetric or asymmetric, ideal for use as a shelter. It is also popular for outdoor dining areas and is available as free-standing or lean-to.
Why are canopies perfect for primary schools?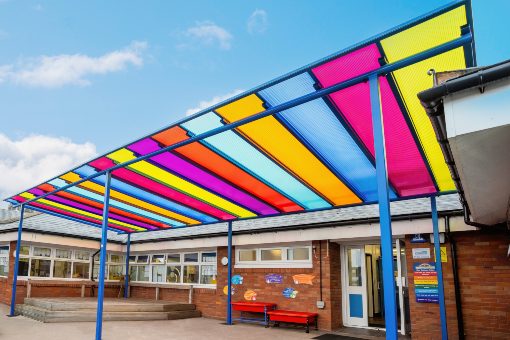 When you think of a canopy you immediately think of shelter! And while this is the most obvious benefit of installing a canopy, especially with our unpredictable British weather, a canopy offers so much more too.
Outdoor learning is becoming more important within the teaching curriculum and amongst governing bodies. Surveys have shown that children are more motivated to learn when they are outside, and some even suggest an improve to their behaviour.
Canopies also help reduce overcrowding – whether it's an entrance canopy, a dining area canopy or a playground canopy, it takes the pressure off by giving you an additional area for staff and pupils. If you're still on the fence, have a look at what some of our primary school clients have said about their canopy installations.
Canopies are a cost-effective long-term investment. While they are still an investment, they are more cost-effective than building an extension or a new building altogether, plus you don't need any planning permission! But if they are still out of your budget, we do offer finance options for our clients.
How can A&S Landscape help you?
There's a reason why we have so much conviction in our service and capabilities, we don't just promise, but we deliver. Obtaining multiple industry-specific accreditations holds a lot of value for us, especially as we are a family-owned business, trading for 44 years. We pride ourselves in our honesty, trust, quality of service and strive to consistently meet our client's needs. Plus, we do this with a friendly disposition at all times – being approachable is one of our founding principles and another core company value.
We have extensive experience designing, producing, and installing outdoor cover for any form of public institution, ranging from schools and parks to sporting facilities and healthcare facilities. Whatever you're searching for, A&S Landscape has you covered. We have a large selection of canopies, shelters, and shade sails and are happy to assist you in finding the best solution for your project.
Continue reading about our other projects located in Cheshire
Weaverham High School Add Fabric Umbrella Canopy to Playground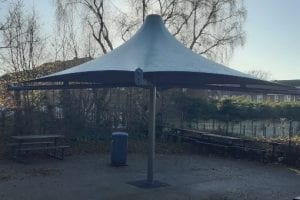 We created a playground umbrella canopy in Weaverham High School, Weaverham, Northwich, Cheshire. The contract included the supply and fitting of one Maxima™ waterproof Umbrella structure supported on a single upright measuring 5000mm X 5000mm.
Fabric Tepee Structure Designed for Ashton on Mersey School
A&S produced a tensile fabric roof Tepee for Ashton On Mersey School, Sale, Cheshire. The full contract involved the supply and fitting of one Maxima™ Tepee tensile waterproof fabric roof structure measuring 10000mm X 10000mm (100sqm's).
Poynton High School Create Outdoor Dining Area with Canopies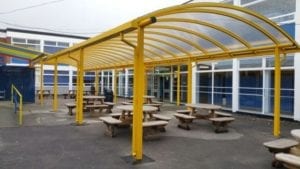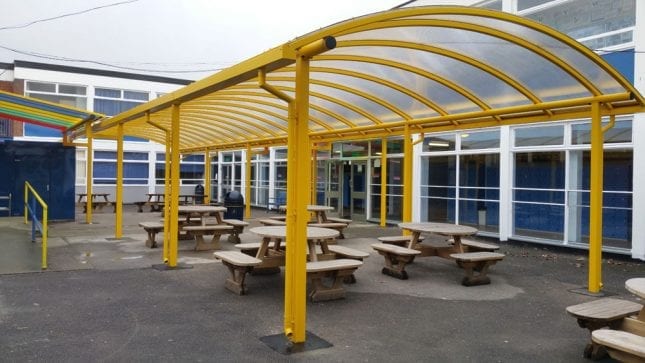 Our team created a curved roof canopy and two straight polycarbonate roof canopies at Poynton High School And Performing Arts College Poynton, Stockport, Cheshire. The contract included one Motiva Duo™ duopitch curved roof canopy to an overall size.  Two Motiva Linear™ monopitch straight roof canopy to an overall size.  Both canopies included for our Alu-Tuff™ aluminium box profile guttering and downpipes which were coated in a matching Dura-coat™ colour finish.
Blue Fabric Tepee Created for Bishop Heber High School
A&S created a tensile fabric roof Tepee at Bishop Heber High School, Malpas, Cheshire. The job involved the supply and fitting of one Maxima Tepee™ tensile waterproof fabric roof structure comprising of two modules measuring 14000mm X 7000mm.