Droylsden Academy Add New Playground Shelter in Manchester
The year eight play area at Droylsden Academy in Manchester lacked much-needed shelter, which left students at risk of being exposed to harmful UV rays. It also limited the student's ability to play outdoors when it was raining or snowing. Staff decided to solve the problem by looking to add a shelter and sun canopy to their playground.
What was the project?
To add a straight roof metal canopy shelter with side panels to the year eight playground at Droylsden Academy in Manchester.
What was the problem?
Staff at Droylsden Academy have been steadily adding shelters to their school premises in Manchester to provide comfort and protection to their staff, students, and visitors and have worked with A&S Landscape for some time. Having achieved success with their previous canopy installations, the school now needed to add a metal canopy shelter to the year eight play area. The canopy will protect the students from the elements who didn't have enough shelter in their play area prior. The school decided to continue its well-established relationship with A&S Landscape by engaging them to complete this project.
What was our solution?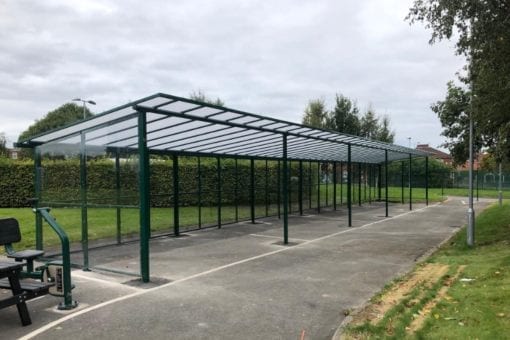 Having already installed canopies such as a sun canopy and other shelters at this location, A&S Landscape was already familiar with how the school staff would want to approach the shelter installation. It needed to be in keeping with the school and other installations while providing the right level of protection from the elements like sun, wind, and rain so that the children can enjoy playing outside no matter the weather. We added a straight roof Motiva Linear™ metal canopy, with glazed panels to the rear and the side, which created enough shelter for the children. The steelwork features a beautiful Moss Green colour with the popular Opal roofing which protects the children from UV rays.
What product did we use?
We used a straight roof canopy from our Motiva Linear™ range configured to 24000mm x 4000mm. The Motiva Linear™ mono-pitch is an asymmetric straight roof product with one side higher than the other. It's the standard configuration for lean-to canopies but has many other uses too — they also look perfect as walkways and extended classrooms.
What was the result?
The year eight students are delighted with their new play area shelter. It has become a focal point of their area, which they like to incorporate into their play activities even when they don't need shelter. Both staff and students are enjoying the benefits of the shelter, particularly that the students can get out and stretch their legs even when it's raining, which prevents them from having to stay cooped up inside.
A little bit about the client
When Ofsted claims that a school's values of politeness, hard work, and honesty are in abundance, you know that this is a school with strong ethics. And that's exactly what Ofsted had to say about Droylsden Academy, a secondary school based in Manchester. The school believes that while grades and academic progress are important for measuring success, so is a person's contribution to their community and wider society – and we couldn't agree more. Droylsden Academy is a school that focuses on developing strong character traits in its students that will lead them to live a life that incorporates the ability to lead and serve, traits that Droylsden Academy believes makes life worthwhile.
How can a straight roof shelter be customised?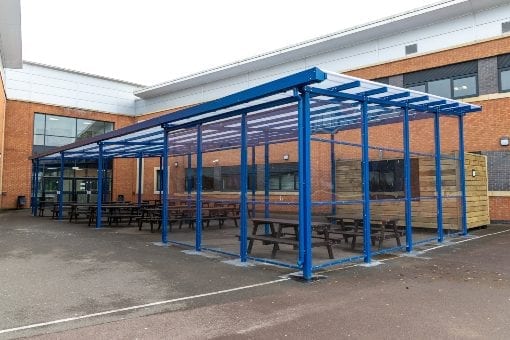 The Motiva Linear™ straight roof shelter can incorporate side infills either around the shelter or part of the way. You can add doors, windows, shutters, and more to create an enclosed shelter, or you can leave the sides open for a more authentic outdoor experience. It's a versatile product commonly used when situated against a building. It can also work very well (and look very stylish) when freestanding, like the shelter in this project with partially infilled sides.
Why are canopies perfect for secondary schools?
The challenges most schools face when encouraging children to spend more time outdoors is twofold. Firstly, how can they ensure that children experience adequate protection from the harmful UV rays they will be exposed to when playing outside? And secondly, how can schools play their role in encouraging children to spend more time outdoors comfortably with the British weather?
The last thing schools need is soggy students, who are trying to concentrate on their studies while sitting in uncomfortable damp clothes after a wet break time. Similarly, the staff at schools face difficult challenges when it comes to sun protection, schools have a duty of care to keep children protected from UV rays but it comes with problems. Even if parents apply sun lotion to their child before school, it will need re-applying throughout the day to protect the child. Suppose the child is left to apply the sun lotion. In that case, the children won't apply it effectively. Staff at many schools are also concerned about the safeguarding implications and complications that can come from physically applying the suntan to children. It's a tricky situation where primary schools often find themselves stuck between a rock and a hard place.
Canopies for schools are an efficient solution for all of these problems. They can shelter children from UV rays (if you choose the right materials, like the opal polycarbonate shelter roof featured in this project), and children can run around, arms and legs bare, without causing concern.
How A&S Landscape can help you
For more than 44 years, we have been helping public facilities like schools and hospitals look beautiful and function better with the use of our canopies, shelters, and shade sails. We offer a wide range of solutions, and are here to help you find the perfect installation for you. Being a family-owned business means we strive to provide our customers with high-quality, bespoke canopies and shelters, along with a friendly, competitively-priced service. We have established long-term relationships with local authorities, NHS trusts, schools, colleges, and academies by earning a reputation for our efficiency, integrity, and reliability.
If you'd like to discuss how we can help you find the right sun canopy for your school, call our friendly team on 01743 444100 or email us at [email protected]
Keep reading our projects located in Manchester
Crossacres Primary Academy Add Playground Shelter
A&S erected a canopy at Crossacres Primary Academy Wythenshawe, Manchester, Greater Manchester. The contract included the supply and installation of one Maxima™ shade cloth fabric sail including for all fixtures and fittings.
Fabric Sail Shade Installed at Our Lady of the Roseary RC Primary School
Our engineers erected a shade sail at Our Lady Of The Roseary RC Primary School Davyhulme, Urmston, Manchester. The job involved one 8500mm X 8500mm Maxima™ tensile shade cloth fabric sail including for all stainless steel fixtures and fittings.
Outdoor Dining Canopy Designed for Our Lady's RC High School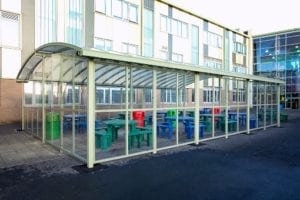 Our engineers designed a curved roof canopy at Our Lady's RC High School Alworth Road, Blackley, Manchester. The full contract involved one Motiva Duo™ duopitch curved roof canopy measuring 12000mm X 8000mm with Alu-Tuff™ aluminium box profile guttering and downpipes in matching Dura-coat™ colour finish with polycarbonate side panels to two 12m length and one 8m length.
St Gilbert's RC Primary School Add Playground Shelter with Roller Shutters
We created a straight polycarbonate roof canopy with roller shutters at St Gilbert's RC Primary School Eccles , Manchester. The full contract involved the supply and installation of one Motiva™ monopitch straight roof canopy measuring 8000mm X 3600mm and included for our Alu-Tuff™ aluminium box profile guttering and downpipes which were coated in a matching Dura-coat™ colour finish.  Supply and installation of electrically operated roller shutter door(s) to front elevation and polycarbonate side panels to side elevations.
Playing Field Cover Made for Droylsden Academy
We erected a CoveredMuga canopy for Droylsden Academy Manor Road, Droylsden, Manchester. The job involved one Motiva CoveredMuga™ duopitch straight roof canopy measuring 28000mm X 14000mm.