1. Publish Your Menu Ahead Of Time
Get into the habit of sharing your menu with students ahead of lunchtime to minimise the time a student takes to choose their options. You may even consider a pre-order system if your budget allows. Ways you can circulate the menu might be to create large posters displaying the menu and posting on the common notice boards around the school. Have the kitchen staff or teachers share the menu or discuss the specials during registration, or send the menus home.
2. Adopt A Solid Food Labelling System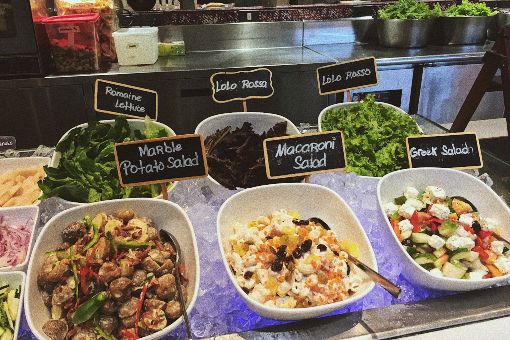 Food labelling increases school canteen efficiency by reducing the amount of time canteen staff might have to take to answer student's questions about the food on display and can reduce queue time significantly. It also provides opportunities for the school canteen to easily communicate information about the nature of the food on display. For example, your label might include what the food is, what the ingredients are and whether it's appropriate food for differing diets such as vegan, whether it's suitable for people with nut allergies or if the food is halal or not.
3. Provide Easy Access Food Stations
Set up stations in your school canteen with pre-packaged food ready for students to grab and go. Providing this facility will move some students through your queuing system faster and will speed up the service provision. To successfully implement this facility you'll need to adhere to stringent food labelling practices and consider moving your grab and go food items to a separate area of the school dining hall, to optimise efficiency. Students who want to enjoy the 'fast food' facility won't get caught up in the queues for hot food for example. If you make most of your easy access food healthy options too, then this service will help you to encourage healthy eating.
4. Create Additional Pay And Collection Points
If you have the space, and means, adding multiple areas where your students can access food and pay will help to divert the footfall and reduce queue time. The main advantage of this strategy is to improve the sense of efficiency to the students using your school canteen services. It may not be as efficient financially, since you'll need to factor in additional staffing and space.
5. Implement Staggered Lunch Times
If you have enough additional seating for slower eaters, it may be worth considering allocating a time zone for students to access the school canteen which you can sort by year group. Or consider making your canteens lunchtime session twice as long so that you can make the most of staggering lunchtimes. In this scenario, some students may start lunch at 12 pm to 1 pm whereas other groups may start their lunch at 12.30pm to 1.30pm or 1 pm to 2 pm and so on. Of course, this latter approach to staggered lunchtimes involves amendments to your school lesson timetable too.
What Should You Do If You Need More Space For Your School Dining Hall?
Having multiple pay points, grab and go bars and extra seating in your new well-laid-out school dining hall might be a great idea, but it's only useful if you can find the extra space. Fortunately, there are several ways that you can create enough space to lay out your best plans and some options don't stretch your school budget too far.
Here are some ideas for how you can increase or optimise the space in your school canteen.
Maximise Your Existing Dining Space
If you're lucky enough, you might find smarter ways to maximise your existing school dining hall. Perhaps changing the furniture or moving it around will allow you to increase the amount of seating you provide or will create enough space for you to manage the footfall or add additional food bars without adding additional square footage. From there it's worth considering minor adjustments. can make it to your dining hall.
For example, If you have storage in the dining area, could you move it out of the dining hall and into another area of your school? Can you move an interior wall further out? The first port of call when considering your space should be to assess what options you have, if any, for making the space work better for your school's needs without making too many adjustments.
Implement Food Carts
To optimise your school canteen's efficiency further, consider adding a food cart, or an additional grab and go bar in your hall. When creating this kind of space, you'll need to consider how you can encourage social interactions between those students who purchase grab-and-go food versus those who purchase a hot meal. In this situation, providing food to go in take away boxes is a useful solution for those students who want a hot meal but want to eat it outside of your main canteen.
Add Outside Seating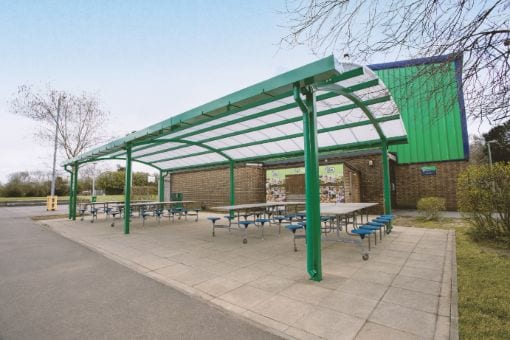 You may already have some kind of outdoor seating available for your students but there are usually opportunities to increase the dining potential outdoors in most schools. And all you need are some additional picnic tables and benches and some shady spots or parasols. Adding outdoor bins will help you keep your school tidy while optimising the efficiency of your canteen. And if you add an awning or other kind of shelter, your students will likely use the outdoor seating even when it's raining, at least in the warmer months.
Consider Mobile Food Servers, And Mobile Grab And Go Bars
Mobile food servers can transform the efficiency of your school canteen by diverting footfall and will allow you to provide a convenient service to your students no matter where your school dining seating is located around your school. For example, you might create a sandwich and salad bar or baked potato station.
Some schools in the United States offer food truck services to their students, which may be worth considering for your school, particularly if you have older students. Catering trailers are also rapidly finding their way into UK schools, which are the perfect way to create an alternative food station to cater to your students.
Create A Multi-Use School Dining Area
A school hall is a perfect location to host additional indoor seating. All you'll need are foldable chairs and tables, some storage space to keep the furniture in and the resources to set up your dining space daily et voila, you've got extra seating for your students. If you want to keep the vibrant dining theme that you have created in your actual dining hall going, then consider adding dividing screens containing the same messages that you have in your school canteen.
Typically, a well-designed and fully functional multi-use dining area will require the following features and considerations:
Careful Planning
Where possible, it's best to schedule your school's activities so that they don't require the use of your multifunctional room just before, or after lunchtime. You'll need to allow time to set up (if you're using portable tables and chairs) and for clearing up after lunchtime. If you make your schedules too tight, you could find that your 'multipurpose room' solution becomes counterintuitive. It could cause students to have to rush, or queue for the facilities and may lead to extra work or frustration for your catering staff who may find themselves rushing to clear up.
Foldable And Stackable Furniture
Unless you're using a classroom or combination of classrooms as your multipurpose dining space, you're going to need some portable furniture. Especially if you decide to use your hall or other communal spaces within your school. You'll also need a place to store your furniture with easy access to your multi-purpose room. The last thing your kitchen staff will need is to be walking a significant distance with furniture to set up for lunchtime every day! The furniture should be light, compact and ideally should fit in with your school canteen themes and messages.
Decor
Add tablecloths to your service areas, along with themed notice boards that either complement the school canteen's decor or the decor of the room you're using. For example, if you're using your sports hall, you might consider adding a sports cafe, so that you can keep the healthy eating decor up permanently while keeping to a theme.
Menu Displays
As previously mentioned, keeping your menu out on display will help to create the canteen vibe but also reduce the queue times. It's worth displaying your menu's permanently in your multi-purpose rooms so that the students know where to look for them.