What is padel?
Padel is a fun sport that's easy to learn and ideal for all ages, it's a variant of tennis which players can play indoors or outdoors. The game requires less physical prowess than tennis, making it accessible to many more players.
Padel is a fast-paced sport played by two people on an enclosed (walled) court about one-third of the size of a tennis court. This new sport in the UK combines tennis rules, with the use of walls (similar to squash) and underhand serving rather than the overhand serving that features in tennis.
How popular is padel?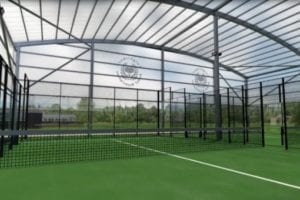 Padel first began back in the 1960s. Originally popular in Mexico, the game made its way across the Atlantic to Spain and soon became incredibly popular. The Sports Council of Spain recognised padel in 1993 and changed the spelling from 'paddle' to 'padel' to make it easier to pronounce.
As it stands today, over 10 million people worldwide play padel, and its popularity is snowballing all over Europe. According to Sky Sports, the popularity is growing on home soil too, with a total of 82 padel courts currently in Great Britain and more to follow.
Padel tennis, or padel, is a sport that might be unknown to most people in the UK but The Lawn Tennis Association (LTA) is about to change that. The LTA recently confirmed its plans to integrate LTA Padel (the acting governing body for padel in Britain) into its day-to-day operations meaning that LTA Padel now operates under the guidance of the Lawn Tennis Association. This move is the catalyst for padel's growth in the UK.
It's also a move that must be music to Lionel Messi and Cristiano Ronaldo's ears from the football world who are known for partaking in the sport. Suppose Lionel and Cristiano's participation in padel is enough to ignite your interest in the sport. In that case, the notion that Andy Murray, Maria Sharapova and Novak Djokovic also play might encourage you to check out a padel court near you sometime soon.
In an interview with Tennis 365, LTA's head of Padel Tom Murray quipped
"It is great for our sport. We have had tennis players like Jamie Murray who are big fans of padel, rugby stars like Max Evans and Olympic badminton hero Gail Emms all taking part'…
"When you travel to Spain, you see hundreds of people playing padel tournaments, sponsors everywhere. That has to be the dream in this country."
But that's not all; Pep Lijnders admits some of their best tactical ideas hatch while playing the game – an example of how the game's speed and excursion promote mental clarity. While The Telegraph Independent refers to padel as 'racket sport's answer to T20 cricket'! So it's hardly surprising that after receiving approval from Sport England, Sport Scotland, and Sport Wales, padel is now a recognised sport. It's not just a lesser version of tennis anymore. It's an officially recognised discipline of tennis and a serious UK sport.
Following official recognition of padel, LTA published a development plan outlining their goal to make padel the country's most popular new sport. The governing body's first step will be to increase the number of courts to reach 400 by 2023.
The Lawn Tennis Association's announcement comes as part of its five-year plan to grow the game by offering easier learning and play formats. It's a strategic move to benefit both the growth of tennis and padel in the UK. The organisation's first part of the plan was to build three padel courts at the National Tennis Centre in Roehampton. These courts are perfect for coaching, tournaments and elite player use.
Can you play padel all-year-round?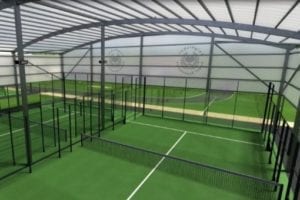 Expectations for padel to grow considerably in the next few years are rife. Due to this, padel will become another sport that lives or dies by the weather – bad weather will undoubtedly limit play. A fear supported by LTA's research claims that lousy weather equates to a 30% reduction in play opportunities in the UK, but adding a sports canopy increases utilisation by over 50%! That's because adding a canopy allows play during bad weather, and when the nights close in.
Sports canopies are the best solution to help protect padel courts from the bad weather and allow for additional lighting and heating – further increasing play time in the winter.
It's usual to protect tennis and cricket surfaces from the elements, but regular tennis covers and tarps can't protect the courts and allow play. All-weather sports canopies protect from rain, hail, and snow and allow players to continue playing without being interrupted.
Like padel, the market for all-weather sports canopies is on the rise. These products serve various functions for businesses and consumers alike, including providing an excellent and effective all-weather solution for outdoor games, tournaments, or activities. The all-weather sports canopies are tensile membranes made from PVC that are tensioned over steel frameworks offering exceptional value in construction and operational maintenance. Other options include aluminium or steel frameworks with polycarbonate roofs or side infills that can consist of windows, doors, or shutters. There's even the option to add a retractable roof.
If you're interested in playing padel rain or shine, contact us! We can help you continue to keep the game going in all seasons. We've got sports canopies, sports shelters, and padel court covers to suit all kinds of padel court designs and layouts. Structures that are long-lasting, economical and aesthetically pleasing.