Large Cycle Shelter at Myton School in Warwick
Posted on 06/09/2019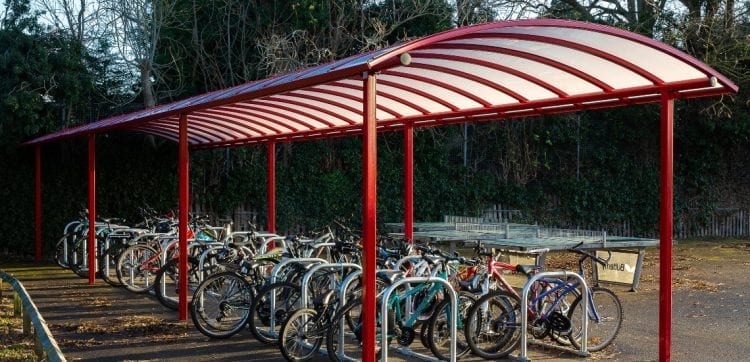 The students at Myton School didn't have a covered area where they could safely store their bikes. A&S Landscape proposed a large curved roof canopy which could cover 60 cycles.
Project – Myton School install cycle shelter in Warwick
Product – Motiva Duo
Requirement – Myton School in Warwick encourages its students to cycle to school and sees the importance of regular exercise. Because so many students use their bike to get to school, a large cycle shelter was needed. The storage solution would need to provide protection from the weather so that none of the bikes would get damaged.
Solution – A&S Landscape proposed a 15000mm X 3600mm curved roof canopy. The Motiva Duo design was chosen as the best value for money ahead of other competitor's quotes. The large shelter features 30 cycle racks, which can accommodate 60 cycles. The steelwork was finished in a striking red, which complements the surrounding school buildings.
Result – Now even more students chose to cycle to school as they know their bikes will be stored safely and under a shelter. This not only has a positive impact on the wellbeing of the students but on the environment too. It's no wonder that more and more schools are choosing to install cycle shelters.
Find Out More – A&S Landscape offers a range of cycle shelters, including the City, Bike and Buggy models. Why not take a look at our gallery to get inspiration for your project? Get in touch with our team today by calling us on 01743 444100 or emailing us here.