Five Canopies and a Cycle Store at Rugby Radio School, Warwickshire
Posted on 27/04/2018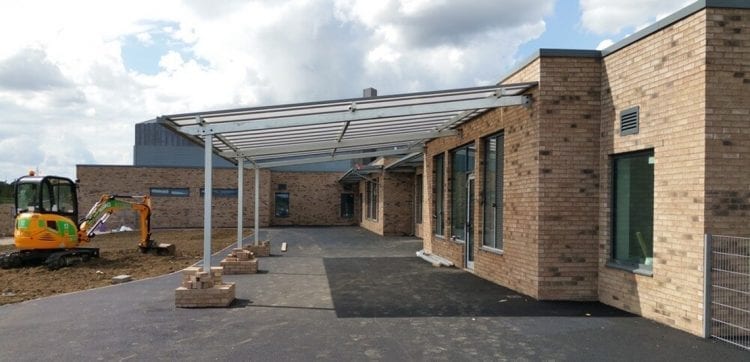 A new secondary school is being built in Rugby and the requirement was for a number of canopies, varying in size and a cycle shelter which can house 36 bicycles.
A&S Landscape has a wide range of products and the design chosen for this project was the Motiva Linear. This is a steel and polycarbonate canopy. The steelwork was all finished in matching Dusty Grey (RAL 7037), whilst the roofing was Opal polycarbonate. Five separate canopies were installed and one cycle shelter.
The school campus is large and because it is a new school, shade, shelter and storage were considered very carefully at the planning stages. The canopies will provide shade from UV rays and shelter from the wet weather, all year round. The cycle store will provide an incentive for pupils and staff alike to get more exercise and jump on their bikes! We think that the matching canopies add a sense of identity as well as a smart aesthetic to the campus. A modern, attractive addition to the school which will stand the test of time. With aluminium guttering and downpipes, rainwater will be effectively managed as well.
A&S Landscape has a wide range of canopies. Our gallery contains over a thousand pictures of our work and you can view them here for some inspiration.